Abbie Rose, 22, mujer, Estados Unidos
pinterest.com/frillyknicke…Visto por última vez: Marzo 2013
6

1

4

9

2

scrobblings desde 10 Dic 2007
1.461 temas favoritos | 4 mensajes | 3 listas de temas |

540 notas
| | | | | | |
| --- | --- | --- | --- | --- | --- |
| | | Mr. Little Jeans – Runaway | | | 18 Jun 9:51 |
| | | The Naked and Famous – Punching in a Dream | | | 18 Jun 9:47 |
| | | Blackbird Blackbird – Ups & Downs descarga gratuita | | | 18 Jun 9:44 |
| | | Phantogram – Let Me Go | | | 18 Jun 9:39 |
| | | Cults – Oh My God | | | 18 Jun 9:35 |
| | | Little Dragon – Feather | | | 18 Jun 9:30 |
| | | Starfucker – Beach Monster | | | 18 Jun 9:28 |
| | | Poliça – Happy Be Fine | | | 18 Jun 9:23 |
| | | Neon Indian – Polish Girl | | | 18 Jun 9:19 |
| | | Geographer – Kites (Limousines Remix) | | | 18 Jun 9:15 |
Ver más

Feeds
| | | | | |
| --- | --- | --- | --- | --- |
| 1 | | | | |
| 2 | | | | |
| 3 | | | | |
| 4 | | | | |
| 5 | | | | |
| 6 | | | | |
| 7 | | | | |
| 8 | | | | |
| 9 | | | | |
| 10 | | | | |
| 11 | | | | |
| 12 | | | | |
| 13 | | | | |
| 14 | | | | |
| 15 | | | | |

Feeds
| | | | | | |
| --- | --- | --- | --- | --- | --- |
| 1 | | | | | |
| 2 | | | | | |
| 3 | | | | | |
| 4 | | | | | |
| 4 | | | | | |
| 6 | | | | | |
| 6 | | | | | |
| 8 | | | | | |
| 9 | | | | | |
| 10 | | | | | |
| 11 | | | | | |
| 11 | | | | | |
| 11 | | | | | |
| 11 | | | | | |
| 15 | | | | | |
| 15 | | | | | |
| 15 | | | | | |
| 15 | | | | | |
| 15 | | | | | |
| 20 | | | | | |
Conóceme
Salutations. :)
I'm Abbie...
I basically live for '80s synth-laden atmospheric awesomeness. '90s "alternative" or "grunge" sparkling with accidental glamour and alienation. Voices tinged with pain and passion. Layered trad-goth, synthpop, new wave, darkwave, no wave, dreampop, shoegaze, post-punk loveliness. Thumping, echoing drums. Irresistible, beating bass. Catchy, disturbing, nauseating, heart-wrenching, uplifiting, desperate, powerful lyrics. Meaning. Resonance. Truth.
I'm one of those die-hard fans of The Cure that listen to every single album, song, b-side, flipside, rarity and cover done by them. I'm rather fond of all the albums a lot of "Cure-fans" count out as lousy. Meaning, I absolutely love The Top and Wild Mood Swings. Sue me. If you can't find at least one decent song per Cure album, I think there's something wrong with you. Or your ears... I mean, The Cure use saxophones in pop music! In a way that can be tolerated. Any band that can do that is something special. In my humble opinion, I think The Cure have much, much more to them than their mainstream hits. I'm all about the b-sides, baby. ;)
If I add you as a friend, please don't be alarmed. I'm not "collecting" you, I merely want to network, and meet nice folks with great taste. So, if you get a mysterious friend request, I'm sorry if it bothers you...I just happen to think you're awesome. ;)
However, if YOU add ME as a friend and have a music compatibility less than "HIGH", I'd really appreciate either a message or a shout explaining why or chatting about our mutual interest in an artist. I've recently been subject to a slew of friend requests with no attempt at communication. I love talking about music with anyone, really, if they give me a reason to give them the time. :) Don't get me wrong, I love friend requests, but use them well. I'm on here for social networking, so send me a line, darling! I won't bite.
If you have any recommendations based on my taste, I would really love to hear them. I've been known to make a few myself if you ask.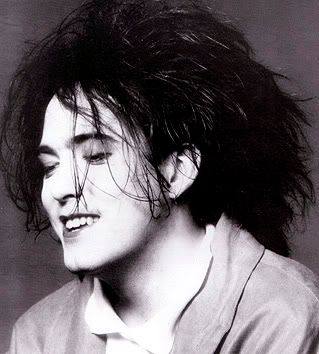 "Every person can connect with The Cure's dreamworld, where life can be insane, melancholy, angry, lost, hysterical and joyful all at the same time."
-Robert James Smith
Actividad reciente