sablespecter
Blog
→

Summer Shows 2009: Mr. Speed [KISS cover band] - 27 Jun 2009

RSS
Compartir
9 Sep 2009, 7:20
First of four 2009 summer show reviews: Brunswick Rock City!
One show that didn't make my events list was
Mr. Speed
. They're not here on last because they're a Cleveland local
Kiss
cover band. I imagine most cover bands don't make Last's artist libraries* because (1) they don't publish original music of their own, being a cover band and (2) most are only local and won't be heard beyond a relatively small region.
So why post a show review for Mr. Speed if most won't have a chance to see them unless they're within, say, a day's drive of Cleveland, or at least in North America (you can catch 'em in Monterrey, Mexico on October 10th!) Just because they're so good as performers, so decent as people, and especially because they have such longevity. This year Mr. Speed celebrates 15 years as a band. They've even had the opportunity to
share the stage
with
Ace Frehley
(I imagine not many cover bands have the honor of playing live with one or more members of the band they cover.)
My description of their look wouldn't do it justice, so have a look at their website to judge for yourself how authentic they look. "Paul" is the leader of this band, and he and his wife (the manager) go to great lengths to ensure the fans get an authentic show. Of course, they've got the makeup and costumes, circa 1977. They've got the flashing "KISS" logo sign and required instruments. When they play
Shock Me
, "Ace" breaks out the sunburst Les Paul. "Peter" gets out from behind the kit to sing
Beth
front-and-center. And you can bet that "Gene" spits the blood** when they play
God Of Thunder
. They play predominantly the hits from the classic era, but they do throw in a couple of the biggest hits from the unmasked 80s.
This was actually the first time I have seen them despite regular raves from some coworkers who are big fans. D and I did try to see them at one of their regular haunts about ten minutes from our house back in the fall but couldn't get a sitter (the travails of parenting...) So when they got onto the bill for our local summertime festival we had our chance!
And did we the fans ever show them the love - this was the largest crowd in the festival's history. They were so happy with the crowd that they took a picture of all of us from the stage to post up to their website - look! I'm even in it, right there next to my buddy SEO!
The cool thing about this show is that they played two 90-minute sets, and they didn't repeat a single song. I didn't capture the setlist that night. I was having too much fun just checking them out, but they played any KISS song you could likely consider mandatory. You can get right up front and interact with them throughout. In between sets, they take the time to pose for pictures, sign autographs, and talk with any age of fans - particularly the youngest who are being exposed to the music of KISS for the first time in their lives and are both a little intimidated by the looks but also thrilled with the music. True story: when one 16-ish kid started dropping the MF-bomb quite loudly in calls for his favorites in between songs, "Paul" even chastised him for doing so at "a family event" (to wide applause).
My own best shots of each of the members:
Rich Kosak as "Paul":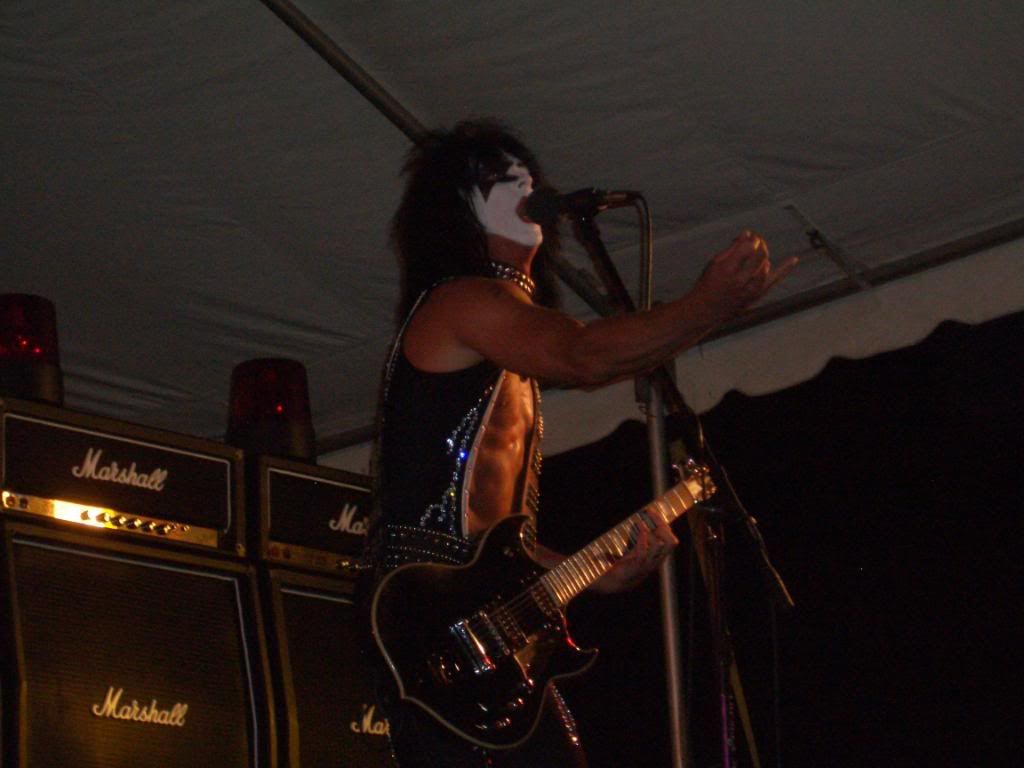 Joe Hess as "Ace":
Rob Koch as "Gene":
Andrew Sgambati as "Peter":
This is probably my favorite shot - guitars to the front!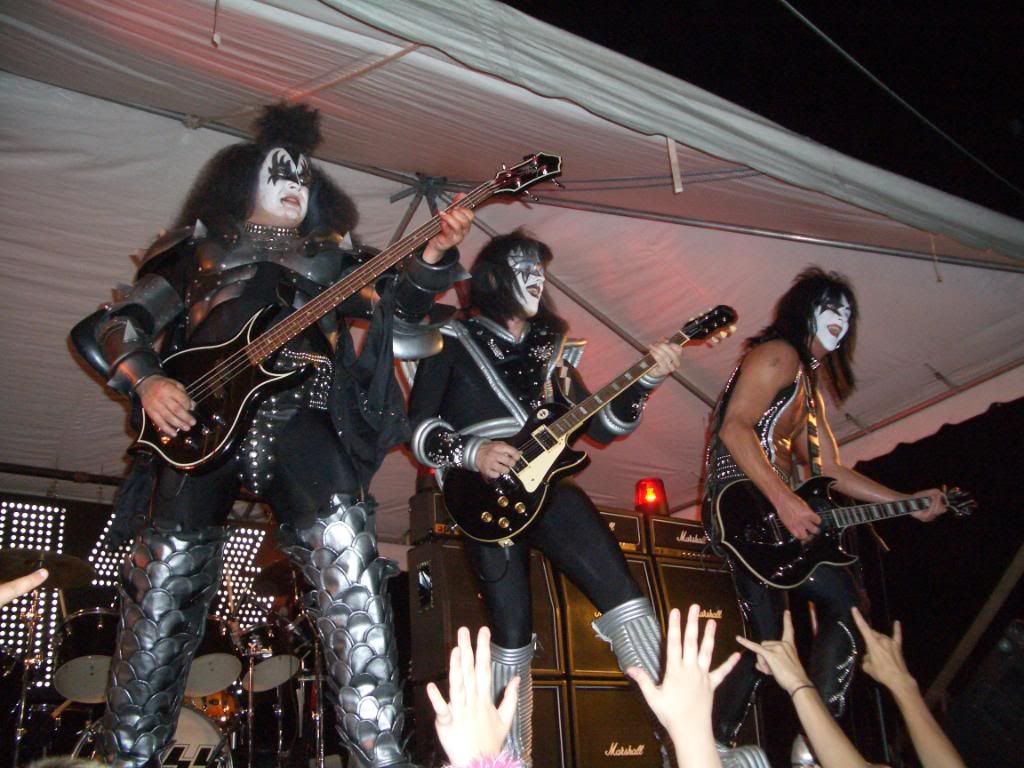 If you click over to my
YouTube
channel, you can see all five videos I posted from the show. These are probably my two favorite:
"God of Thunder" (with drum solo):
King Of The Night Time World
:
I'm looking forward to seeing them again on November 21st, and hopefully the stars align right and allow them to return to our festival next year*** - with pyro!
\m/ (ò_ó) \m/
*Though I haven't looked specifically for cover bands here - if you know of any I should be advised of based on my charts, lemme know.
**Which freaked out my youngest daughter enough that I had to take careful pains to reassure her that "he's really a nice guy" and was just putting on an act before I could even turn off the bedroom light that night - and now that she knows the secret, she can't wait to see them next time!
***You can check out their own thoughts on the night and tentative plans for a return next year at
their blog
(scroll down to the entry for 06.28.09 "29th Old Fashioned Days).
Comentarios