sablespecter
Blog
→

A Grand Conjuration of Metal in Columbus: Enslaved and Opeth

RSS
Compartir
1 Jun 2009, 5:11
Sat 23 May – Opeth, Enslaved
After seeing
Opeth
last fall
, I was even more stoked to see them this time around, since they are touring with Norway's
Enslaved
, a progressive black metal band that I have never seen live. The timing was a mixed blessing coming over Memorial Day weekend, but the weather was great for a road trip for three dudes from Cleveland.
I had never been to the Newport Music Hall before. It's practically right on campus of The Ohio State University since it's on the east side of High Street (hadn't actually been anywhere in High Street since all those party road trips back in the undergrad days...) A beautiful Saturday night of a holiday weekend on High Street at Ohio State when classes aren't yet out? Well, that's a decent environment anyway! Add a show by two awesome
progressive metal
bands and there really wasn't a better way to spend a Saturday. Maybe a little
too fun
in the opinion of some people, since a hellfire & brimstone street preacher began assailing us the moment the door of the hall opened.
It turns out that Newport's a grungy place like Cleveland's Agora, maybe a bit smaller, but with a full wrap-around balcony over the floor below. I wish I had known about that balcony before, because it provides sweet views of the stage from above if you're early enough to get a standing-room spot along the railing. I also didn't know the place was so camera-friendly. So, as it was, I ended up with just my phone for photos and videos. There's a stairway at the back of the floor directly opposite stage center, and we staked out a spot right at the top, so we got a view directly at the stage. A bit far back but above all the arms and fists, so the photos came out decent anyway. Videos on a cellphone just don't work, though, since the sound completely overwhelms the crappy little mic. I have five videos from the show, but didn't bother to post any since they're unintelligible.
Enslaved
I am aware that Enslaved's more recent material which they are now touring to support is not widely considered to be as strong as their
Viking metal classics
. It's true that they've moved away from their earlier black metal/Viking metal work toward a more straight prog metal style, especially on the last three albums. Some have accussed them of trying too much to emulate Opeth since they now mix in clean vocals and quiet interludes, but I think that alone does not make them copiers of Opeth. It's a finer distinction: Opeth mix such quieter moments more with death metal, while Enslaved mix them with black metal. Witness, for example: do you hear any blast beats in Opeth's music?
Regardless, in my always-open-minded approach to a band's evolution and evaluating each album of a band on its own merits, I think Enslaved continue to turn out excellent work. My sense is that the patience of most fans of their early works ran out with
Below the Lights
. So this show was probably a bit of a disappointment to those that may have come to hear early material, since only one song came from that album and nothing from anything prior. Frankly, though, I'm not sure that would have been a realistic expectation, considering they were an opening act and have been touring to support their newer style and works. Just not enough time for older stuff. I, too, would have loved to hear some of it, but did not expect to. So, they featured songs only from their four most recent albums, including selections also from
Isa
,
Ruun
, and
Vertebrae
.
To the best of my recollection, this was the setlist. I'm sure it was seven songs, though I may have a couple switched in order. This ran about 45 minutes:
To the Coast
Fusion of Sense and Earth
Ruun
As Fire Swept Clean the Earth
Ground
The Watcher
Isa
Here they are near the beginning of the set: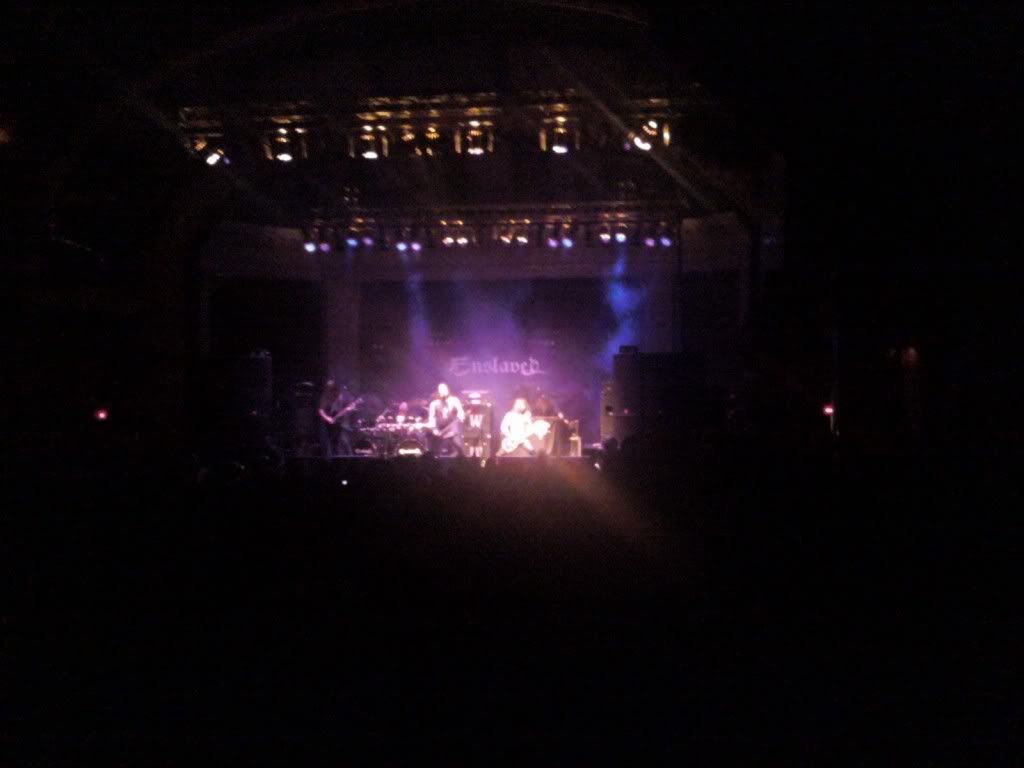 One semi-humorous footnote: Perhaps in an attempt to match the popular good-humored nature of
Mikael Åkerfeldt
when onstage, and also to take the piss out of their Swedish tourmates, Enslaved's leading man
Grutle Kjellson
told this groaner near the beginning of their set: "Why did the Swedes take a car door out into the desert? So in case it got too hot, they could roll down the window!" (followed appropriately by a rimshot from the drummer). Actually, what was weird was the fact that this came from such a (formerly) serious black metal artist.
Opeth
It's not really likely to top Mikael's stage presence, though. In fact, he's right up there with Geddy Lee and Eric Bloom among the best. (Must be a trait of progressive rock artists...) As usual, he introduced the show with, "This band is called Opeth. We come from Sweden, and we are the best band in the world. We are here to rock."
What a nice move to choose to wear a
British Steel
tee! Surely a nod to the fact that Priest are playing the entire album live on this summer's tour? I know Mikael doesn't consume alcohol while playing, but something I failed to notice previously: he even has a bottle holder on his mic stand so he can stay well-hyrdated throughout the entire show! How considerate of him to provide us with his finest mental acuity. (Others, however, not so much*)
We got an awesome two-hour set, touching on all albums except
Orchid
and
Blackwater Park
**. A bit of a bummer that they didn't play anything from the latter, and a bit surprising that they left of
The Drapery Falls
. But that was perhaps precisely the point, and I can't complain at all about the setlist, especially since I saw them perform that last time.
So here is the version of the setlist that we got:
Heir Apparent
Ghost of Perdition
Godhead's Lament
Wreath
(Mikael: "Do you like death metal? We like death metal. we're going to play a death metal song...")
Karma
Hessian Peel
Closure
- I'm not a big fan of the song (as
I've said before
,
Damnation
is only a personal one-hit wonder), but this was much more interesting because it was an extended jam.
The Night and the Silent Water
Lotus Eater
Encore:
This consisted of band introductions, a solo, and one more track. Of course, with Mikael, band introductions are not merely, "on (this instrument), let's hear it for (this guy)" We get the inside scoop! And of course, it's time for Mikael to abuse his mates...
"(
Martin Mendez
) thinks we should honor him with the title King of Bass Players!"
"On lead guitar we have a new kid on the block...His guitar is like an extension of his penis. And now he is going to jack off for you."
Fredrik Åkesson
guitar solo
Mikael (responding to calls from the fans): "Who am I? GOD. I am God. You've all been blessed, by being in my presence. The people who take what I say seriously are in deep shit."
"We're gonna play one more song. To make it extra super-fuckin' heavy we tuned it down to Drop D tuning. If you're a nerd, you know what that means."
Demon of the Fall
A couple of my best shots:
Ghost of Perdition: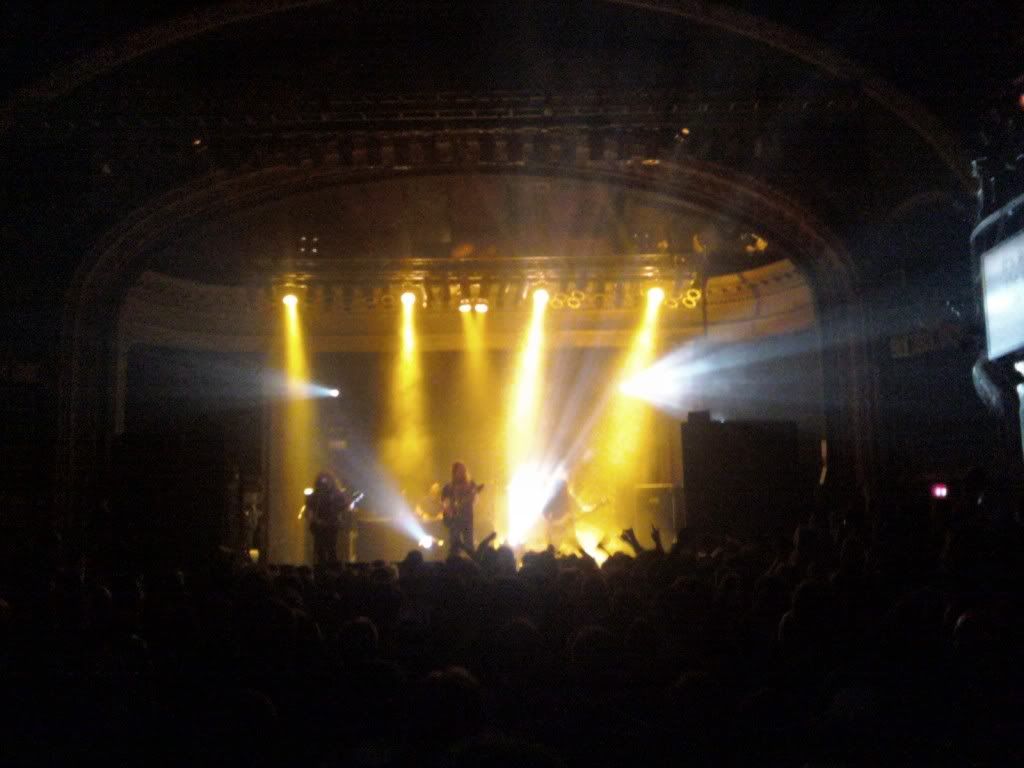 The Night and The Silent Water:
(One guy who knew enough that you can bring basically whatever camera you want and was standing just to my right got a fantastic zoomed shot of just Mikael, bathed in the blue spotlight during this song. If you know that guy (or ARE that guy), lemme know. I want that pic!)
All in all, yet another fantastic show by one of the most awesome bands to see live. Even if you're just a sorta fan, don't miss them when they come to town!
\m/ (ò_ó) \m/
*The only drawback to this show: the totally wasted asshole and his loud-mouthed, inconsiderate bitch of a girlfriend standing right the fuck next to us and punctuating every quiet interlude and stage banter moment by screeching "Opeth Ruuuuuuuuuuuuuuuules!" and "WOOOOOOOOOOOOOOOOOOOOOOOOOOOOOOOOOOOOOOOOOOOOOO!!!" at nearly inhuman volume. Since Opeth offer a lot of such quite moments, they had ample opportunity to provide these "contributions." It was so bad that during one stage break, Mikael even looked
DIRECTLY AT THEM
and said, "Please, do me a favor. Shut the fuck up."
That drew a round of cascading roars down on their heads, but only made them all the more worse.
KMV
was a hair away from punching the guy in the mouth as they "discussed" the drawbacks of this kind of disruptive fun, KJV having already had a hard time getting pestered and doused in beer by "Doug", another drunk dumbass who swore he knew him from a local tattoo parlor. Meanwhile, I finally settled the issue by standing a fraction of an inch in front of his chick, keeping my arms constantly in the air, throwing the horns. Having the benefit of my geezer's earplugs in my ears, I couldn't be bothered by her intentionally trying to shriek directly in my ears. After I turned around and said, "What?!?!? I can't hear you with these earplugs!" she totally unironically howled, "You're RUINING the fucking concert!" and stormed off! Ah, what an inconsiderate dick, I am...
They eventually buggered off, only to go off and annoy the hell out of people in another area. One guy even mentions this on his youtube video of "The Night and The Silent Water" Watch here and listen for that prick at about the 5-minute mark:
**They have played
The Leper Affinity
at some shows this tour, but that's been in place of "Wreath", and then in that case you don't get anything from
Deliverance
. Of the two, I think I'd rather have "Wreath" and then you have one from each of that and
Damnation
, which seems an appropriate pairing.
Comentarios