Maciekkk, 21, hombre, PoloniaVisto por última vez: ayer por la noche
6

7

1

2

5

scrobblings desde 7 Mar 2006
657 temas favoritos | 9 mensajes | 1 lista de temas |

57 notas

Feeds

Feeds
Conóceme
whatever kills you makes you stronger. or something like that, dont remember quotes.
I love music . I love football. I love playing drums.
;)
Bands I've seen live:
- DEEP PURPLE x2
-Florence and The Machine!
- Tres.B
- Marika
- Wu-tang Clan
-The Cribs
- Coldplay
- Metallica
- Farben lehre ( 2x)
- Mastodon
- Volbeat
- Marina and The Diamonds
- Iron Maiden
-Mnemic
-Machine head
- Amon Amarth
-słon wsrh
- zabili mi żółwia
and many more;)
I'm really looking forward to see other bands, especially August Burns Red, Rise Against, and MUSE!
I don't limit myself to a specific genre, I love music, and just try to enjoy it, to me every band has something unique in them, and I do my best to see the bright sides , not argue ;) Cheers! ;)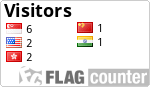 Actividad reciente