Νικόλας..., 43, hombre, Grecia
the-x-network.ucoz.net/Visto por última vez: Diciembre 2011
1

0

2

1

9

0

scrobblings desde 17 Abr 2005
517 temas favoritos | 1 mensaje | 8 listas de temas |

66 notas

Feeds
| | | | | |
| --- | --- | --- | --- | --- |
| 1 | | | | |
| 2 | | | | |
| 3 | | | | |
| 4 | | | | |
| 5 | | | | |
| 6 | | | | |
| 7 | | | | |
| 8 | | | | |
| 9 | | | | |
| 10 | | | | |
| 11 | | | | |
| 12 | | | | |
| 13 | | | | |
| 14 | | | | |
| 15 | | | | |
| 16 | | | | |
| 17 | | | | |
| 18 | | | | |
| 19 | | | | |
| 20 | | | | |
| 21 | | | | |
| 22 | | | | |
| 23 | | | | |
| 24 | | | | |
| 25 | | | | |
| 26 | | | | |
| 27 | | | | |
| 28 | | | | |
| 29 | | | | |
| 30 | | | | |

Feeds
| | | | | | |
| --- | --- | --- | --- | --- | --- |
| 1 | | | | | |
| 2 | | | | | |
| 3 | | | | | |
| 4 | | | | | |
| 5 | | | | | |
| 6 | | | | | |
| 7 | | | | | |
| 8 | | | | | |
| 8 | | | | | |
| 10 | | | | | |
| 11 | | | | | |
| 12 | | | | | |
| 13 | | | | | |
| 14 | | | | | |
| 15 | | | | | |
| 16 | | | | | |
| 17 | | | | | |
| 18 | | | | | |
| 19 | | | | | |
| 20 | | | | | |
| 21 | | | | | |
| 22 | | | | | |
| 23 | | | | | |
| 24 | | | | | |
| 25 | | | | | |
| 26 | | | | | |
| 27 | | | | | |
| 27 | | | | | |
| 29 | | | | | |
| 30 | | | | | |
Conóceme
AEP is a measure of how diverse my music tastes are...

The Songs (or titles) bellow, I believe are enough to learn what you need to know about me...


1. "R'n'R is killing my life" (Suicide)

2. "We sold our souls for "R'n'R" (Black Sabbath)

3. "Music is your only friend... until the end" (Jim, The Doors)
Kind people who visited my profile!!!
I changed the look of my flag counter today (25/06/10) and - unfortunately - I lost all the visitors I had. So now it started counting from the begging...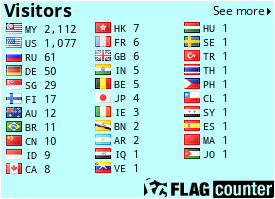 Panx Romana, so what?

9 Nov 2010

Τις εωτυπώσεις σας... 11 Sep 2010 |

2 comentarios

Ejekt Festival 2010 Review... 14 Jul 2010 |

7 comentarios