RSS
Compartir
19 Nov 2006, 22:56
19 Nov – Acid Mothers Temple & The Melting Paraiso U.F.O., The Early Years, Duracell, Hunting Lodge
Sorry to the other bands that I didn't feel like sticking around.
I caughts some of the a band I didn't know, was most probably the Hunting Lodge, but then didn't feel like sticking around so went and hung around in the other room to wait for
Duracell
to start playing. I was not disappointed with me decision one bit.
It starts, and I'm standing right infront of him having a nice ol' time smiling away. After the first bit he played from
Space Harrier
a dude asked for people to sit down so more people can see. Well sure sir, I would love to :) I like sitting. So now lots of us are sat down smiling away instead of stood up doing the same. I took this terrible pic from infront of his bass drum on my terrible camera phone.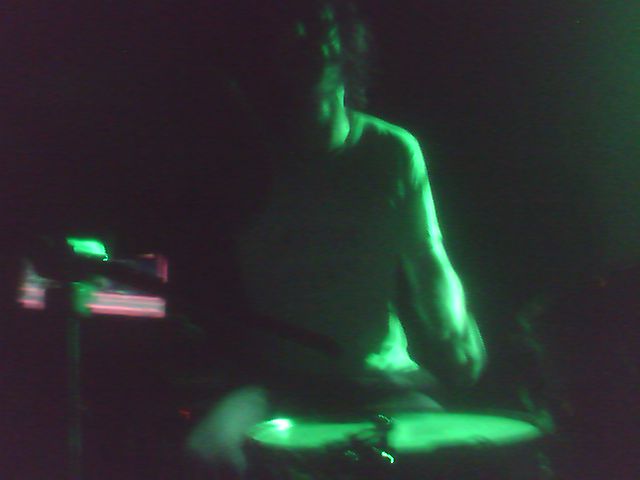 The set was ace, and I very much enjoyed my first
Duracell
experience.
Unfortunately I didn't feel much like hanging around and headed home. Sorry to the other bands for not feeling too up for barging past people and hanging around all on my own ;)
If anyone reading this doesn't know
Duracell
, then watch this: (which
is not
from the gig I was at, it's from an older performance)
Comentarios