RSS
Compartir
28 Feb 2009, 19:12
So here we are again, on the very last day of the month. This month's mixtape theme was generational music--songs handed down to you by your parents, and songs you want to hand down to your kids. This was pretty personal to me, especially the first half, which really brings back memories of my early childhood. "Bennie and the Jets" was my first favorite song, and when my parents allowed me to operate their old turntable when I was about 7 or 8, I would play Goodbye Yellow Brick Road over and over. While the other kids in my school were listening to boy bands, I was listening to my dad's Marshall Tucker Band CDs. And I'll always associate "Low Spark" with my parents, since my mom and dad knew Steve Winwood in the 80s, and own a signed copy of Low Spark on vinyl. When I would fret about something silly as a kid, my mom would always say to me, "don't worry too much it'll happen to you."
The second half, made up of songs I want my children to hear, was tricky. I wanted my favorite artists represented, but I also wanted songs that I can see playing for my kids when they are very young, stuff that would appeal to a toddler yet not get old as they grow up. (Yes, I realize there's a "fuck" in "Range Life." What can I say, it's art.) I guess I did okay on this...suggestions, however, are welcome.
As always, click on the cover art to download. See you in March.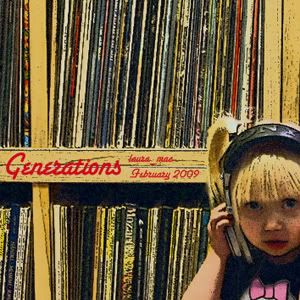 Side A
1.
Elton John
-
Bennie and the Jets
2.
Traffic
-
The Low Spark of High Heeled Boys
3.
Eagles
-
One of These Nights
4.
The Doors
-
Touch Me
5.
Creedence Clearwater Revival
-
Bad Moon Rising
6.
The Marshall Tucker Band
-
This Ol' Cowboy
7.
Derek and the Dominos
-
Bell Bottom Blues
Side B
8.
The Beatles
-
Here Comes the Sun
9.
Josh Ritter
-
Me & Jiggs
10.
Pavement
-
Range Life
11.
Wilco
-
Monday
12.
Spoon
-
Utilitarian
13.
George Harrison
-
What Is Life
14.
Bob Marley
-
No Woman No Cry (Live)