RSS
Compartir
15 Oct 2006, 16:14
i repeat and repeat, only one phrase, it was fooking gorgeous! i probably wasn't the biggest Coldcut fan before the show but now I AM. i thought it would be no more than another gig but it turned out to be THE gig of the Autumn for me. So much energy and drive, vibes, so incredible! I don't know whether it was a special effect or not but the floor seemed to be vibrating and the strong beat was coming right from your feet up into you and this simply made everyone dance. The huge part of the show made the videos appearing at the background showing us both kids cartoons, presidents Bush and Putin, as well as outtakes from some old movies, everything corresponding to the music brilliantly.
My favorite part of the show was probably [track
artist=Coldcut]more beats + pieces[/track], in particular the moment when the sample from Prokofiev's Peter and the Wolf began to play. I usually don't like any classics modern interprtations but the guys made this one perfectly, and it sounded live much more impressive than on the record.
Last thing i want to mention is that the guys themselves were so nice and friendly, smiling at constantly appearing shouts Let us play! from the audience, and of course everyone managed to come to them after the gig, get this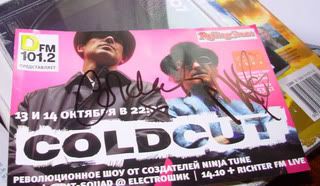 and thank them personally for the greatest show for the past few months. :)
A few video clips
The opening:
Don't remember what
Walk A Mile
:
True Skool
:
Timber
:
Coldcut
Comentarios