Conor Laurence…, 25, hombre, IrlandaVisto por última vez: Hace 6 horas
1

4

4

1

8

0

scrobblings desde 20 Dic 2007
236 temas favoritos | 2.741 mensajes | 1 lista de temas |

1.166 notas
| | | | | | |
| --- | --- | --- | --- | --- | --- |
| | | The Radio Dept – Against the tide | | | Ayer 1:58pm |
| | | Sigur Rós – Ágætis byrjun | | | Ayer 1:50pm |
| | | Talk Talk – After The Flood | | | Ayer 1:41pm |
| | | Chapel Club – After the Flood | | | Ayer 1:37pm |
| | | Amy Winehouse – Addicted | | | Ayer 1:31pm |
| | | Chris Morris – Acupuncture | | | Ayer 1:26pm |
| | | Midlake – Acts Of Man | | | Ayer 1:23pm |
| | | Je Suis Animal – The Mystery Of Marie Roget | | | Ayer 1:21pm |
| | | Mogwai – Acid Food | | | Ayer 1:16pm |
| | | Grizzly Bear – About Face | | | Ayer 1:09pm |
Ver más

Feeds
| | | | | | |
| --- | --- | --- | --- | --- | --- |
| 1 | | | | | |
| 2 | | | | | |
| 3 | | | | | |
| 4 | | | | | |
| 5 | | | | | |
| 6 | | | | | |
| 7 | | | | | |
| 8 | | | | | |
| 8 | | | | | |
| 10 | | | | | |
| 10 | | | | | |
| 12 | | | | | |
| 13 | | | | | |
| 14 | | | | | |
| 15 | | | | | |
| 16 | | | | | |
| 17 | | | | | |
| 18 | | | | | |
| 19 | | | | | |
| 20 | | | | | |
| 20 | | | | | |
| 22 | | | | | |
| 22 | | | | | |
| 24 | | | | | |
| 24 | | | | | |
| 26 | | | | | |
| 27 | | | | | |
| 27 | | | | | |
| 29 | | | | | |
| 29 | | | | | |
| 31 | | | | | |
| 32 | | | | | |
| 33 | | | | | |
| 33 | | | | | |
| 33 | | | | | |
| 36 | | | | | |
| 36 | | | | | |
| 38 | | | | | |
| 39 | | | | | |
| 40 | | | | | |
| 40 | | | | | |
| 40 | | | | | |
| 40 | | | | | |
| 44 | | | | | |
| 45 | | | | | |
| 46 | | | | | |
| 46 | | | | | |
| 46 | | | | | |
| 49 | | | | | |
| 50 | | | | | |

Feeds
| | | | | | |
| --- | --- | --- | --- | --- | --- |
| 1 | | | | | |
| 2 | | | | | |
| 3 | | | | | |
| 4 | | | | | |
| 5 | | | | | |
| 6 | | | | | |
| 7 | | | | | |
| 8 | | | | | |
| 9 | | | | | |
| 10 | | | | | |
| 11 | | | | | |
| 11 | | | | | |
| 13 | | | | | |
| 14 | | | | | |
| 15 | | | | | |
| 15 | | | | | |
| 17 | | | | | |
| 17 | | | | | |
| 19 | | | | | |
| 20 | | | | | |
| 21 | | | | | |
| 22 | | | | | |
| 22 | | | | | |
| 24 | | | | | |
| 24 | | | | | |
| 24 | | | | | |
| 24 | | | | | |
| 28 | | | | | |
| 29 | | | | | |
| 29 | | | | | |
| 29 | | | | | |
| 29 | | | | | |
| 33 | | | | | |
| 33 | | | | | |
| 33 | | | | | |
| 33 | | | | | |
| 33 | | | | | |
| 33 | | | | | |
| 39 | | | | | |
| 39 | | | | | |
| 39 | | | | | |
| 39 | | | | | |
| 43 | | | | | |
| 44 | | | | | |
| 44 | | | | | |
| 44 | | | | | |
| 47 | | | | | |
| 47 | | | | | |
| 47 | | | | | |
| 50 | | | | | |
Conóceme
Itunes Scrobbles My Songs Twice, IDK WHY?
I've been asked a few times about the Group below. The Idea For the LSC was taken from another site. I thought the idea would work perfectly on Last.fm, i was Right, so please stop asking lol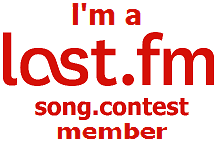 Hi There
Thanks For Stopping By Last.fm Person ;) If you like My Library You May Like My Mates Band "Neon Wolf" They Are Trying So Hard To Get Their Music out There :) You Can Listen Here on Spotify
http://open.spotify.com/album/5Qno8Zztxh0Lz8hqBsqvCE
Please Check Them out :)
or On
Youtube
Neon Wolf - We Own TheSkyPOSSIBLE REASONS FOR MY RANDOM FRIEND REQUEST / SHOUT!!!
1, I Think you haveFantastically superb taste in music
2, I think your fucking hot!
3, I like your style
4, I added you because i think if we knew each other in real life we would be best pals and talk about music all day
5, I Want to travel and accomadation is not cheap!
6, I See you out in clubs and want to be your friend to look cool!
i have an ever growing fear that i wont be able to listen to all the music in the world before i die!