Yaan Loddi, 24, hombre, Rusia
djgramm.promodj.ru/Visto por última vez: Lunes por la tarde
4

6

4

8

1

scrobblings desde 14 Oct 2010 (reiniciado el 17 Sep 2011)
| | | | | | |
| --- | --- | --- | --- | --- | --- |
| | | t.A.T.u. – All the Things She Said | | | ayer por la tarde |
| | | t.A.T.u. – Я твоя фанатка | | | ayer por la tarde |
| | | t.A.T.u. – Простые движенья | | | ayer por la tarde |
| | | ♥Тату – Gomenasai♥ | | | ayer por la tarde |
| | | Rammstein и Тату – Москва | | | ayer por la tarde |
| | | t.A.T.u. – ничья (toyza dubstep remix) | | | ayer por la tarde |
| | | √Тату – 220 на себя | | | ayer por la tarde |
| | | t.A.T.u. – Заведи | | | ayer por la tarde |
| | | t.A.T.u. – Нас не догонят | | | ayer por la tarde |
| | | t.A.T.u. – Югославия | | | ayer por la tarde |
| | | ♫ Тату ♫ – Я радиация | | | ayer por la tarde |
| | | t.A.T.u. – Робот | | | ayer por la tarde |
| | | t.A.T.u. – Клоуны | | | ayer por la tarde |
| | | t.A.T.u. – Не верь, не бойся, не проси | | | ayer por la tarde |
| | | t.A.T.u. – Я твоя не первая | | | ayer por la tarde |
| | | t.A.T.u. – Нас не догонят | | | ayer por la tarde |
| | | OST Дневники вампира|The Vampire Diaries (1 season) – (The Fray) - Never Say Never | | | ayer por la tarde |
| | | Raign – Don't Let Me Go (OST "Дневники Вампира" 5 сезон 21 серия) | | | ayer por la tarde |
| | | Lifehouse – It Is What It Is (ost. Дневники вампира) | | | ayer por la tarde |
| | | Jason Walker – Echo(OST ДНЕВНИКИ ВАМПИРА 3 СЕЗОН) | | | ayer por la tarde |
Ver más

Feeds
| | | | | |
| --- | --- | --- | --- | --- |
| 1 | | | | |
| 2 | | | | |
| 3 | | | | |
| 3 | | | | |
| 5 | | | | |
| 6 | | | | |
| 6 | | | | |
| 8 | | | | |
| 8 | | | | |
| 10 | | | | |
| 11 | | | | |
| 12 | | | | |
| 12 | | | | |
| 12 | | | | |
| 12 | | | | |
| 12 | | | | |
| 12 | | | | |
| 12 | | | | |
| 12 | | | | |
| 12 | | | | |

Feeds
| | | | | | |
| --- | --- | --- | --- | --- | --- |
| 1 | | | | | |
| 2 | | | | | |
| 3 | | | | | |
| 4 | | | | | |
| 5 | | | | | |
| 6 | | | | | |
| 6 | | | | | |
| 8 | | | | | |
| 9 | | | | | |
| 10 | | | | | |
| 10 | | | | | |
| 10 | | | | | |
| 13 | | | | | |
| 13 | | | | | |
| 13 | | | | | |
| 13 | | | | | |
| 17 | | | | | |
| 18 | | | | | |
| 18 | | | | | |
| 18 | | | | | |
| 18 | | | | | |
| 22 | | | | | |
| 22 | | | | | |
| 22 | | | | | |
| 25 | | | | | |
| 25 | | | | | |
| 25 | | | | | |
| 25 | | | | | |
| 25 | | | | | |
| 25 | | | | | |
| 25 | | | | | |
| 25 | | | | | |
| 33 | | | | | |
| 33 | | | | | |
| 33 | | | | | |
| 33 | | | | | |
| 33 | | | | | |
| 33 | | | | | |
| 33 | | | | | |
| 40 | | | | | |
| 40 | | | | | |
| 40 | | | | | |
| 40 | | | | | |
| 40 | | | | | |
| 40 | | | | | |
| 46 | | | | | |
| 46 | | | | | |
| 46 | | | | | |
| 46 | | | | | |
| 46 | | | | | |
Conóceme
Я диджей из подмосковных Мытищи. Работаю в программе FL Studio 10, с ее помощью написаны все треки от самого первого до последнего. Пишу Trance и House, иногда экспериментирую и пишу Breaks/Breakbeat, Drum and Bass и Happy Hardcore. Начал писать треки летом 2009 года, постепенно совершенствую свое мастерство написания произведений, вырабатываю свое собственно отличительное звучание музыки.
I am a DJ from Moscow. I work in the program FL Studio 10, with the help of all the songs are written from the beginning to end. I am writing to Trance and House, sometimes experimenting and writing Breaks / Breakbeat, Drum and Bass and Happy Hardcore. He began to write songs in the summer of 2009, gradually improving their skills of writing works, develop their own distinctive music.
<a href="
http://feedjit.com/ir1/6701b2e7fd83f5ca2c38d67f7fcec0e2/"><img
src="
http://feedjit.com/b/6701b2e7fd83f5ca2c38d67f7fcec0e2.png&quot
; alt="" border="0" ISMAP /></a>
Last.FM Milestones
1st track: (17 Sep 2011)
Hazem Beltagui - Joyful Sadness (Original Mix)

1000th track: (12 Nov 2011)
Oliver Huntemann - New 2011

2000th track: (29 Nov 2011)
Charlie Clouser - Saw Theme Tune (Toxik Dubstep Remix)

3000th track: (20 Dec 2011)
Technikore - Runaway

4000th track: (25 Dec 2011)
Siria - Endless Summer

5000th track: (12 Jan 2012)
Dougal & Gammer feat. Niki Mak - Back Home
6000th track: (14 Feb 2012)
Chase & Status - Pieces
7000th track: (15 Mar 2012)
Dynamic - Acid Beat

8000th track: (18 Apr 2012)
Scott Lowe & High Definition - Midnight Blue (James Dymond Remix)
9000th track: (11 May 2012)
Apex - By the Way

10000th track: (01 Jun 2012)
Electrasy - Cosmic Castaway

11000th track: (06 Jul 2012)
Sigurt - Together

12000th track: (04 Aug 2012)
Blake Jarrell - Boracay (Venaccio Remix)

13000th track: (21 Sep 2012)
Adrenalize - Forest Interlude

Generated on 04 Oct 2012
Get yours here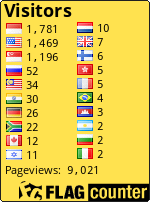 Actividad reciente