Naj, hombre, Estados Unidos
najcolabs.comVisto por última vez: Julio 2014
3

8

5

1

4

scrobblings desde 2 Ago 2009
2.299 temas favoritos | 0 mensajes | 2 listas de temas |

76 notas

Feeds
| | | | | |
| --- | --- | --- | --- | --- |
| 1 | | | | |
| 2 | | | | |
| 3 | | | | |
| 4 | | | | |
| 5 | | | | |
| 6 | | | | |
| 7 | | | | |
| 8 | | | | |
| 9 | | | | |
| 10 | | | | |
| 11 | | | | |
| 12 | | | | |
| 13 | | | | |
| 14 | | | | |
| 15 | | | | |

Feeds
| | | | | | |
| --- | --- | --- | --- | --- | --- |
| 1 | | | | | |
| 2 | | | | | |
| 3 | | | | | |
| 4 | | | | | |
| 5 | | | | | |
| 6 | | | | | |
| 7 | | | | | |
| 8 | | | | | |
| 8 | | | | | |
| 10 | | | | | |
| 11 | | | | | |
| 12 | | | | | |
| 12 | | | | | |
| 12 | | | | | |
| 15 | | | | | |
Conóceme
- 0s & 1s is what this universe all about.
- Life is like an ice cream. Enjoy it before it melts!
- The ugliness we see in others is the reflection of our own nature.
- This world does not reward perfection. It rewards productivity!
- Every failure is a step towards success!
- Be the change you want to see in the world!
- The Essence of Knowledge is, having it, to use it!
- How can we remember our ignorance, which our growth requires, when we are using our knowledge all the time?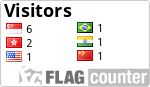 Actividad reciente