Top Albums
Those worth a listen for a few good songs...
Pulled Apart By Horses - Tough Love
Future of the Left - The Plot Against Common Sense
Marina & the Diamonds - Electra Heart
Tame Impala - Lonerism
Sweet Billy Pilgrim - Crown and Treaty
Metric - Synthetica
First Aid Kit - The Lion's Roar
Cloud Nothings - Attack on Memory
Sleigh Bells - Reign of Terror
Those who just missed the cut...
Chairlift - Something
Cate le Bon - CYRK
Dog is Dead - All Our Favourite Stories
Lucy Rose - Like I Used to
The Mars Volta - Noctourinquet
Rolo Tomassi - Astraea
Top Ten...
10) Gallows: S/T
9) Friends: Manifest!
8) Bat for Lashes: The Haunted Man
7) 2:54: S/T
6) Grimes: Visions
5) Sharon van Etten: Tramp
4) Alt-J: An Awesome Wave
3) David Byrne & St Vincent: Love this Giant
2) Beach House: Bloom
1) Mark Lanegan: Blues Funeral
It's hard to say I really love any more than the top 2 of these, although I find the year at least punctuated by a nice variety.
Songs of the Year
10) Sharon van Etten: Leonard
9) Bat for Lashes: All Your Gold
8) Dog is Dead: Two Devils
7) David Byrne & St Vincent: Lazarus
6) Grimes: Oblivion
...
5) Alt-J: Matilda
4) Grimes: Genesis
3) Beach House: Lazuli
2) Mark Lanegan: Ode to Sad Disco
1) Sharon van Etten: Give Out
2012 Scrobbling
Artists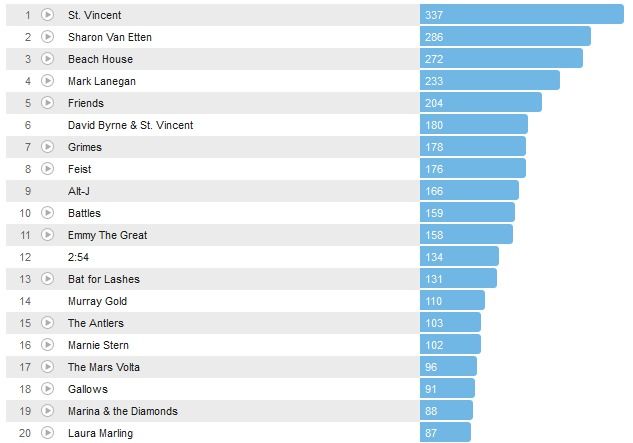 Songs