David Adams, 25, hombre, Estados Unidos
www.leaptrade.comVisto por última vez: ayer por la mañana
8

5

7

2

2

scrobblings desde 29 Sep 2006
31 temas favoritos | 35 mensajes | 0 listas de temas |

173 notas

Feeds
| | | | | |
| --- | --- | --- | --- | --- |
| 1 | | | | |
| 2 | | | | |
| 3 | | | | |
| 4 | | | | |
| 5 | | | | |
| 6 | | | | |
| 7 | | | | |
| 8 | | | | |
| 9 | | | | |
| 10 | | | | |
| 11 | | | | |
| 12 | | | | |
| 13 | | | | |
| 14 | | | | |
| 15 | | | | |
| 16 | | | | |
| 17 | | | | |
| 18 | | | | |
| 19 | | | | |
| 20 | | | | |
| 21 | | | | |
| 22 | | | | |
| 23 | | | | |
| 24 | | | | |
| 25 | | | | |
| 26 | | | | |
| 27 | | | | |
| 28 | | | | |
| 29 | | | | |
| 30 | | | | |

Feeds
Conóceme
Hey there, the name's Dave and I'm currently attending Northern Michigan University starting in the fall of 2013. I used to run a fan blog dedicated to getting you the up to date news on anything Flight of the Conchords, but life took over and I haven't been interested in blogging since. You can still check the blog out below. You can also find me on twitter and I imagine you'll be seeing me on there more anyways.
Folk You! - Flight of the Conchords news
Anyways I'm into video games, movies, tv, art, photography, the internet, techonlogy, and so on.
I love my Creative Zen.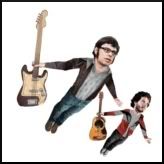 bigd2k6's top albums (overall)
1. Flight of the Conchords - Flight of the Conchords (1000)
2. Flight of the Conchords - Folk the World Tour (915)
3. Jeff Buckley - Grace (649)
4. Flight of the Conchords - I Told You I Was Freaky (582)
5. Tim And Eric - Awesome Record, Great Songs (500)
6. Childish Gambino - Culdesac (455)
7. Childish Gambino - Camp (447)
8. Dethklok - The Dethalbum (445)
9. Ayreon - The Human Equation (418)
10. Tristâme - Unraveling Horizons (404)
Bremaine's latest tweets
Actividad reciente