60, hombre, Nueva ZelandaVisto por última vez: Hace 19 días
5

2

9

1

4

scrobblings desde 8 Nov 2008
1.061 temas favoritos | 0 mensajes | 19 listas de temas |

572 notas

Feeds
| | | | | |
| --- | --- | --- | --- | --- |
| 1 | | | | |
| 2 | | | | |
| 3 | | | | |
| 4 | | | | |
| 5 | | | | |
| 6 | | | | |
| 7 | | | | |
| 8 | | | | |
| 9 | | | | |
| 10 | | | | |
| 11 | | | | |
| 12 | | | | |
| 13 | | | | |
| 14 | | | | |
| 15 | | | | |

Feeds
| | | | | | |
| --- | --- | --- | --- | --- | --- |
| 1 | | | | | |
| 2 | | | | | |
| 3 | | | | | |
| 4 | | | | | |
| 5 | | | | | |
| 6 | | | | | |
| 7 | | | | | |
| 8 | | | | | |
| 8 | | | | | |
| 10 | | | | | |
| 11 | | | | | |
| 12 | | | | | |
| 13 | | | | | |
| 14 | | | | | |
| 14 | | | | | |
Conóceme
"Yesterday is history, tomorrow is a mystery. And today? Today is a gift. That's why we call it the present.""Resolve to make at least one person happy every day, and then in ten years you may have made three thousand, six hundred and fifty persons happy, or brightened a small town by your contribution to the fund of general enjoyment."
Top Artists Overall[
We are all inventors, each sailing out on a voyage of discovery, guided each by a private chart, of which there is no duplicate. The world is all gates, all opportunities.

"Blessed are they who see beautiful things in humble places where other people see nothing."

" "People travel to wonder at the height of the mountains, at the huge waves of the seas, at the long course of the rivers, at the vast compass of the ocean, at the circular motion of the stars, and yet they pass by themselves without wondering."




url=http://pict.fm/results/88f69ceec1.html]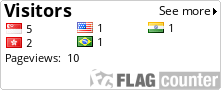 baptie01's top albums (overall)
1. Black Label Society - Mafia (358)
2. 5.6.7.8's - Bomb the Rocks: Early Days Singles 1989 (261)
3. Crosby, Stills & Nash - So Far (214)
4. Epica - Consign to Oblivion (175)
5. 5.6.7.8's - Teenage Mojo Workout (155)
6. Rob Zombie - The Sinister Urge (151)
7. Ozzy Osbourne - No More Tears (147)
8. Deep Purple - Deepest Purple: The Very Best of Deep Purple (145)
9. Ozzy Osbourne - Black Rain (145)
10. Ozzy Osbourne - Blizzard of Ozz (128)
11. Black Label Society - 1919 Eternal (127)
12. The Beatles - The Beatles 1 (126)
13. Jimi Hendrix - Experience Hendrix: The Best of Jimi Hendrix (125)
14. Era - Era (120)
15. Rob Zombie - Hellbilly Deluxe (119)
16. Enya - Paint the Sky With Stars: The Best of Enya (117)
17. Apocalyptica - Inquisition Symphony (114)
18. Apocalyptica - Apocalyptica (111)
19. Black Label Society - Stronger Than Death (111)
20. Styx - Greatest Hits (110)
Actividad reciente