25, hombre, Australia
instagram.com/avadnalVisto por última vez: Hace 12 días
1

7

0

6

5

0

scrobblings desde 13 Ene 2006 (reiniciado el 3 Dic 2006)
104 temas favoritos | 2.646 mensajes | 1 lista de temas |

3.122 notas

Feeds
| | | | | |
| --- | --- | --- | --- | --- |
| 1 | | | | |
| 2 | | | | |
| 3 | | | | |
| 4 | | | | |
| 5 | | | | |
| 6 | | | | |
| 7 | | | | |
| 8 | | | | |
| 9 | | | | |
| 9 | | | | |
| 11 | | | | |
| 11 | | | | |
| 13 | | | | |
| 14 | | | | |
| 14 | | | | |

Feeds
| | | | | | |
| --- | --- | --- | --- | --- | --- |
| 1 | | | | | |
| 2 | | | | | |
| 3 | | | | | |
| 3 | | | | | |
| 5 | | | | | |
| 6 | | | | | |
| 7 | | | | | |
| 8 | | | | | |
| 9 | | | | | |
| 10 | | | | | |
| 11 | | | | | |
| 12 | | | | | |
| 13 | | | | | |
| 13 | | | | | |
| 15 | | | | | |
| 16 | | | | | |
| 17 | | | | | |
| 17 | | | | | |
| 19 | | | | | |
| 19 | | | | | |
Conóceme
I'm terrible at describing myself, but here are a few things...
General
»

Avid listener of Atmospheric / Dark Ambient music - Anything that induces a pensive or imaginative state.
»

Forever motivated in discovering new and/or obscure music.
»

Don't be afraid to send me a PM or shout - I love providing and receiving recommendations!

Miscellaneous
»

Diablo 3 whore.
»

Former StarCraft 2 addict.
»

J'ai étudié le français pendant 2 ans.
»

~30k tracks scrobbled before profile reset.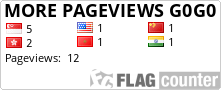 As of 1/3/10