RSS
Compartir
28 May 2009, 23:51
Sat 16 May – Highlands Festival-Where Blues meets Rock
Sat 16 May – Highlands Blues festival
Concert report: Sonny WAS going DUTCH! 16/05/09 @ HIGHLANDS
Hello Sonny Fans, On Saturday 16 May The BIG Day!
Below my personal report of Sonny @ HIGHLANDS! 16/05/09
FOR VERY BEAUTIFULL action PICTURES of Sonny, Dave and Brian :
CLICK >HERE<

THE Radio Interview with Sonny Landreth @ Highlands The Netherlands
Fans Listen THis Till The end!
SPECIAL LISTEN the Last 2 Minutes of this ca 9 minutes interview @ the Dutch website:CLICK :
>HERE<

Sorry about my Bad english But at least I try! LOL

With what it all started:
I started previous year at the Dutch Sonny Landreth-Hyves
with the petition:
" Sonny Must GO Dutch in 2009! "
It already was a number of years ago that that this gitaarvirtuoos acted in the Netherlands. More than 330 fans supported the petitition.
I regularly disturb you all with my Sonny-Spam LOL also with several Sonny gadget (Highlands-Music-player video box and homemade Promo-Filmpjes for
the HIGH LANDS festival!
on f.e
Highlands-hyves
etc.
Also
Bluesmoose radio
gave attention to our petition! (examine video mentioned below!)
By means of my contact person in the USA this petition to Sonny was handed over to the manager of Sonny Brad… Brad indicated that possibly something would -sit in the pipe line- and that would want them act gladly again in the Netherlands. Sonny appreciated the support of its Dutch fans
Now we have to be patient if Sonny in his Tour schedule found a spot to come direction the Netherlands. The rumours apprehended end previous year that it would come of! Sonny would do a short European tour!?
And yes ! End this year stood up the Netherlands already in its tourschema at its official bookings agency. Although It did not not yet mentioned at his own officially Internet.
I got by means of my contact person in the USA that to hear it was correct! The contracts had been signed!
And yes a short European tour now also appears at his official Internet site :
Two- Gigs in United Kingdom. (@ The Borderline London12 and 17 may
One-Gig Germany @ The Bluesgarage Hannover .14 may
AND
.... The Netherlands.
@ HIGHLANDS!
16 may!!
In the meantime also the HIGHLANDS Festival more and more figure. The organisation was still very busy with contracting * top artists and denied nor confirmed me that Sonny would come.
But as at its official bookings agency state yes mentioned: 16 may 2009 HIGHLANDS! The Netherlands
Eventually I came in contact with Sjef owner of Dutch concert productions, tourproducties and charges organistion
Rock n Roots .
the CIRCLE was round!
SONNY were going DUTCH 16 May 2009! Mission succeeded!
The concert report of Sonny Landreth @ HIGHLANDS 16/05/09
On 16 May was I went up to that point direction Amersfoort The Festival HIGHLANDSwhere Blues Meets rock! To see Sonny LIVE!
Of course I will meet there much faithful fans/devotees and Blues there would meet Hyvers.
Like among others
Bouwe, Lennox, Marco van Bluesmagazine.nl, Babs van Bluesrockmagazine, Leif, Purple lady Anita and my French Slide friend: Eric
that entirely from Paris direction the Netherlands ended up to see his hero! etc.
I put on my Sonny-outfit: GOT SLIDE T shirt of the SonnyKrewe and with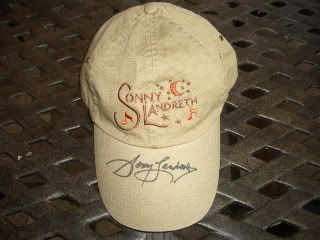 my Sonny Landreth Signed cap
on my head direction: HIGHLANDS Arrived ! As the HIGHLANDS organisation had indicated already on the Internet site and the several newsletters. Beautiful advancement!. Tidy around the festival area different Places where you can eat. And a splendidly built Stage.!
As from 12.00 the festival started. I am possible now, however, a report of each Top-act that acted there here to describe. But we restrict to our Supreme Slide master Sonny Landreth
For approx. 19.15 still just as last soundcheck of Bass man Dave Ranson and (temporary substitute of drummer Michael Burch) Brian Brignac.
Plane for 19.30 was it then up to that point!: Sonny had been ready for its first LIVE to act for years in the Netherlands.
Exactly for 19.30 the air were filled with the splendid guitar sound of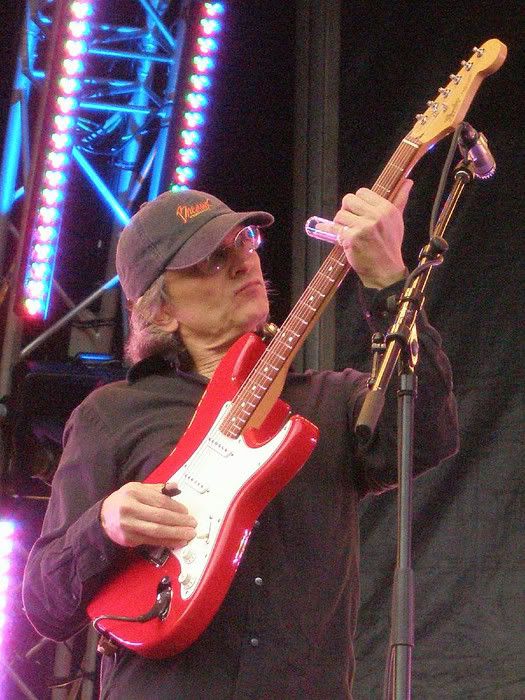 Supreme Slide master SONNY LANDRETH
! Fantastically such as he played! . What a sound.! A sound that only thisGuitar master can out of his guitar!. What a technique!
The opening no. Port of Calling
gave me shivers soooooooo nicely what a jet ear consonances and what slide technique! The no.
South 1-10
in fact a sung biography splendidly!!
Native Stepson
,
Wind in Denver
whipping /swamppie the Ghost Notes of Sonny as John Hiatt says.. Fantastic!
Hell at Home
, the instrumentale
Uberesso
(based its passion for Espresso! (See My self made video-Clip) What a technique. What a finger skilfulness!
Sonny's - Überesso (HIS Passion for Espresso!)
Sonny Played further:
Promise Land, Milky Way Home
(My buddy Leif still not knowledge how that plays/ which technique he uses.)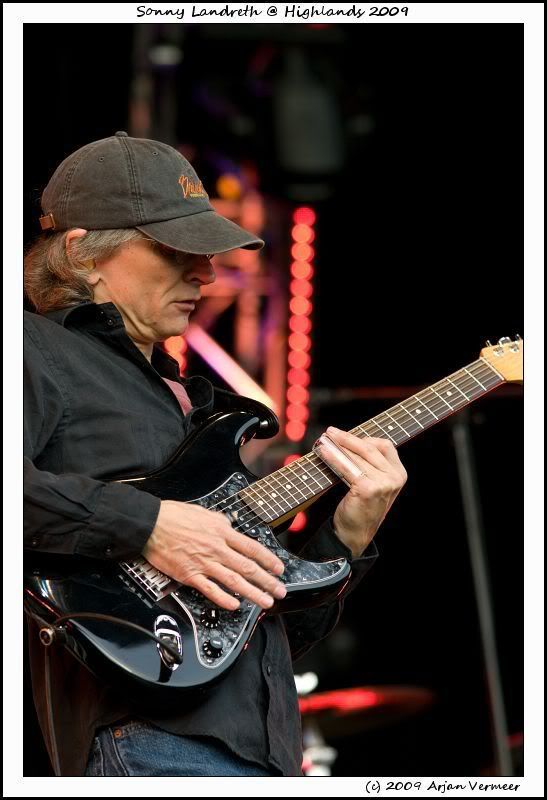 And natural
Blue Tarp Blues
(with a reference to the flood /Katarina) (the Blue tarp are the blue Tarps that they then used!)
I Watch the Supreme Slide Master by all that Numbers with open mouth to the Solos of this Guitar virtuoso Yes Sonny!
And correct he is The Blues Music Award (formerly W. C. Handy Award) winner 2008 in the category: BEST Guitarist!
After a hour, it was unfortunately over. No encore ( the tight Timetable of the organization) It tasted to much more! Had to hear Congo Square , want to hear and Pedal to Metal etc! But Sonny satisfied complete at my expectations. And.. he has there a new multitude fans by. In no time the CD Levee Town sold off (With Bonus CD) on the festival! The real lovers knew him already.
So After his show Sonny has now a a large number of NEW fans !
The most reviews were the in every case with once: a TOP musician and 1 of TOP-acts of HIGHLANDS!
Sonny ended its action with the words:
--IF YOU COME BACK, I' LL COME BACK! LETS MAKE IT AN TRADITION!--Sonny Landreth a fixed value on Highlands also in 2010!? End conclusion:
Quote:
--Sonny Landreth was normally the topact on Highlands. Sonny, the best slide-gitarist in the world, has that on Highlands prevent once consolidated. What a gitarist!! Guitar music of an unprecedented high-minded quality, which a man a piece of in the throat gets, where your breath by burns. Tremendously!!! Superlatives shortage !-–
~Fons
After Sonny's performance I get the possibility to speak with him personal. Sonny took further the time for a sign session, Photographs with fans enz). What A really Nice person as expected! [media id=5864883281NRQ size = medium]
I Told him that it would be nice as the next time would want to give a pre-gig for its Faithful Fans. Now it was not possible because of the the tight plan of his short European tour.
But he said:" I want come Back William! This festival was very well excellently organized" !
Sources know me to mention that he end or beginning next year Sonny will come again to the Netherlands!? He gave at that he the next day on the way back to the USA yet 1 Gig (@ The Borderline(London UK) and then immediately again flew back direction USA!
IT WAS A GREAT DAY for me! Finally:
I wanna thank all fans that supported that the petition
" Sonny Must GO Dutch in 2009!"
,
Bluesmoose radio
etc by the Sonny landreth-hyves for all and members of
the Sonny Landreth LastFm Group
and the SonnyKrewet! Special..Cynthia :(
And of course The
HIGHLANDS organisation!
and above all Sjef of
Rock n Roots
Sjef that in fact HIGHLANDS TIPPED and organized that Sonny to HIGHLANDS came/the circle around made for this! Thanks!
SONNY WAS going DUTCH 16 May 2009! Below recordings Ive made of Sonny's show @ Highlands
Including 2 Vids of Sonny's Gig @ UK and germany
1- @ The Bluesgarage 14 may
1-@ The Borderline 17 may
Notice:The sound of Some vids @ HIGHLANDS are not as it should be. Of course I stood FRONT Stage Near Dave ransons Bass-Boxes so..
But The quality in real LIVE was Perfect Excellent!f

Some atmosphere recordings of the perfect organized HIGHLANDS

And some really Nice pictures made by my DUTCH Buddies and me.

FOR MORE action PICTURES of Sonny, Dave and Brian :
CLICK >HERE<

Music Grtz. of William, Moderator. -Supreme Slide Guitar Master-: SONNY LANDRETH-HYVES! NICE MUSIC DOPE! and the Sonny Landreth LastFm Group

GOT SLIDE
William
http://sonny-landreth.hyves.nl





NOTE: About The Videos ive made:
Of course I stood Frontstage!
And 1 mtr before the BASS-Boxes. So the sound is not so so.
But it gives still a good impression that i wanna share with you all!

TIP! CLICK THE HQ BUTTON To WATCH!

There HE IS!:Sonny Landreth with Dave &Brian @ Highlands 16th of May 2009!


Wind in Denver 160509 Highlands Netherlands HQ


The Promise Land 160509 Highlands Netherlands HQ


Sonny's Guitar Solos ! @ Highlands160509
Wind in Denver ,South 1 10, Native Stepson


Wind In Denver @ Bluesgarage Germany 14/05/09


Uberesso @ the Borderline 17/05/09


Port of Calling


Native Stepson


Silent Fanfare
musicians with no sound! LOL


AND....

Food was excellent!
You hear Jethro Tull in the background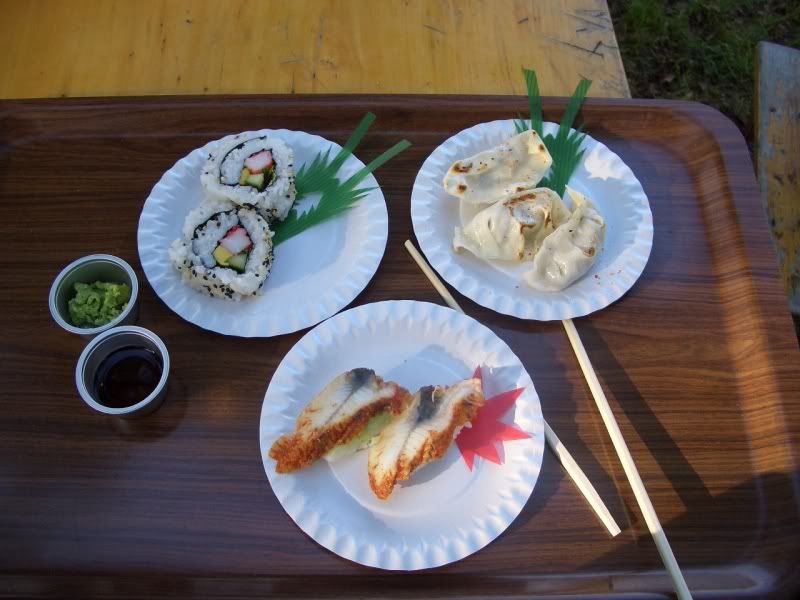 LOVE The HIGHLANDS Gambas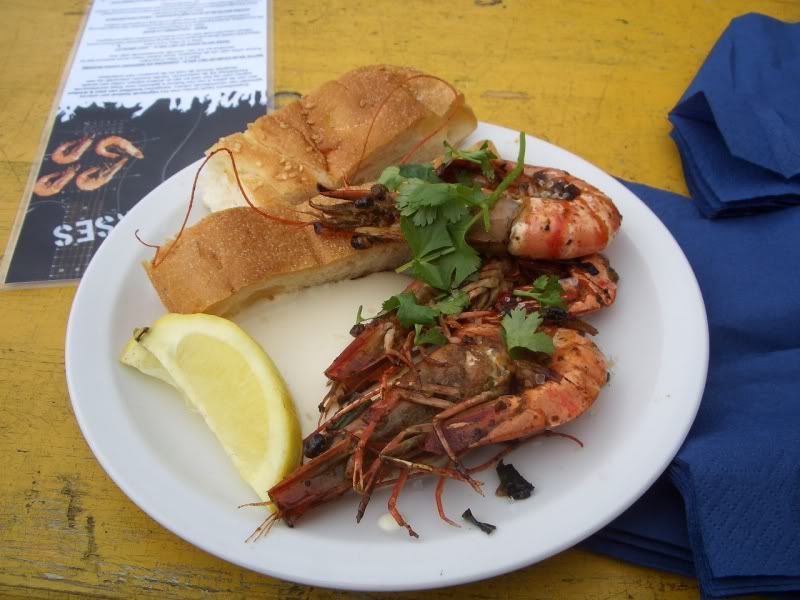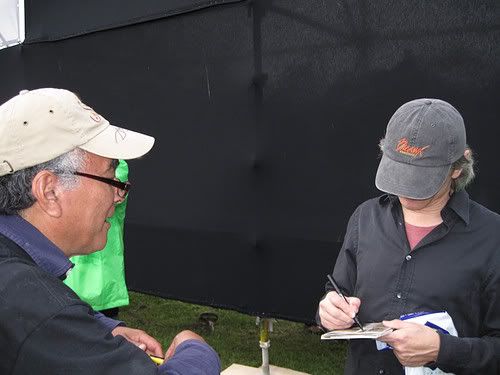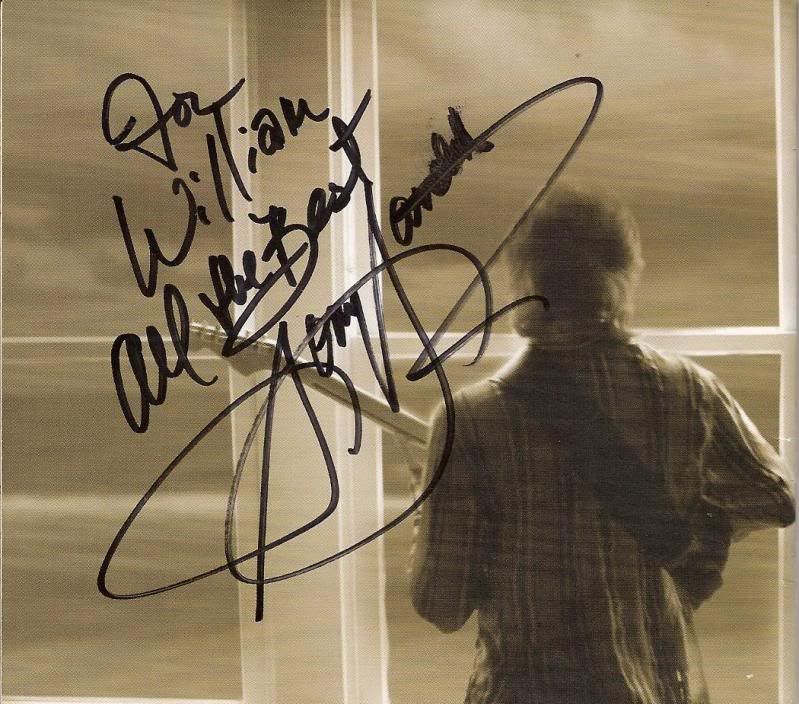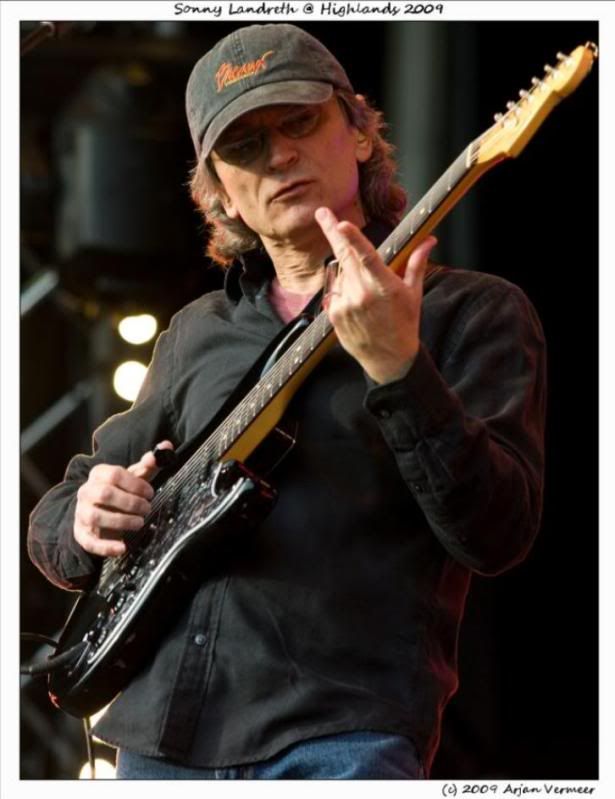 Envíos aceptados
Sonny Landreth
,
It's all about the LYRICS
,
Female Voices
,
Nederlanders!
,
Twitter
,
BLUES!
,
guitar players
,
Jack Johnson
,
Guitar Gods
,
Dire Straits
,
Austin City Limits
,
blues rock
,
The Movie Group
,
Stevie Ray Vaughan
,
Mark Knopfler
,
Eric Clapton, Cream, Derek and the Dominos
,
Guitar Blues
,
Guitar Players Unite
,
Lenny Kravitz
,
KindaMuzik
,
Bob Dylan.
,
Blues Artist of the Week
,
Lisbon - Portugal
,
The Blues People
,
Blues - Poland
,
The Rock and Roll Hall of Fame
,
BB King
,
Xavier Rudd
,
Lucinda Williams
,
Gov't Mule
,
Van Morrison
,
Concert Stories
,
Blues Rock & Roots Rock
,
Robert Cray
,
BLUES council
,
Zydeco
,
Robert Randolph and the Family Band
,
muziekhyve
,
Keb' Mo'
,
Los Lonely Boys
,
The Marshall Tucker Band
,
Canadian Blues
,
Taj Mahal
,
Susan Tedeschi Fans
,
Ian Thornley
,
Cesária Évora
,
Mofro
,
Magda Piskorczyk
,
bluesclubka
Envíos pendientes
Singer-Songwriters
,
Last.fm em português
,
Scandinavia
,
God is a Guitar
,
Later...with Jools Holland
,
Ben Harper & Jack Johnson
,
Yavuz Çetin
,
UK BLUES
,
Blues Boogie
,
Old Time Blues
,
Another Country
,
Donavon Frankenreiter
,
Juanes
,
Duane Allman
,
Blues Harp
,
Ryan Cabrera
,
Crosby Stills Nash and Young
,
Nederlandse Rock & Metal Fans
,
Steve Earle
,
Jackson Browne
,
Tom Petty
,
Gigant - Apeldoorn
,
John Butler Trio
,
Steve Lukather
,
Muddy Waters
,
Bonnie Raitt
,
Doug MacLeod
,
Texas
,
Steve Forbert
,
Blues Portugal
,
Johnny Winter
,
Legendary Rhythm and Blues Cruise
,
Alejandro Escovedo
,
Kubb
,
Vince Gill
,
Blue Merle
,
Buick Drivers
Comentarios