Violet xoxox, 95, mujer, Estados Unidos
www.undented.comVisto por última vez: Julio 2014
3

2

5

3

2

scrobblings desde 5 Abr 2007
130 temas favoritos | 115 mensajes | 1 lista de temas |

107 notas

Feeds
| | | | | |
| --- | --- | --- | --- | --- |
| 1 | | | | |
| 2 | | | | |
| 3 | | | | |
| 4 | | | | |
| 5 | | | | |
| 6 | | | | |
| 7 | | | | |
| 8 | | | | |
| 9 | | | | |
| 10 | | | | |
| 11 | | | | |
| 12 | | | | |
| 13 | | | | |
| 14 | | | | |
| 15 | | | | |
| 16 | | | | |
| 17 | | | | |
| 18 | | | | |
| 19 | | | | |
| 20 | | | | |
| 21 | | | | |
| 21 | | | | |
| 23 | | | | |
| 24 | | | | |
| 25 | | | | |
| 26 | | | | |
| 27 | | | | |
| 28 | | | | |
| 29 | | | | |
| 30 | | | | |

Feeds
| | | | | | |
| --- | --- | --- | --- | --- | --- |
| 1 | | | | | |
| 2 | | | | | |
| 3 | | | | | |
| 4 | | | | | |
| 5 | | | | | |
| 6 | | | | | |
| 6 | | | | | |
| 8 | | | | | |
| 9 | | | | | |
| 10 | | | | | |
| 11 | | | | | |
| 12 | | | | | |
| 12 | | | | | |
| 14 | | | | | |
| 14 | | | | | |
| 14 | | | | | |
| 17 | | | | | |
| 17 | | | | | |
| 19 | | | | | |
| 20 | | | | | |
| 21 | | | | | |
| 21 | | | | | |
| 21 | | | | | |
| 24 | | | | | |
| 25 | | | | | |
| 25 | | | | | |
| 25 | | | | | |
| 25 | | | | | |
| 25 | | | | | |
| 25 | | | | | |
Conóceme
Come check out the group I Wish I Could Teleport To 1973 London.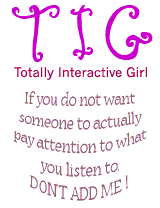 I'm an artist, webmistress (Undented.com), animal rescuer, and weird girl living in the San Francisco Bay Area.
I'm here because I want to connect with people who listen to cool artists I've never heard of. Finding new music is the best thing in the world. It would be boring if I was only "friends" with people who had the exact same taste as mine. I
want
to branch out and expand my musical — and yes, even social — horizons. Otherwise I wouldn't bother with an account here ... I'd just put on my favorite album and sit in front of a mirror and talk to myself.
And you're here hoping someone will actually care what
you
listen to, right?
So if I add you as a "friend," it's because I genuinely find your taste interesting ... it doesn't mean I want to marry you or be your BFF. *lol* People take themselves soooooo seriously sometimes. Just because our stupid-ass compatibility scores don't "match" doesn't mean we don't listen to a lot of the same artists; it just means we
also
listen to different artists as well. And that's a
good
thing.
If you add me, I promise I'll add you back. No snubs here! Besides, it's not like friending someone means they suddenly get access to super-secret journal entries or private phone numbers or links to scandalous porn photos. It just makes it easier to keep track of them in the flotsam of Last.fm.
I started a group here called "I Wish I Could Teleport To 1973 London." It's still pretty new and I hope it will take off, because damn, I seriously wish I
could
teleport to 1973 London and figure there must be loads of other people who feel the same way. The folks who have joined so far are fantastic and friendly and they all have amazing taste — I've found a lot of great music through them.
My accounts at other services, in case anyone is interested:
Llivejournal
Twitter
MySpace
Facebook
Blip.fm