Nathanael Brignoni, 19, hombre, Estados UnidosVisto por última vez: Hace 18 horas
1

0

1

9

3

scrobblings desde 8 Feb 2012
1.048 temas favoritos | 29 mensajes | 3 listas de temas |

35 notas
| | | | | | |
| --- | --- | --- | --- | --- | --- |
| | | Cultural Amnesia – Where Has All the Difference Gone descarga gratuita | | | Ayer 9:42pm |
| | | Cultural Amnesia – Do You Remember the war | | | Ayer 9:36pm |
| | | Cyberaktif – Nothing Stays the Same | | | Ayer 9:31pm |
| | | Mortal Wish – Your Heart (Early Mix) | | | Ayer 9:30pm |
| | | Mortal Wish – Suggestion For | | | Ayer 9:24pm |
| | | NATHANAEL "SHIP MERCHANT" – N.SM - Violent Beatdown! | | | Ayer 9:23pm |
| | | NATHANAEL "SHIP MERCHANT" – N.SM - Violent Beatdown! | | | Ayer 9:21pm |
| | | NATHANAEL "SHIP MERCHANT" – N.SM - Violent Beatdown! | | | Ayer 9:18pm |
| | | NATHANAEL "SHIP MERCHANT" – N.SM - Treacherous Trip (Far from home) | | | Ayer 9:17pm |
| | | NATHANAEL "SHIP MERCHANT" – N.SM - Hey, Ship Merchant! descarga gratuita | | | Ayer 9:14pm |
| | | NATHANAEL "SHIP MERCHANT" – N.SM - Surrounded (In the hands of the enemy) descarga gratuita | | | Ayer 9:10pm |
| | | NATHANAEL "SHIP MERCHANT" – N.SM - Treacherous Trip (Far from home) descarga gratuita | | | Ayer 9:06pm |
| | | NS.M – TH4 R1V3RB04T ESC4P3 PL3N | | | Ayer 9:05pm |
| | | NS.M – TH4 R1V3RB04T ESC4P3 PL3N descarga gratuita | | | Ayer 9:00pm |
| | | NATHANAEL "SHIP MERCHANT" – UNFORGOTTEN MEMORYS & UNFORGIVEN INSANITY | | | Ayer 8:59pm |
| | | NATHANAEL "SHIP MERCHANT" – SOULSEAL FADING | | | Ayer 8:55pm |
| | | NATHANAEL "SHIP MERCHANT" – ANTI.SOCIAL descarga gratuita | | | Ayer 8:50pm |
| | | NATHANAEL "SHIP MERCHANT" – LONES1LENCE (BEYOND REACH) | | | Ayer 8:49pm |
| | | NATHANAEL "SHIP MERCHANT" – CAST AWAY! (FAITH ABANDONED) descarga gratuita | | | Ayer 8:47pm |
| | | NATHANAEL "SHIP MERCHANT" – CAST AWAY! (FAITH ABANDONED) descarga gratuita | | | Ayer 8:45pm |
Ver más

Feeds
| | | | | | |
| --- | --- | --- | --- | --- | --- |
| 1 | | | | | |
| 2 | | | | | |
| 3 | | | | | |
| 4 | | | | | |
| 5 | | | | | |
| 6 | | | | | |
| 7 | | | | | |
| 8 | | | | | |
| 9 | | | | | |
| 10 | | | | | |
| 11 | | | | | |
| 12 | | | | | |
| 13 | | | | | |
| 14 | | | | | |
| 15 | | | | | |

Feeds
| | | | | | |
| --- | --- | --- | --- | --- | --- |
| 1 | | | | | |
| 2 | | | | | |
| 3 | | | | | |
| 3 | | | | | |
| 3 | | | | | |
| 6 | | | | | |
| 6 | | | | | |
| 6 | | | | | |
| 9 | | | | | |
| 10 | | | | | |
| 11 | | | | | |
| 11 | | | | | |
| 11 | | | | | |
| 11 | | | | | |
| 11 | | | | | |
Conóceme
i am a cyber\gaming\computer junkie who is a hardcore fan of the industrial genre, i also like several other genres of music.
i have my own music project as well
NATHANAEL "SHIP MERCHANT"
it is an experimental\industrial\neo-classical\darkwave solo project that i started around November 2010
feel free to check back here frequently as i will be updating my library\database as frequently as i can
if you want any good specific music recommendations feel free to post a shout or send me a message i would be more than happy to share what i feel is some of the best music on the planet!
if you wish to be my friend, your more than welcome too
if you like the music here, be sure to check out my project here
NATHANAEL "SHIP MERCHANT"
or here
NATHANAEL "SHIP MERCHANT" - Official Myspace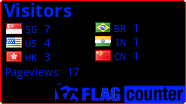 Actividad reciente