1.
Caladan Brood
, Echoes of Battle
The best album of the year, if not the decade. Memorable songs, with catchy hooks, choirs, chants, melodious folk, and bombarding battle hymns reminiscent of and inspired by Malazan and Summoning.
2.
Abyssal
, Novit enim Dominus qui sunt eius
After 2012's AOTY for me, Abyssal yet again set a high standard in the world of bestial black metal.
3.
Gorguts
, Colored Sands
The technical death metal behemoths return with another album that solidify their place as the forefathers of death metal with a dissonance.
4.
Portal
, Vexovoid
Bleak and unnatural to say the least, but you'd guess that if you already now Portal.
5.
Vallendusk
, Black Clouds Gathering
An Indonesian quad that took me, and probably the entire atmo black metal scene by surprise, great debut and hoping for more great things to come.
6.
Ævangelist
, Omen ex Simulacra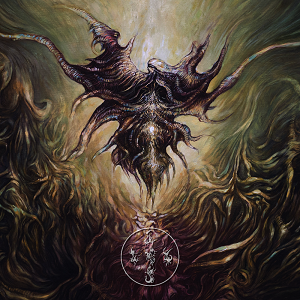 Ævangelist come roaring back with another contender for AOTY, but fall just a bit flat yet again. Very solid second album if you like blackened death metal with an industrial twist. Honestly, this sounds torturous half the time, just the way it should be.
7.
Oranssi Pazuzu
, Valonielu
The psychedelic group from Finland's 1000 lakes do it again, another album for the ages.
8.
Vàli
, Skogslandskap
Little known neofolk band that really should have more exposure, after their great, great debut and now this album, one of the best artists in the league.
9.
Chaos Invocation
, Black Mirror Hours
The best orthodox black metal album this year, what a savage journey.
10.
Wolvserpent
, Perigaea Antahkarana
My thirst for drone is almost unquenchable, and when a band comes by that nearly satisfies that thirst deserves an honest thumbs up. Awesome album!
11.
Ulcerate
, Vermis
Another tech death centerpiece from down under and over there a little bit.
12.
Skagos
, Anarchic
Wrote a
review
earlier this year, and I'm sticking by my decision, though I'd lower it to a 90%.
13.
Lycus
, Tempest
Funeral doom was never so tasty, awesome work and a great debut! Plus, an awesome album cover, probably my favorite this year.
14.
Stratovarius
, Nemesis
Stratovarius have always been a favorite of mine, and, behind Lost Horizon, they are easily one of the best power metal bands to ever exist, and I think Nemesis only proves: they are out for blood and the power metal throne.
15.
Cult of Fire
, मृत्यु का तापसी अनुध्यान
Another album that took me by surprise, czechy's at the wheel of a Indian-themed atmospheric black metal album. What's not to appreciate?
Honorable mentions:
Agrimonia
, Rites of Separation.
Falkenbach
, Asa.
Ihsahn
, Das Seelenbrechen.
Summoning
, Old Mornings Dawn.
Paysage d'Hiver
, Das Tor.
Chthonic
, Bú-Tik.
Ghost
, Infestissumam.
Fen
, Dustwalker.
Gloryhammer
, Tales from the Kingdom of Fife.
Coprocephalic
, Gluttonous Chunks.
Dishonorable mentions:
Altar of Plagues
, Teethed Glory and Injury.
Deafheaven
, Sunbather.
Trivium
, Vengeance Falls.
Watain
, The Wild Hunt.
Fleshgod Apocalypse
, Labyrinth.
Final Thoughts:
In all honesty, this year was great for black metal, but it sucked for much of the rest of the metal scene. You had greats like Gorguts coming back with a bang, but then you had greats like Summoning, Fleshgod Apocalypse, Watain or Antediluvian where their releases were just okay. Then you had greats completely destroying your appreciation for their music, i.e. Trivium. I also felt like the post-rock scene lacked a lot this year, unless I missed a lot of albums. This list is subject to change since it isn't December 31st yet, and I'm sure I missed a ton of great albums which I'll be hunting for for the rest of the year. Wish me luck, and I hope y'all appreciate my list.