RSS
Compartir
10 Oct 2008, 8:06
This is my first attempt at a journal entry, so bear with me here. I may expand this if it's good, and I might just tear it down if it's shit, but either way I'm going to try it. I'm not the best at formatting for last.fm, so it might be a bit queer when it comes to the technical bits. I've got a lot of albums to review, but I won't get to all of them right now. I'll start with the ones I've recently listened to.
Eternal Nightmare
: 10/10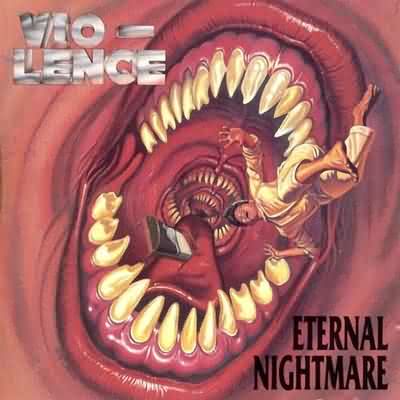 Few albums can truly be defined as being among the greatest moments of an entire genre, but this album certainly pulled it off. From start to finish it grips you with it's mind blowing intensity and frantic pace, only slowing down twice throughout all 7 tracks. Their sound is unique, the way they wrote the music worked, their vocalist had his own charm about him, and grew on you the more you listened to them, but they had the recipe down pat.
Most people would consider tracks like
Serial Killer
, or
Kill on Command
to be the best songs on the album, but in my mind the album is incredibly consistant and listenable the whole way through, with only a minor, but easily forgivable lapse in intensity in
Calling in the Coroner
, which is the only song that is a bit lesser than any other, but I'd consider it the least among equals as opposed to a bad or less good song.
All in all, get this album any way you know how, because it is 100% worth the purchase price. Fantastic album and easily among the greatest thrash albums ever created.
Spreading The Disease
: 9.0/10
When you think about Anthrax, you may think about
Among the Living
, or
Persistence Of Time
, or maybe some of their later work, but Spreading The Disease is their second album and it is one of the more overlooked of their career. Perhaps it isn't as underrated as
State Of Euphoria
, but it is still not as highly thought of as it deserves to be.
It starts off on a good foot with
A.I.R
, and the pace continues to pick up with the fantastic
Lone Justice
, and the pattern continues with more fantastic tracks,
Madhouse
,
S.S.C - Stand Or Fall
to be specific. The latter starts off slow, but it is a very great song. After this, the track I consider to be the low point of the album,
The Enemy
, comes in and screws up an otherwise amazing album. The only track that even slips into the sub par after that is
Medusa
. After the disappointment of
The Enemy
, they get back on schedule with
Aftershock
, and follow that with the fantastic
Armed And Dangerous
, which just sticks in my head and won't get out,
Medusa
is next, and after that the album finishes up with the furiously paced if somewhat goofy
Gung-Ho
, which ends the album on a great note.
I'll probably add more to this over time, but this is all for now. Stay tuned, kiddies!
Feel free to give me requests, and I'll see if I can get to them at some point.