Ben, hombre, Estados UnidosVisto por última vez: Diciembre 2008
5

5

7

1

0

scrobblings desde 13 Jun 2006
1 tema favorito | 215 mensajes | 1 lista de temas |

475 notas

Feeds
| | | | | |
| --- | --- | --- | --- | --- |
| 1 | | | | |
| 2 | | | | |
| 3 | | | | |
| 4 | | | | |
| 5 | | | | |
| 6 | | | | |
| 7 | | | | |
| 8 | | | | |
| 9 | | | | |
| 10 | | | | |
| 11 | | | | |
| 12 | | | | |
| 13 | | | | |
| 14 | | | | |
| 15 | | | | |
| 16 | | | | |
| 17 | | | | |
| 18 | | | | |
| 19 | | | | |
| 20 | | | | |
| 21 | | | | |
| 22 | | | | |
| 23 | | | | |
| 24 | | | | |
| 25 | | | | |
| 26 | | | | |
| 27 | | | | |
| 28 | | | | |
| 29 | | | | |
| 30 | | | | |
| 31 | | | | |
| 32 | | | | |
| 33 | | | | |
| 34 | | | | |
| 35 | | | | |
| 36 | | | | |
| 37 | | | | |
| 38 | | | | |
| 39 | | | | |
| 40 | | | | |
| 40 | | | | |
| 42 | | | | |
| 42 | | | | |
| 44 | | | | |
| 45 | | | | |
| 46 | | | | |
| 47 | | | | |
| 48 | | | | |
| 49 | | | | |
| 50 | | | | |

Feeds
| | | | | | |
| --- | --- | --- | --- | --- | --- |
| 1 | | | | | |
| 2 | | | | | |
| 3 | | | | | |
| 4 | | | | | |
| 5 | | | | | |
| 6 | | | | | |
| 6 | | | | | |
| 8 | | | | | |
| 9 | | | | | |
| 10 | | | | | |
| 11 | | | | | |
| 12 | | | | | |
| 12 | | | | | |
| 14 | | | | | |
| 14 | | | | | |
Conóceme
NEW ACCOUNT: GenesisRisenMore Accurate Charts:
One Year
6 Month
Bands I'm looking for albums of: (happy to reciprocate, just look at my charts for anything you might want)
Edge of Sanity - The Spectral Sorrows, Unorthodox
Rapture
Bridge to Solace - Full length
Skitsystem (with lindberg - '94-'04)
Paradise Lost - Icon
Moonsorrow - Tämä Ikuinen Talvi (remaster preferably), Voimasta Ja Kunniasta, Tulimyrsky
Cryptic Wintermoon
One True Thing
-as well as any good folk or melodeath
Tracks played on my old account: 19,038
Everytime I see someone who listens to suicidal black metal or is in a group such as "Suicidal Music for Suicidal People" call something emo, I pee a little.
AEP is a measure of how diverse your music tastes are, based on the top 50 artists in your Last.fm profile. AEP is a number, usually below 5. Roughly speaking, if it is greater than 4 you have very diverse taste in music, if it greater than 3 then you have fairly diverse taste in music. At the other end of the scale, if it is less that 0, you are probably an obsessive fan of your top artist. If it less than -10, you are probably a fake top fan.
Variety is the spice of life.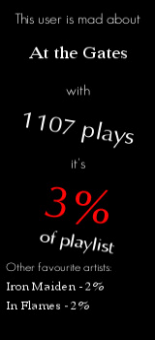 Seen Live:
A Life Once Lost:



All that Remains:




Avenged Sevenfold:



Atreyu:





At The Gates:






Bad Acid Trip:


Between the Buried and Me





Black Label Society:




Bleeding Through:




Darkest Hour:



Dragonforce:



Epica:



Full Blown Chaos:



Hatebreed:


Kamelot:





Lacuna Coil:


Municipal Waste:





Norma Jean:



Ozzy Osbourne (w/ BLS):



The Red Chord:



Strapping Young Lad:





Toxic Holocaust:




Trans-Siberian Orchestra:




Unearth:





The Walls of Jericho: