RSS
Compartir
26 Nov 2006, 18:44
The French sure know how to take some obscure funk/disco tunes,sample them, and recycle them into amazing house tracks. The catchy hooks and funky choruses somehow implant themselves into peoples minds. Of course, although these songs can secure the artist's spot in French House history, they can also secure their spot in the One-Hit-Wonder Hall of Fame. These five albums are examples of French House classics. These albums will make sure that you party all night long.
5.
Installation Sonore
The house-rocker duo most famously known for the song 'Cubicle' featured on the iPod nano commercials first gained public interest through their masterpiece, Installation Sonore. With the single

Le Mobilier
already playing in clubs, all Rinôçérôse needed was a solid house album to back the lead single. Installation Sonore secured Rinôçérôse's spot in French House history.
Choice Cuts
__________________
La Guitaristic House Organisation
Le Mobilier
I Love Ma Guitare
Sample
4.
Trust It
Junior Jack
have a mission: to get everyone on the dancefloor, no matter what age. To assure that everybody who's anybody will get down with their 'bad selves', they've hired
Robert Smith
of
The Cure
fame to show off his distinctive vocals on 'Da Hype'. For me, the
real standout track
on this album is 'Alone'. Based on a single guitar riff, it mystically transforms from a gloomy song into an uptempo masterpiece. Although just starting, Junior Jack has already released a nearly flawless album that should be included in any DJ's arsenal.
Choice Cuts
__________________
Stupidisco
Da Hype
e-Samba
Alone
Sample
3.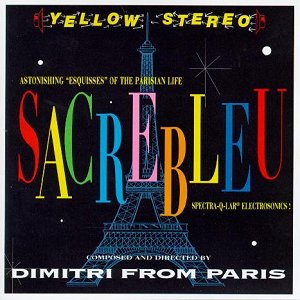 Sacrebleu
Dimitri from Paris
is not actually from Paris (Imagine that!). However, his classic album, Sacrebleu, is about as influential to French culture as the Eiffel Tower. With an extremely catchy tune (Sacre Francais) and a neat and innovative music video to back it up, Dimitri makes sure that people get lost in his distinctive sound. Chillout, House, and Club sounds have never been mixed together so beautifully.
Choice Cuts
__________________
Sacre Francais
Nothing to Lose
Sample
2.
Melody A.M.
You couldn't go anywhere in the mid-90s without hearing
Röyksopp
. On MTV, you would hear Poor Leno playing. Remind Me was a choice selection on the radio. Sparks was used in chillout complations all around. Even today, you can hear Remind Me in a certain car insurance commercial. These spots on TV eventually led to Röyksopp's eventual success. It's a CD that would be great for any occasion! It's so easy to get into, a caveman would love it. :P
Choice Cuts
__________________
So Easy
Eple
Poor Leno
Remind Me
Sample
1.
Discovery
Who didn't see this coming?
Daft Punk
defines
the French House genre. 'One More Time' defines the turn of the century; 'Digital Love' had been playing in the discos for a rather long time. The whole album has single potential, with the exception of Short Circuit. With the release of Human After All, Daft Punk moved away from their house roots and dove into rinocerose territory, but the glory of Discovery shall forever live on.
Choice Cuts
One More Time
Crecendolls
Digital Love
...and the rest of the album!
-Ryan
(MacTonight)
Comentarios