RSS
Compartir
3 Sep 2007, 17:43
Wed 29 Aug – Sonic Youth, Peter Brötzmann, Mats Gustafsson, Michel Doneda, Jean-Marc Montera
Why the FUCK did it take me so long to realize how fabulous
Lee Ranaldo
,
Kim Gordon
,
Thurston Moore
and Steve Shelley are?
"Quel rapport entre la pop de Sonic Youth, groupe légendaire du rock new-yorkais, et trois Européen adeptes des extrêmes de l'improvisation? Une même passion pour la matière sonore brute, un goût de la performance, une exploration des saturations, un refus du conforisme....."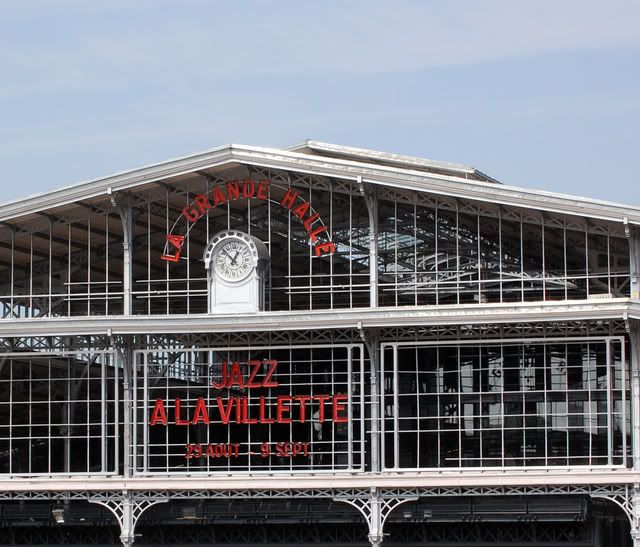 So after discovering that more tickets had been released to see
Sonic Youth
at the Roundhouse I was understandably pleased, however realizing I'd been in France was also understandably a bit soul destroying. My mum (bless her heart) suggested I check to see if they were stopping in France and you know what?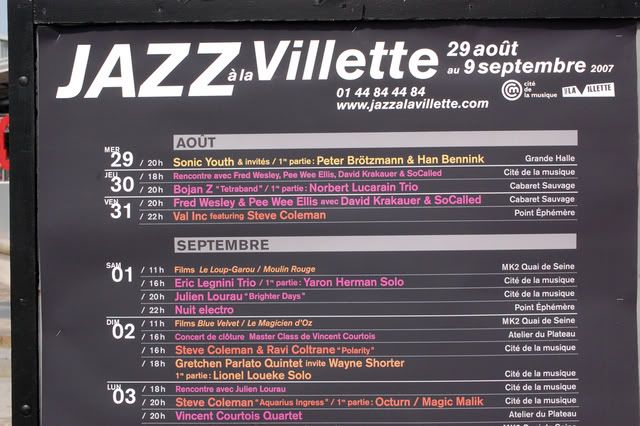 *sqweee!*
Sonic Youth at a jazz festival does seem a bit odd, but I'll get to that...
Arrived in Paris 7 hours before the show was to start, so I spent most of the day milling around Paris, walking by the Seine and sitting outside Notre Dame and taking pictures of tourists, which is always fun no matter where you are.
So, got my bag searched on the way in , was informed of something rapidly in French and i responded with blank stares and pleads for English, which earned me ".....not allowed!"(While pointing at my camera) and pointed me at the cloak room. So once again I've been denied the right to take photos at a concert, bugger. I either have to get better at hiding my camera (Nikon D40, its quite beautiful) or I need a smaller camera. I understand why they do it, to make money off the music press, but that doesn't mean I like it.....Bastards.
I take photos with better skill than I write, but I'll try my best to convey the event with written imagery rather than visual. C'est la vie.....
The hall fitted about 400 standing at the front on the laminated wood floor (brand new) and another 600-800 seated. There were people actually going to the seats long before the floor space filled up, heck I was sitting down on the floor quite comfortably with plenty of space for quite a while. Lots of young Parisian students and teens surrounding me I saw at least 3 SY tee shirts of different types. I also saw this uber sweet White Light/ White Heat shirt which I now covert; I was wearing my Ian Curtis/Joy Division shirt. I might do a little display of my band shirts sometime later, however slightly self indulgent that might be. I wants a blue SY shirt à la Washing Machine, that would make my week.
But yeah, why anyone would choose to sit down at a Sonic Youth concert baffles me.
Roadies are odd, they're interesting to see what they do with all the gear but at the same time you want them to get off the stage for obvious reasons. 15 minutes into the set up the roadies came to Steve's drum kit. A whack of the bass drum made one of the amps explode, of course we all applauded. :)
However this killed the sound circuitry and they had to start again, now with no background music. Thus, things were a bit late in starting.
Eventually SY took the stage, but with many accomplices. There were two percussionists, another guitarist and another bassist all on stage. Thurston explained that these were their guests, one of them coming all the way from Marseilles to play with them.
Thurston spoke like he had just woken up; they were going to play a piece of music they had prepared/practiced just for tonight. It was impressive, taking the same sort route as the free jazz piece but with all of them: One giant 30 minute improv.
Lee (whom I was only 8 meters away from) would take out chimes and play them slowly then erratically, Thurston and lee both started playing their guitars with cello sticks then drum sticks. Lee, seemed to get frustrated with his and chucked it clear 30 feet across the stage at the roadie. Lee had this strange hand held syth producer which I couldn't understand, it look like it was responding to body heat or something. Lee would randomly also go up to the machines and mix bits of Providence into everything. He'd also swing his guitar about and drag it along the ground with force; I was fully expecting a Townshend destruction.
Kim seemed to spend the whole piece on the ground doing...something to her guitar. I couldn't see due to a floor amp. She rose partially later to mournfully wail things into a mic, but wailing in a good healthy wholesome way.
Thurston decided half way through to put his glasses on, yet they weren't seen again for the whole show, hehe…old geezer.:p . He has this strange sort of half disgusted face he puts on when he is really concentrating on his guitar work I notice.
It was all just pure noise in a good way. They did nothing different stylistically to what the support did, yet it worked when it was SY (and guests).
It was rather good and I think I can safety say that it was a totally unique performance, nobody else on the other tour date would have heard this.
Another intermission followed with SY promising to return "to play you some sonnnnnnngggggssss". Thus, another few dozen people rushed down from the stalls to the front.
1- The Sprawl
=D. They started it with the opening to Schizophrenia. Kim's "well fuck you" sounded a bit lacking in force but it was still utterly sweet.
2- Did not recognize this one, sorry. Twas good though
3- Cross the Breeze
Thurston was noticeably playing the opening chords for far too long before he stopped to ask with a smile why Mr Ronaldo was not making any sound which earned him "It (his guitar) isn't fucking working!" This track was probably the highlight of the night, great shit.
4- Do you believe in Rapture?
Rather good but it killed the energy a bit in the crowd. I'd never heard it before but I've heard of it. I need to get Rather Ripped
5-The Wonder
Yessssss, made me feel all light headed after it slowed down at the end. This big bloke managed to single handed create the mosh pit at the point by just running at full pelt to the centre of the floor. Bless him, it was a beautiful sight.
6- Jams Run free
Now I saw why the extra bassist was there, Kim started dancing and did a huge spin at the end. Even if she is shorter than I expected, scares me slightly and is only a month and half younger than my mother, it was still rather hot.
7- Hey Joni
Excelllentttttttt.
Lee just picks random past years for the live shows it seems. Including.....2006, wow man.
Is it me or does Lee look like your favorite uncle you never had?
8- I also did not recognize this one, shame on me, was also good.
Only 8 tracks seems wrong to me somehow but if there was one or two others I can't remember them.
We very nearly never got an encore, we were clapping for almost 10 minutes which is the longest I've ever had to. But as the recorded music had not restarted they were obviously up for one.
They played ANOTHER song I did not recognize, twas dedicated to someone according to Thurston, before having the other 4 musicians return to the stage for another 20 minutes of improve, which was as you'd expect, excellent. Lee stuck his guitar into the crowd so we could play it. :)
A great night, I did not quite accept this would happen but they just put The Clash into 2nd place in my mind and DN I think I have to accept is the best record I own. Having an album played live for you, in this case a good chunk of DN, makes creates a personal connection between you and the artist(s) relating to that work; like in the same way of having a book signed for you by the author.
My hearing was, much to my surprise, perfectly fine afterward.
Thurston is the only one of who's voice hasn't changed since 1988 I noticed.
Perhaps if someone else who was at the gig reads this they can tell me what the missing numbers were, I'd appreciate it.
Yep, I was on my own, again. Best €33 I ever spent.
I had an interesting dream the following night where a lot of concert played through in my head again, which was sweet. But in my dream there was a heckler a few meters to my right who kept shouting abuse about the roadies.
Top 5 SY albums IMHO:
1- Daydram Nation
2- Goo
3- Murray Street
4- Sister
5- Dirty
However, I only have 6 so.... yeah I'm gonna buy some more very soon.
Just realized I've said very little about Steve Shelley, he is the 2nd best drummer I've ever seen. In other words, he was bloody wonderful.
After self promoting my photo skills the three in this piece aren't that spectacular, I do apologise.
Thanks for reading.
Comments?
Comentarios