RSS
Compartir
1 Feb 2009, 0:00
I can't place my favourites in order any more than I could steal the Statue of Liberty (perhaps the most ironically placed statue in the West, amirite?). Still, here are my current favourite albums, mixed in with a few that will never lose my interest.
[This journal was brought to you by; the realisation that a stew made with all the wrong ingredients is still better than gobbling down sweets.]
David Bowie
,
The Rise and Fall of Ziggy Stardust and the Spiders From Mars
This album is always on my top ten lists, because it's one of those special albums that I can always come back to, and have loved since I heard it as a Marilyn Manson-adoring teenager. Bowie's album turned me on to the idea that music doesn't have to be all angst and self-loathing, and although there is a lot of tragedy one this album, I always find it uplifting.
Favourite tracks:
Lady Stardust
,
Five Years
.
The Shins
,
Oh, Inverted World
Probably my favourite pop album released after the millenium, I was first introduced to the Shins after watching
Garden State
. As a total sucker for that sort of film and their soundtracks, I fell in love with the band and rushed out to get the album before the film's credits had even ended. There's not a weak track on the album, a spectactular debut.
Favourite tracks:
Know Your Onion
,
New Slang
Patti Smith
,
HorsesThe
best punk/rock 'n' roll recording ever, Patti Smith's debut married the spontaneity of the Beat poets with a snarling Feminist take on rock and an attitude that was beyond cool. The number of musicians who have heaped praise on this album as the point at which they realised music could be different than the cock rock that saturated the '70s is incalculable, and with good reason; this album features the single best rock song ever recorded.
Favourite tracks:
Gloria
,
Land; Horses - Land Of A Thousand Dances - La Mer (De)
(best rock song ever).
Sleater-Kinney
,
The Woods
Sleater-Kinney were a band that just kept pushing punk rock, refusing to let the form stagnate. Any one of their albums could easily sit here, and rightfully would sit near the top of any album list. The energy, passion and song-writing ability of the band propelled them far beyond their Riot Grrrl roots, although they never lost that 'Rebel Girl' attitude either. Sleater-Kinney should be remembered as one of the most seminal rock groups ever, it is criminal that they receive so little mention.
Favourite Tracks:
The Fox
,
Night Light
(probably the second best rock song ever).
Public Enemy
,
Fear of a Black Planet
Moving away from rock music, although not too far, we have Public Enemy's third album. Although it received a cooler reception than their previous album,
It Takes a Nation of Millions to Hold Us Back
, time has shown this album to be tighter, harder-hitting and Chuck D's lyrical high watermark. The main reason it receieved less attention was due to supposedly anti-Semetic comments made by band member Proffessor Griff, which Chuck D was forced to apologise for at the time. In recent years, however, Chuck D has taken back that apology and set Griff's comment into its rightful context as a not anti-Semetic, but as anti-Zionist, fitting in with the band's support for Palestine on this and their previous record.
Favourite Tracks:
911 Is a Joke
,
Fight the Power
.
Parliament
,
Mothership ConnectionGood evening.
Do not attempt to adjust your radio, there is nothing wrong.
We have taken control as to bring you this special show.
We will return it to you as soon as you are grooving.

Welcome to station WEFUNK, better known as We-Funk,
Or deeper still, the Mothership Connection.
Home of the extraterrestrial brothers,
Dealers of funky music.
P.Funk, uncut funk, The Bomb.

Coming to you directly from the Mothership
Top of the Chocolate Milky Way, 500,000 kilowatts of P.Funk-power.
So kick back, dig, while we do it to you in your eardrums.
The ultimate P-Funk party album, starts off with dancable, intelligent funk, and descends with the night into the neanderthal stomp of
Night of the Thumpasorus Peoples
. This is George Clinton's best output ever, and I dare you not to dance, Sir Nose.
Favourite Track:
P.Funk (Wants To Get Funked Up)
,
Unfunky UFO
.
Regina Spektor
,
Soviet Kitsch
Picked because it is to my mind her most cohesive album, although it lacks a few of my favourite songs. Nevertheless, her voice is strong on every track, and not one disappoints. I was massively disappointed by the direction taken in her next release, so this stands as possibly the last really great release from her.
Favourite Tracks:

Carbon Monoxide
,
Somedays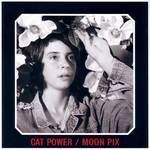 Cat Power
,
Moon Pix
Recorded when she was just 17,
Moon Pix
is the highlight of Chan Marshall's catalogue. Sure, her compositions were less intricate and certain tracks have an air of hesistancy, but these only serve to enhance the experience. The songs are personal, yet universal, and the dedication 'inspired by Bob Dylan' on the sleeve rings true, but more so. Perhaps
Moonshiner
might be a little bitter-sweet following Marshall's alcohol problems, but the rest of the album is beautiful, lyrically and musically, with the central motif of the moon hanging sadly over the proceedings.
Favourite Tracks:
Metal Heart
,
You May Know Him
.
Bikini Kill
,
The CD Version of the First Two Records
Never did Kathleen Hanna
et al
sound more impassioned and satirical than on this, a collection of their first two EPs. Spitting with rage, Bikini Kill stabbed repeatedly into the belly of the beast, and did it with verve, humour and gusto. This record made punk the voice of the little guys again, only this time the guys were girls (well, ok, the guitarist was a guy, but still). As Hanna has pointed out in various interviews since the band's break-up, Bikini Kill were meant to be humourous, the stereotypes of oppression and sexism were directed not at all men, but rather the attitudes of some that leaked into the system.
Favourite Tracks:
Carnival
,
Rebel Girl
.
Kraftwerk
,
Autobahn
The most important record Kraftwerk ever produced,
Autobahn
was ambitious, wonderfully composed and a glorious harbinger of less glorious things to come. The title track was a 25 minute long attempt to replicate a journey along the stretches of autobahn that criss-cross Germany. The band capture the journey perfect, the start, the excitement, the boredom of an overlong journey. Because of this, though, the rest of the album is often overlooked, despite including some of Kraftwerk's most consistent recordings.
Favourite Tracks:
Autobahn
,
Mitternacht
.
Honourable mentions:
Blonde Redhead,
Melody of Cetain Damaged Lemons
- No Wave worship no more!
Nick Cave and the Bad Seeds,
No More Shall We Part
- /happy
Ani DiFranco,
Dilate
- Awesome folk
The Gits,
Frenching the Bully
- Viva Zapata <3 Bluesy punk!
Jurassic 5,
Power in Numbers
- Seminal Hip Hop
Lush,
Spooky
- Dreamy... uh, Dream pop
Pixies,
Surfer Rosa
- Their best?
Swans,
Greed/Money
- Disturbing, brilliant
Team Dresch,
Captain, My Captain
- Wonderful queercore
Comentarios