RSS
Compartir
17 Oct 2009, 19:45
covers more or less all of my favourite vocalists from both the "sides" of music I like
I KNOW that I might have not so many plays of e.g. Gjallarhorn, but it has nothing to do with admiring their vocalist
the simple answer to "Why this and that isn't here?" is that I did NOT consider it necessary = I don't admire her that much though I maybe have many plays of her / her band's music, cause again this is NOT about that
of course, they are many more I like but I said this will be a top 10 and so it is
please keep your pointless comments for yourself - I erase crap like "too long, didn't read", I DO NOT write SHORT journals!
One side of my musical taste:
Kelly Clarkson
(Too big for the journal but totally kicks ass!)
Why?
I think she's cool (and also quite mad, see e.g. in the
I Do Not Hook Up
video
here
) and nice (especially with dark hair, don't know why).
Of course I like her voice, too. She sounds very good "live" and her voice is kinda powerful in a way I absolutely love.
Since when?
Well, I used to like Kelly's
Breakaway
when I was younger. I've been addicted to her since about this June when I found out about her new album.
Favourities
Inara George
also of
The Bird and the Bee
(I agree that she's no big beauty, but who cares, she sings perfectly :P)
Why?
She cannot reach high notes (as many others my favourite singers), I just love her cause her voice is kinda sweet and nice and perfectly fits with the songs by The Bird and the Bee... (By the way, SHE is supposed to be the Bird and I agree, she really is.)
Since when?
Since hearing
Again & Again
on one of Grey's Anatomy's soundtracks. I knew
Fools In Love
but I didn't like it that much.
Favourities
BB's plays here (very lame, I've already been obsessed with them last summer), Inara's solo here but there's nothing to see xD

What would I recommend? Well, most of the songs by The Bird and the Bee, they are perfect, but still: Love Letter to Japan, My Love, The Races, Fucking Boyfriend or Genius...

From all the CDs and EPs, I guess the album Ray Guns Are Not Just the Future and EP Please Clap Your Hands

The best video is surely Love Letter to Japan, the others are a bit weird
Ingrid Michaelson
(This photo always makes me smile, really. It's quite Ingrid-like I'd say...)
Why?
Euh... Cause she's gorgeous and absolutely adorable. (See the water melon pic above, you can't deny it!) Her lyrics sometimes reminds me of something childish and sweet, for exemple check this particular one that proves it quite well:
>Overboard
Since when?
This time, last.fm remembers almost all my listening history. I met Ingrid for the very first time on Grey's Anatomy again. In some episode I heard
Breakable
. Then I quite liked
The Way I Am
but after listening to her album
Boys and Girls
, I didn't find anything really special about her and that was one of my biggest mistakes I managed to fix :P This spring/summer, I decided - god knows why - to giver her a second chance. I think it was because I fell in love with Breakable again... I will never leave her :P
Favourities
Ingrid, one of my top artists here, the list just misses about 100 plays of Breakable from Fall 2007 :P
My heart's beating really fast when I'm recommending something like Ingrid, really xD But if you know what's good for you, listen to Breakable, Die Alone, Overboard, You And I... and if you are depressed and stressed all day long like me, Maybe might save your ass as well as it has saved mine about five times...
As I don't have very much time to listen to everything I'd like, it happens that I've heard her new album only once, but I'm sure it's pretty good, so Everybody and aslo Girls and Boys cause it's amazingly dear to my heart :P
If you wanna die happy, watch
Maria Taylor
, ex-
Azure Ray
(Something is exotic and scary about her face. She reminds me of a witch, I don't know why...)
Why?
Her voice has a strange power to carry you someplace far in a Dreamland :P - No, I'm not drunk. I just think that the melodies and harmonies in her music are like from another world. She sounds very "typical" and her songs are really nothing for everyday's life... (Though some of them are pretty obsessive...)
Since when?
Since Grey's Anatomy again, to be precise the first soundtrack. The song
Song Beneath The Song
was there and it sounded quite nice and I didn't have many things to listen to, so I tried Maria. She one of the first artists in my library.
Favourities
I think she will always be around the top then aritist...click
Now I might sound quite strange, because both the songs I wanna recommend you on the first place are the first on their albums; Leap Year, because that's a totally EPIC song and A Good Start, because it's simply awesome!
The best album is Lynn Teeter Flower, imo 11:11 is... well, strange.
I don't know any other vids than A Good Start, but I like it...
Jenny Wilhelms
of
Gjallarhorn
(I love her hair :P)
Why?
I admire her for singing in various Scandinavian languages because that is very often something written, something else heard! xD I love her high notes - she sounds like a pixie or something xD
Since when?
Since seeing something about Finnish (or better Scandinavian) folk music. The first band I heard was Gjallarhorn (which is kinda difficult to spell right xD ).
Favourities
Very lame plays due to well-know reason of being obsessed with them centuries ago, here
I think Sjofn is full of songs worth recommendation: Hjaðningarima, Suvetar and what really shows the pixie-thing about Jenny: Dejelill och Lagerman. Also I adore Kokkovirsi.
To everybody that likes or seems to like folk, I would recommend Sjofn. It was with me during last winter and it was really beautiful - listening to it and walking in snow... Really, try it, it's wonderful! xD
In my very quick search, I didn't find any clips, but it seems like they exist, so if I search more someday, I might add later.
The dark side of the force xD :
Floor Jansen
of
After Forever
, R.I.P.
(I really wonder how tall she is, because she's always taller than anybody else xD )
Why?
Simply because her voice is in a word MAGNIFICENT! :P Sometimes I think her lungs are as big as this planet and her throat is made of gold, but back to Earth... This is a woman with THE VOICE that I respect and listen to with my mouth open.
Since when?
That is hard to say. I think I know them since I know Within Temptation, because I listened to
Beyond Me
because it was with Sharon. I tried to listen to some of their stuff, but I probably didn't find the right things, because I didn't like it at all. The album
After Forever
opened my... EARS! but that's also quite long ago...
Favourities
(This might be very long...)
Quite nice (now) 130 plays here. It says pretty much about the stuff I like :P
If you asked me to recommend one song, I'd say Emphasis because in a way, you've never heard something like that before :P Musical and singing masterpiece! Speaking about singing masterpieces - Face Your Deamons and Strong that is an unbelievably beautiful song – real pleasure to sing it.
Now the funny thing. I'll be telling you which album is the best... Hehe, no offense, but - can I decide this?! Prison of Desire, Remagine, After Forever - as you can see yourselves, it's no recommending, it's a list of their albums! The only thing I haven't understood is Invisible Circles because even when I try really hard, the songs just doesn't have sense! (By that, I mean that I barely recognize chorus from verse!) It's a bit "difficult" album for my ears.
Though I haven't seen all the vids by AF (yeah, I'm already ashamed, don't worry!), I like
Lacey Mosley
of
Flyleaf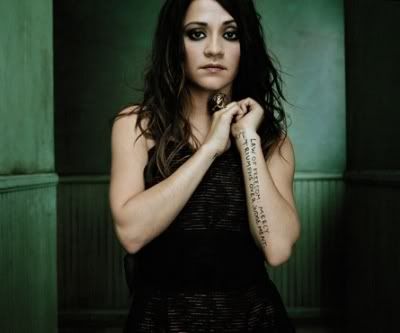 (Nice girl, don't tell me she's not...)
Why?
I can only say: What a VOICE! The falsetto-things she's able to do made me love her on the first listen. Also songs by Flyleaf are terribly addictive. Don't know if they are so catchy or it's Lacey's voice's fault xD
Since when?
I think it was some vide on youtube with somebody's favourite bands and as I said - love on the first listen :P When I played the whole album, I was blown away.
Favourities
Flyleaf plays prepared to grow with the new album here
As I said, most of the songs are catchy, so I tend to love them all :P But try Again. Then I can only say: Try ANYTHING else! It doesn't even take so much time as their songs are very short and also they aren't so much (yet!!!! <3 )
As they have only one album released, Flyleaf, I can only expect Memento Mori to be at least as good as this :P
Oh videos... Many videos they have. Almost for every song or what xD But Again is very nice:
Helena Iren Michaelsen
of
Imperia
and
Angel
, ex-
Trail of Tears
(You would say that this can be anyone, that's why I chose it, cause, unfortunately, Helena always looks like a bitch. Well, sorry for that, but check the pics here and you will see :S )
Why?
Though I have quite strange opinion about HER, I have a very positive opinion about her voice (though sometimes, I think she sings everything how it - strangely - comes on her mind, but it's just her style I guess). It's something like Floor: very powerful, very BIG voice I can only silently admire.
Since when?
Thanks to last.fm, I met Imperia about 200 years ago and I didn't like it at all. It took very long time till the moment I re-discovered their first album.I've got issues with the second one, because songs like
The Calling
kinda scared me! xD Helena was too much "opera-like" for me that time, I couldn't really bear it, but now I consider her to be one of the biggest voices.
Favourities
I expect some new album by Imperia here. I don't listen to anything else with Helena. I've tried the first album by Angel but I - kinda didn't like it.
To name real masterpieces of Helena's singing, I cannot forget The Calling, because it's a song like nothing else before. Also The Lotus Eaters. I didn't believe it is possible to sing THIS, but it really is xD
People say that Queen of Light is 100% better. I must confess, I don't really know. Imo, both the albums are "worth listening".
Exspecially because of this, I searched for some videos. I've never done it, because I don't like Helena (I know, very childish...). I found only two of them. You can search yourself, my opinion is that you don't miss anything when you won't see them...
Anette Olzon
of
Nightwish
, ex-
Alyson Avenue
(One of the very few Anette's outfit I ACTUALLY DO LIKE...)
Why?
To be honest, I don't know! There's something about her voice (in Czech we call it "colour" - don't know if this has any sense in English though...) - that can be heard in both AA and NW - that I really adore. Therefore I'm allergic to the crap people say about her because I don't get it. IMO Anette is a very nice person, she smiles on the stage and so on, but I totally dislike the way she dresses on concerts. OK, not always, but mostly yes. I was very pleased with her outfit on Masters of Rock where I saw Nightwish for the very first time, you can find one of the photos
here
, it used to be very high-rated pic on NW last.fm page, but I haven't found it on the first five pages so I gave up and found it elsewhere :)
Since when?
I guess since I heard
Amaranth
, my very first song by Nightwish. I'd never heard about Alyson Avenue before, of course. By the way, I've liked her since the Amaranth video. And - as I am a girl - I say Anette's pretty :P
Favourities
Dark Passion Play plays (that's quite odd, isn't it? xD ) here but it's pretty lame as I was listening to all the songs thousand times before coming on last.fm. Alyson Avenue plays here but they are a bit lame, too, for the same reason as above.

Stuff worth recommendation by Alyson Avenue might be When Dreams Fall Apart and Every Now and Then. I don't know the others so good to say this particular one is better than the others. (They also sound quite all-the-same, imo AA is nothing really original...). By Nightwish it would be a little cliché, but still The Poet and the Pendulum (which is a total - both singing and composing - masterpiece, though I would ban Anette to pronounce "choose" like "shoes" next time xD ), Cadence of Her Last Breath and check out also f****** good song (unfotunately very f***** record) of The Heart Asks Pleasure First e.g. here

The best album with Anette is surely Dark Passion Play as Alyson Avenue cannot be compared to Nightwish. But the better album by them would be the newer called Omega as it has a way better sound.

About the video thing, I think Amaranth is just fine:
Tarja Turunen
ex-
Nightwish
(Nothing really original, sorry, but I totally love this photo! She has just GORGEOUS eyes, though some people feel unworthy to even look at her...)
Why?
Cause Nightwish is my favourite band and somehow Tarja just came with it. Don't get it wrong, I DO like her but - it's just so long ago that she's more like a part of my live... On the album, she sounds very good, but I have some problems with her live performance, because the language she sings in I call Finglish.
Since when?
Since hearing
Nemo
or something.
Favourities
Comentarios