Ross, 21, hombre, Reino UnidoVisto por última vez: Febrero 2013
5

5

scrobblings desde 14 Dic 2011
1 tema favorito | 136 mensajes | 0 listas de temas |

7 notas

Feeds
| | | | | |
| --- | --- | --- | --- | --- |
| 1 | | | | |
| 2 | | | | |
| 3 | | | | |
| 4 | | | | |
| 4 | | | | |
| 6 | | | | |
| 6 | | | | |
| 8 | | | | |
| 8 | | | | |
| 10 | | | | |
| 10 | | | | |
| 10 | | | | |
| 10 | | | | |
| 10 | | | | |

Feeds
| | | | | | |
| --- | --- | --- | --- | --- | --- |
| 1 | | | | | |
| 2 | | | | | |
| 2 | | | | | |
| 4 | | | | | |
| 4 | | | | | |
| 4 | | | | | |
| 4 | | | | | |
| 4 | | | | | |
| 4 | | | | | |
| 4 | | | | | |
| 4 | | | | | |
| 4 | | | | | |
| 4 | | | | | |
| 4 | | | | | |
| 4 | | | | | |
Conóceme
I'm a metal-head music business student at Brighton Institute of modern music. I love music, singing and writing lyrics. My favorite album is The Chainheart Machine by Soilwork, they're also my favorite band. I have quite a varied music taste, I like a bit of (almost) everything, but I relate to, and am more passionate about metal.
You can add me as a friend if you want. I don't bite and I'm always up for talk if you want one.
So thanks for checking out my profile!......you stalker freak...
What Kind of Metalhead are You?
Your Result:
Death Metalhead
You love the apocalyptic sound that identifies Death Metal. Whilst your tastes may range from the Thrashy Swedish bands to the Gutteral sounds of Nile or Severe Torture and even Grindcore, despite it being a genre of punk.
Among your favourite bands may be Death, Nocturnus, Carcass, Bolt Thrower, Deicide, Morbid Angel, Dismember and Repulsion.
You may still harbour an affection for Thrash, especially Deaththrash.
Result Breakdown:
93% Death Metalhead
79% Thrasher
71% Prog Metalhead
46% Poser
38% Power Metalhead
36% Heavy Metalhead
14% Black Metalhead
Quiz Created on GoTo Quiz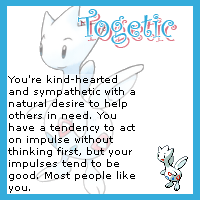 Actividad reciente