RSS
Compartir
28 Abr 2010, 18:19
There are times when you know you're in the presence of greatness. I'm lucky enough to say that that has happened to me several times in my life and, with exceptions (obviously), those occasions have largely been at music events. It happened when I saw
Michael Jackson
's Dangerous tour in Leeds in 1992. It happened when I saw
Madonna
's Reinvention tour in Manchester & London in 2004. It has happened on most occasions when I've seen
Tori Amos
in concert. And it happened on Monday night when I saw
Grace Jones
perform at London's Royal Albert Hall.
On paper, it probably sounds horrendous to some people: a sixty-something woman prancing around half-naked in couture performing electro-reggae songs. Actually, to some people, witnessing such a spectacle may also have been horrendous. That's their loss. I was transfixed throughout the curfew-busting 2hr 10min performance. This was a show that combined theatre, drama, fashion and sexuality and it was achieved by one woman alone on a largely-unadorned stage. Greatness.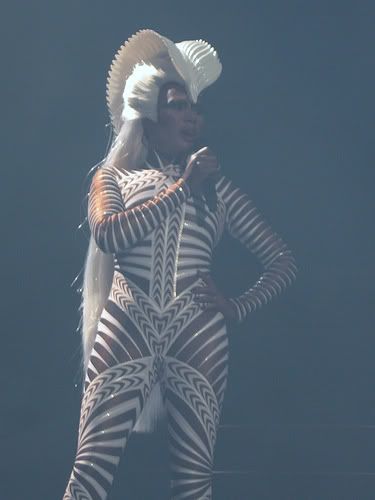 She opened with
This Is
, a reggae-trip hop hybrid from her latest album,
Hurricane
, her whole body covered in a silver sheet. This was torn off at the end of the song to reveal
Grace: The Woman
, dressed as a sort-of Dominatrix Zebra, replete with wild-white headdress. She surveyed the crowd, stalking the stage like a tiger, basking in the rapturous applause, before slowly raising the microphone to her mouth and finally breaking her silence with a luxurious, velvety and hilariously camp "hello". She continued with the gospel-flavoured
Williams Blood
(surely one of the best songs of her career), at times galloping around the stage like the creature she was channelling.
Thanks to her eye-poppingly amazing costumes, throughout the night, she morphed from Zebra to Devil/Medusa: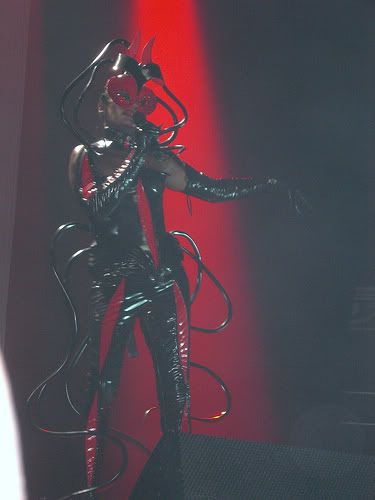 To Exploding Star:
To Jamaican Nun: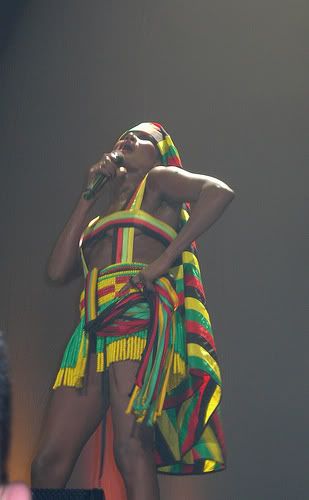 To Man-Eating Machine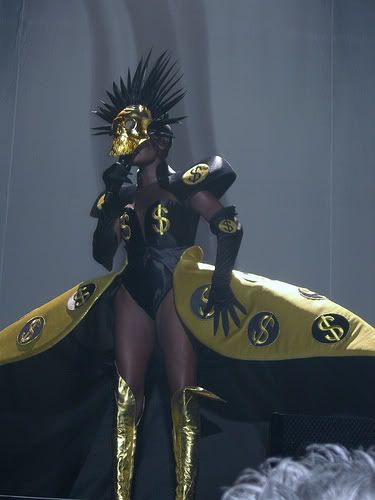 To Human Discoball: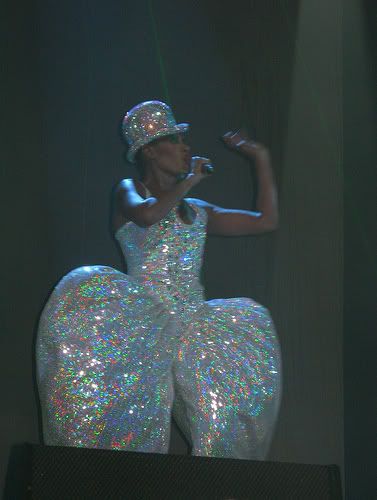 To Gothic Spectre: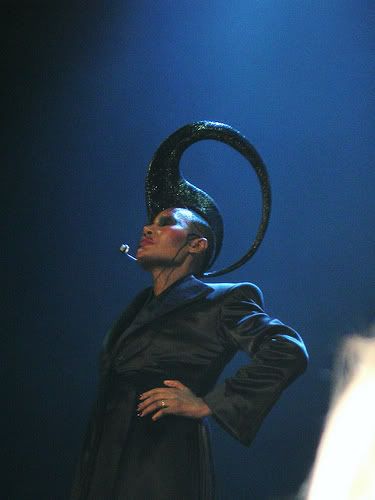 To Chic Showgirl: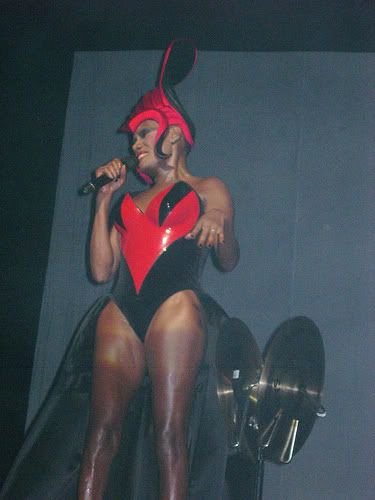 (I stole these pictures from
this gentleman
– if he ever reads this, thank you, your photos are amazing!)
The setlist took in the old (
La Vie En Rose
,
My Jamaican Guy
,
Private Life
,
I've Seen That Face Before (Libertango)
,
Demolition Man
) and the new (most of the tracks from her 2008 album
Hurricane
), with both sets of material holding up remarkably well thanks to her cracking band.
Love Is The Drug
was a frantic, rocket-fuelled reimagining of the
Island Life
version;
Demolition Man
morphed into a crunching, guitar-driven wig-out and
La Vie En Rose
a crowd-pleasing, arse-showing waltz.
The whole show was incredible, but my personal highlights were: the dramatic
Hurricane
, performed against a wind machine in a billowing, black gown; the lovely rendition of
La Vie En Rose
(which surprisingly for me REALLY got the crowd going) complete with backless dress where Grace showed off her amazingly well-preserved posterior; the closing duo of
Pull Up To The Bumper
&
Slave to the Rhythm
and, most of all, the revved-up version of
Love Is The Drug
, performed in a sparkling silver hat in the beam of a sole green light. Check out the link below for this incredible, but remarkably simple, spectacle:
Grace herself was just wonderful – playful, sexy, dominant, imposing and, especially, funny. Her off-stage chatter as she changed costume bordered on the brilliant ("I need more lipstick!"; "I fell in love with Great Britain!" *applause* "Twice!"; "I need a spliff! Could someone throw me a spliff, my darlings?!?") to the barmy ("I discovered a new word today. I'll tell you about it at the end. If I remember" – she didn't). As I've already said, she looked and sounded great and her influence on many artists of today was self-evident: it was very clear from whom
Lady Gaga
,
Rihanna
&
Roisin Murphy
, for example, take their cues.
I left feeling elated, excited, privileged and, above all, inspired. This is a woman that has weathered The Music Business for over 30 years, continues to inspire and, despite never having had the commercial success that would earn her the title of Superstar, is an Icon in the truest sense of the word. And she did it all on her own terms, without compromising her sexuality, her unerring fashion sense and her idiosyncrasies. Neither did she surrender her power to anyone: she didn't release an album for 19 years because she was fed up with The Music Business. Like I said, you know when you're in the presence of greatness.
Just to close, here's one of my favourite clips of Grace from a recent chat show appearance – the amazingness starts at 1:50:
Goodnight!
Comentarios