FutureLove
Blog
→

Her Posse Can Do: Tori Amos, Manchester Apollo - 5th July 2007

RSS
Compartir
9 Jul 2007, 21:20
Seeing
Tori Amos
live is like a religious experience. You truly feel like you are in the presence of an otherworldly Being when you watch her perform. So it's no surprise that the atmosphere at the Manchester Apollo was one of almost religious ecstasy. People of all ages and walks of life – rockers, Goths, gays, students, frat boys, girlies, lesbians, married couples – were all preparing to worship at the church of St Amos, in town to promote her fantastic new album
American Doll Posse
, an exploration of the female psyche from a Greek mythological perspective. Despite its lowly chart position, it's emerging as one of her greatest and best-loved albums, a return to the visceral, fiery Amos of the late 90s, but this time the piano is complimented by a white wall of electric guitar. I won't attempt to review the album as I could never do it justice – reviews are never a substitute for experience – but
THESE GUYS
did a pretty fantastic job.
This was my sixth time seeing
Tori Amos
, a love affair which began when I saw her for the first time back in 1998 on the Plugged tour, yet I think I was more excited about seeing tonight's show. As the tour rolled through Europe and the setlists were published and discussed across the net, me and my setlist partner (hugs to
Ophelia
<3) savoured the detail of each show like a vintage wine. "Oh my god – they got Santa! I'm praying for
Northern Lad
(my favourite girl)/
Caught a Lite Sneeze
(her favourite girl)!!! Those lucky Germans – look at the songs they got!" By the time last week came about, we'd both whipped each other into an absolute frenzy. And Tori really did not disappoint.
The show opened with an ambient, electronic track and the stage bathed in blue light. I knew it was Clyde, my favourite doll. When she wandered shyly on to the stage and settled at the Bosendorfer, I felt like I was going to float up out of my seat into the air. The opening piano melody from
Bouncing off Clouds
sounded and the place erupted – people cheered, punched the air, clapped wildly. I think this was probably the most rapturous reception I've seen yet at a UK
Tori Amos
concert. The entire evening was punctuated with people shouting "I love you!"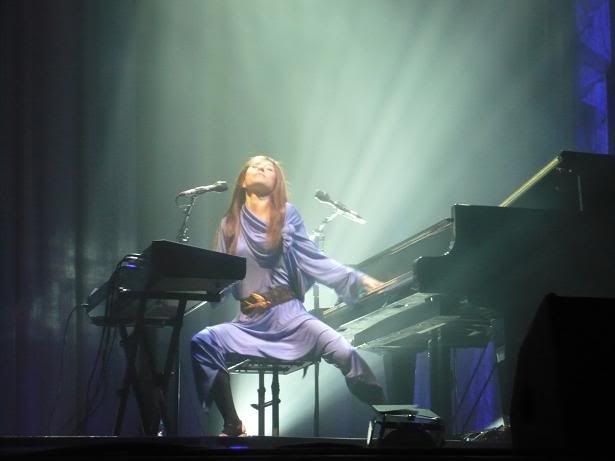 Clyde's performance ran like a dream setlist for me:
Bouncing off Clouds
,
Juárez
,
Rattlesnakes
,
Beauty of Speed
and the wonderful
Roosterspur Bridge
are all favourites of mine – this list was emerging as a terrific combination of the old and the new. Even
Little Earthquakes
, a song I'm not particularly fond of, was a revelation - about halfway through, I realized I had a massive grin on my face and tears in my eyes. …and it didn't stop there.
(the audio is a bit distorted, but you get the idea ;o) )
Tori gave and gave and gave. When she took to the stage in a sparking pink-sequinned catsuit following the
Professional Widow
interlude, she was full of boundless energy. She laughed, winked, smiled, shook her booty - I've never seen her so full of joy to be performing in front of us. She didn't talk much but it just didn't matter – the music spoke for itself.
Big Wheel
with its fabulous percussion went down a storm with the crowd,
Cornflake Girl
was mindblowing;
Siren
was a welcome surprise;
Parasol
and
Amber Waves
were DAMN soulful and funky with the Hammond organ;
Precious Things
and
God
were bombastic encores – she truly breathed new life into her back catalogue. It was also really nice to see the new tracks getting such a great reception too:
Secret Spell
was an excellent choice as an encore and the audience showed their appreciation by cheering wildly.
Just before the T & Bo section, she didn't do an improv or anything. The lights went up and she said "let's have a chat, what were you guys saying before?", referring to all the people shouting requests and "I love you" and "Go Tori!" as she introduced the band after
Big Wheel
. Then she said something like "there was a guy with a funny accent asking for something? What was it you were asking for?" Of course, then EVERYONE started screaming for their favourite song...and she just sat there laughing LOL. It was so cute! She picked up on
Merman
, put a mischievous grin on her face and played it. So beautiful. She had planned to perform
Take Me With You
but changed it for the crowd, a testament to her spontaneity and command of her own music.
And then came the finale:
Hey Jupiter
. I've never seen this song performed live in person so this was a very special moment for me. The new arrangement (a synthesized take on
Hey Jupiter (Dakota Version)
) took the song to new heights of beauty. She really couldn't have picked a better way to end such a wonderful show.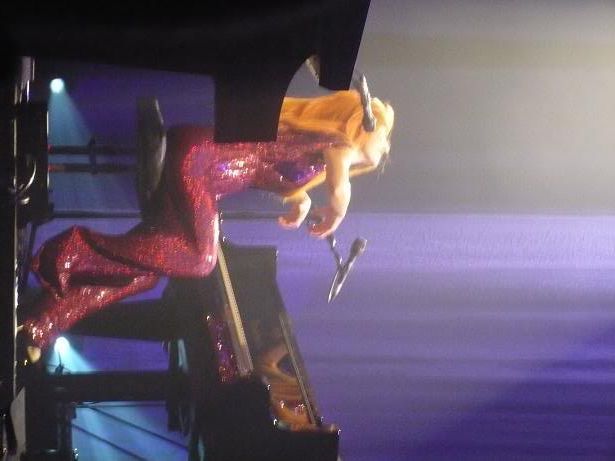 I think I floated out of the venue. Everything had come together so wonderfully: the band played fantastically, Tori's voice was absolutely FLAWLESS, her setlist choices were inspired and inspiring, the light show was incredible and the arrangement, or in some cases, RE-arrangement of older songs took them to a new dimension. It really felt like a reflection of everything Tori wanted to achieve. Armed with her posse of songs, old and new, she took the audience to a very special place. This was the best show I've ever seen her perform.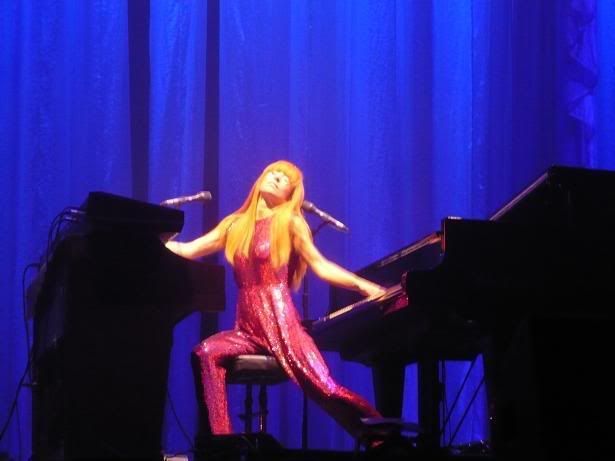 Footage posted by
mitzli13
and
patrosfeta
on
www.youtube.com
Photos kindly provided by
deborah77
from Toriphorums at
www.yessaid.com
Comentarios