23, hombre, Países Bajos
soundcloud.com/mivdVisto por última vez: Hace 2 horas
7

7

8

1

6

scrobblings desde 4 May 2007
690 temas favoritos | 22 mensajes | 0 listas de temas |

22 notas

Feeds
| | | | | |
| --- | --- | --- | --- | --- |
| 1 | | | | |
| 2 | | | | |
| 3 | | | | |
| 4 | | | | |
| 5 | | | | |
| 6 | | | | |
| 7 | | | | |
| 8 | | | | |
| 9 | | | | |
| 10 | | | | |
| 11 | | | | |
| 12 | | | | |
| 13 | | | | |
| 14 | | | | |
| 15 | | | | |
| 16 | | | | |
| 17 | | | | |
| 18 | | | | |
| 19 | | | | |
| 20 | | | | |

Feeds
| | | | | | |
| --- | --- | --- | --- | --- | --- |
| 1 | | | | | |
| 2 | | | | | |
| 3 | | | | | |
| 4 | | | | | |
| 5 | | | | | |
| 6 | | | | | |
| 7 | | | | | |
| 7 | | | | | |
| 9 | | | | | |
| 9 | | | | | |
| 11 | | | | | |
| 12 | | | | | |
| 13 | | | | | |
| 14 | | | | | |
| 15 | | | | | |
| 15 | | | | | |
| 17 | | | | | |
| 18 | | | | | |
| 19 | | | | | |
| 20 | | | | | |
Conóceme
I love all soulful honest music that aspires for greatness, from sophisticated jazz improvisations to simple one-minute punk rock songs. I play several instruments myself including piano, guitar and bass guitar. On piano I play mostly jazz and blues. On guitar and bass I play all kinds of stuff, but mostly pop and rock. I've got long, tall skinny fingers like Jimi Hendrix, Jimmy Page, Jaco Pastorius, Thelonious Monk etc. I think this means something.
I know music will always be there for me. This is one of the few things in life that I'm absolutely sure of. I feel it's my best friend and in my darkest hours even my only friend. Music is the only thing in this world that gives me unconditional love, happiness and understanding. I owe my life to music, therefore I'll forever be in debt to it. My life goal and dream is to repay some of this by giving back to music as much as I can.
Love is everything.

Love is the answer.

Music is my religion.

Peace, Love and Happiness.
The five greatest musicians to have ever graced this planet (in no particular order):

- Jimi Hendrix
- Miles Davis
- John Frusciante
- John Coltrane
- Brian Wilson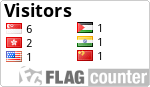 El_Salvador7's top albums (overall)
1. The Beach Boys - Pet Sounds (1333)
2. Operation Ivy - Energy (1263)
3. blink-182 - Neighborhoods (1160)
4. Rancid - ...And Out Come The Wolves (1045)
5. The Clash - London Calling (885)
6. Red Hot Chili Peppers - Blood Sugar Sex Magik (809)
7. The Beatles - Rubber Soul (732)
8. blink-182 - Cheshire Cat (713)
9. The Beach Boys - Sounds of Summer (673)
10. Jimi Hendrix - Axis: Bold As Love (670)