Hugo Verboven, 39, hombre, Países Bajos
hugoverboven.photoshop.comVisto por última vez: Domingo por la noche
6

5

5

4

2

scrobblings desde 23 Oct 2006
1.049 temas favoritos | 0 mensajes | 2 listas de temas |

23 notas

Feeds
| | | | | |
| --- | --- | --- | --- | --- |
| 1 | | | | |
| 2 | | | | |
| 3 | | | | |
| 4 | | | | |
| 5 | | | | |
| 6 | | | | |
| 7 | | | | |
| 8 | | | | |
| 9 | | | | |
| 10 | | | | |
| 11 | | | | |
| 12 | | | | |
| 13 | | | | |
| 13 | | | | |
| 15 | | | | |

Feeds
| | | | | | |
| --- | --- | --- | --- | --- | --- |
| 1 | | | | | |
| 2 | | | | | |
| 3 | | | | | |
| 3 | | | | | |
| 5 | | | | | |
| 6 | | | | | |
| 7 | | | | | |
| 7 | | | | | |
| 9 | | | | | |
| 9 | | | | | |
| 11 | | | | | |
| 11 | | | | | |
| 13 | | | | | |
| 13 | | | | | |
| 13 | | | | | |
Conóceme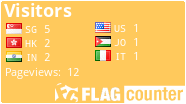 Mmm, still no inspiration for a legendary text, maybe later...
---------------
"I'm standing in the supermarket making up my mind about which cookies to buy. Behind me two re-stockers whisper about their math homework.
They can't be older than 16 and both have parents from northern africa. The smallest of the two complains about one especially hard topic: "It takes me hours sometimes", he says, "integrating is very hard!"
His companion can't agree more, but he fortunately has some uplifting thoughts: "Next term you need to differentiate, a lot easier!""
(original in dutch by Geert van Rhee)
diversiti's top albums (3 months)
1. Regina Spektor - Far (44)
2. Laurent Garnier - Unreasonable Behaviour (40)
3. Tori Amos - Boys for Pele (40)
4. Sneaker Pimps - Splinter (36)
5. Prince - One Nite Alone (34)
6. The Kills - Blood Pressures (34)
7. Tricky - Made in Bristol (32)
8. Prince - Rave Un2 the Joy Fantastic (30)
9. Joss Stone - Mind, Body & Soul (30)
10. Ben Christophers - My Beautiful Demon (30)
11. Gus Gus - Forever (30)
12. Kate Wax - Reflections of the Dark Heat (29)
13. Martina Topley-Bird - Quixotic (28)
14. Anthony Rother - popkiller (28)
15. Prince & The Revolution - Parade (28)
16. Leona Naess - I Tried To Rock You But You Only Roll (27)
17. Two Lone Swordsmen - From The Double Gone Chapel (26)
18. Mia Doi Todd - La Ninja: Amor and Other Dreams of Manzanita (26)
19. Prince - 3121 (26)
20. The Ting Tings - We Started Nothing (26)
21. Simian - Chemistry Is What We Are [Bonus Tracks] (25)
22. Garbage - Garbage (24)
23. Rihanna - Good Girl Gone Bad: Reloaded [RERLS] (24)
24. Magnus - The Body Gave You Everything Disc 1 (23)
25. Swayzak - Loops From The Bergerie (22)
diversiti's top albums (overall)
1. PJ Harvey - Is This Desire? (135)
2. Blood Red Shoes - Fire Like This (118)
3. The xx - xx (116)
4. Autolux - Future Perfect (114)
5. Bat for Lashes - Two Suns (111)
6. Rachael Yamagata - Happenstance (106)
7. Metric - Fantasies (99)
8. Tool - Lateralus (93)
9. The Knife - Silent Shout (93)
10. Tori Amos - American Doll Posse (93)
Actividad reciente