19, mujer, AntártidaVisto por última vez: Hace 32 minutos
5

6

7

6

5

scrobblings desde 29 Ene 2008
246 temas favoritos | 360 mensajes | 2 listas de temas |

177 notas
| | | | | | |
| --- | --- | --- | --- | --- | --- |
| | | Matt Corby – Made of Stone | | | Hace 21 minutos |
| | | Tom Odell – Another Love | | | Hace 26 minutos |
| | | Tom Odell – Another Love | | | Hace 30 minutos |
| | | The Temper Trap – Sweet Disposition | | | Hace 34 minutos |
| | | Keane – Sea Fog | | | Hace 40 minutos |
Ver más

Feeds

Feeds
Conóceme
YOU'VE ARRIVED AT PANIC STATION
So, I'm listening to music all day. As you can see from my library, I love basically every kind of music.
I'm addicted to Last.fm and Spotify.
Tumblr: singforhysteria.tumblr.com
Twitter: twitter.com/cydonianheart
With average 29 tracks a day, CunieChan will reach 1,000,000 tracks on 24th of August 2102.
She will be 108 years old. :D
My eclectic score is currently
96/100
My
super-eclectic score
is 724/1000!
10000. Song: Robyn - Time Machine
20000. Song: The Veronicas - Untouched
30000. Song: Radiohead - Give Up The Ghost
40000. Song: Bosse - Frankfurt Oder
50000. Song: The Cinematic Orchestra - To Build a Home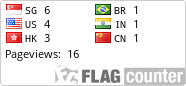 ♥
sometimes we jump across to every cloud
fly away, get lost and never be found
♥