RSS
Compartir
8 Dic 2009, 2:38
Until the Light Takes Us tells the story of black metal. Part music scene and part cultural uprising, black metal rose to worldwide notoriety in the mid-nineties with a rash of suicides, murders, and church burnings.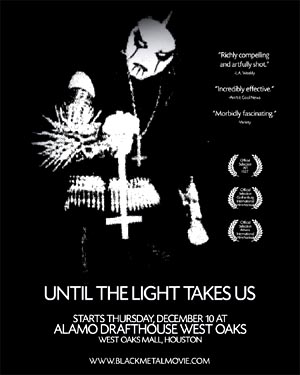 The documentary goes behind the highly sensationalized media reports of "Satanists running amok in Europe" to examine the complex and largely misunderstood principles that led to this rebellion against both Christianity and modern culture.
he result is a poignant, moving story that's as much about the idea that reality is composed of whatever the most people believe, regardless of what's actually true, as it is a music scene that blazed a path of murder and arson across the northern sky.
"Until the Light Takes Us" Showtimes and Tickets
Features:
*
Burzum
*
Darkthrone
*
Mayhem
*
Satyricon
*
Ulver
*
Boards of Canada
Envíos aceptados
Amerika
,
Dark Legions Archive
,
Massacra
,
I Still Buy CDs
,
Extensive Musical Taste
,
Openminded Metalheads
,
Heavy Metal
,
Progressive Metal
,
Metal
,
Nordic metal
,
Old School Death Metal
,
Atmospheric metal
,
Ambient
,
Black Metal/Ambient
,
Classic Black Metal
,
Ultimate-Guitar
,
Burzum
,
Unknown Metal
,
People who like metal but can't stand metalheads
,
Heavier Progressive Metal
,
Criminally Underrated Metal
,
Anti-Socialism
,
Houston, TX
,
ANUS
,
Democracy isn't cool
,
Heavy Metal Sanctuary
,
Extreme Black Metal Clan
,
Death/Black metal
,
Until the Light Takes Us
,
The Antichristian Phenomenon
,
Open-minded listeners of independent music
Envíos pendientes
Hessian
,
Black Metal
,
80s Heavy Metal
,
Atmospheric Music
,
Anti-Communism
,
I'm disgusted with the modern world
,
Technical Death Metal
,
Immortal
,
Death Black Metal
,
Bathory
,
Underground Black Metal - Other
,
Heavy Metal Society
,
UG Metal Group
,
Metal redditors
,
SMNnews
,
Extreme Death Metal
,
Corrupt
,
Metal Academics
,
Neo-Classical Metal
,
Philosophy & Music
Comentarios