RSS
Compartir
29 Jun 2008, 10:27
Here I go! The end of 2008 is so far away that we decided (G and I) to make a top in the middle of the year. Teheh.
BEST ALBUMS
#1.
Martha Wainwright
-
I Know You're Married But I've Got Feelings Too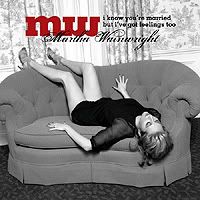 Tadaah! yes, the winner is Martha. Ah, Martha, where to begin ? It's like I've been hypnotized by this album. Her first album was good, and I liked it, but this one!
Love at first listening. It was stuck on repeat all day, and the days after. It's really something that need to be listened to from the first song to the last. Martha, I love you.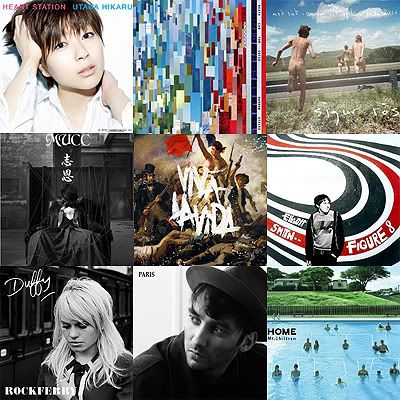 #2.
Utada Hikaru
-
HEART STATION
I'm surprised as well. I like pop, but it's not my favourite thing. This album is absolutely gorgeous, Utada is really of the best japanese singer, in my opinion. I really am fond of her voice. I like all the songs in this album, rare thing for me.
#3.
Death Cab for Cutie
-
Narrow Stairs
Death Cab. What can I say ?
#4.
Sigur Ros
-
Með Suð í Eyrum Við Spilum Endalaust
Sigur Ros' best album since Takk, I think. I shed some tears while listening. So powerful <3
#5.
MUCC
-
Shion
MUCC's best album since a while =D. Not that I didn't like the previous ones, but god. This one is fucking epic.
#6.
Coldplay
-
Vida la Vida or Death and All His friends
Coldplay. No more, no less :)
#7.
Elliott Smith
-
Figure 8
Well now I know this album wasn't released in 2008 of course, but I rediscovered Elliott Smith's music recently and this one is my favourite for now =]
#8.
Duffy
-
Rockferry
Quite a good surprise, I didn't expect it to be this good! Very easy to listen to.
#9.
Saez
-
Paris
Thank you Lou! This is truly one beautiful album.
#10.
Mr Children
-
HOME
With a masterpiece like Shirushi in it, well I had to put it. The rest is also good. Mr Children is so underrated.
BEST SOUNDTRACKS
#1. The Fountain, by
Clint Mansell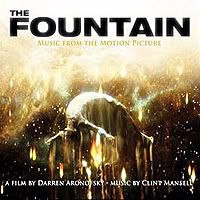 The most beautiful sounds in the world. Clint Mansell is also the composer of the music of Requiem for a dream. Fucking genius.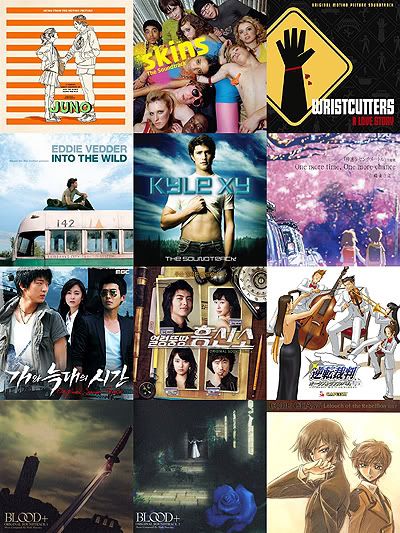 The rest is in no particular order. My favourite are probably the Juno and Skins soundtracks, along with the beautiful music of the animes Blood+ and Code Geass.
#. Juno Soundtrack. One of the best compilation/soundtrack of all times.
#. Skins Soundtrack. Same here. the theme tune is fantastic. Sid's Wild World version is so sweet!
#. Wristcutters Soundtrack
#. Into the Wild Soundtrack, entire soundtrack by the leader of Pearl Jam,
Eddie Vedder
.
#. Kyle XY Soundtrack
#. 5 Centimeters Per Second Soundtrack. The music is as beautiful and fragile as movie. By
Tenmon
.
#. Time of Dog and Wolf Soundtrack. HOLY SH*T this is one fantastic drama. And the music, gosh. Oh, I cried. Foolish heart, vague memories; right, G ?
#. Evasive Inquiry Agency Soundtrack. Special mention for the funny music =D.
#. Phoenix Wright : Turnabout Orchestra. Just because. When you played the game, impossible for you not to shed a tear on the end theme of the trilogy with violins and trumpets.
#. Blood + Soundtrack, by
Mark Mancina
and
Hans Zimmer
. Just fucking epic. The song Diva gave me endless goosebumps.
#. Code Geass Soundtrack. Epic as well. The best tracks are
Hitomi
's, the one who also worked on the wonderful Last Exile soundtracks.
Comentarios