TRACIE, mujer, Nueva Zelanda
msbeautifulsorta.tumblr.co…Visto por última vez: Hace 8 horas
8

7

9

scrobblings desde 3 Feb 2007 (reiniciado el 9 Ene 2015)
278 temas favoritos | 2 mensajes | 2 listas de temas |

166 notas

Feeds

Feeds
| | | | | | |
| --- | --- | --- | --- | --- | --- |
| 1 | | | | | |
| 2 | | | | | |
| 3 | | | | | |
| 3 | | | | | |
| 3 | | | | | |
| 3 | | | | | |
| 3 | | | | | |
| 3 | | | | | |
| 3 | | | | | |
| 10 | | | | | |
| 11 | | | | | |
| 11 | | | | | |
| 11 | | | | | |
| 11 | | | | | |
| 15 | | | | | |
| 15 | | | | | |
| 15 | | | | | |
| 15 | | | | | |
| 15 | | | | | |
| 15 | | | | | |
| 15 | | | | | |
| 15 | | | | | |
| 15 | | | | | |
| 15 | | | | | |
| 25 | | | | | |
| 25 | | | | | |
| 25 | | | | | |
| 25 | | | | | |
| 25 | | | | | |
| 25 | | | | | |
Conóceme

"Music Is The Art Of Feeling Weightless. It's About Shaking Yourself Free Of The Burden, The Obligation, The Ball And Chain Boredom Of Modern Life.

About How Three Chords And A Melody Can Make The Bad Stuff Seem Less Real. Less Powerful, Less Likely to Swallow You Up.

It's Made For Drunken Dancing, Slurred Singing, Being With Your Friends And Enjoying Life Despite What It Does To You"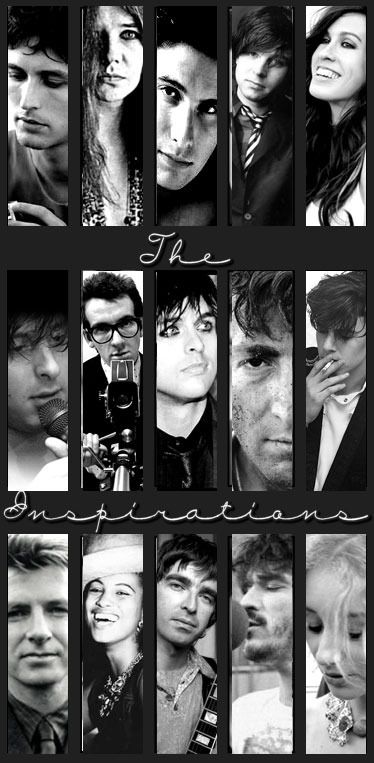 Last.FM Milestones

st track: (01 Jan 2014)
Plan B - What You Gonna Do




th track: (04 Jan 2014)
Foo Fighters - Best of You



th track: (12 Jan 2014)
Ryan Adams - Call Me on Your Way Back Home





th track: (15 Mar 2014)
Otis Redding - Security




th track: (22 Mar 2014)
Corinne Bailey Rae - Put Your Records On





th track: (28 Mar 2014)
The Gaslight Anthem - The Diamond Church Street Choir




th track: (04 Apr 2014)
Jeff Buckley - Everybody Here Wants You





th track: (13 Apr 2014)
The Beautiful South - Don't Marry Her




th track: (19 Apr 2014)
Eddie Cochran - Eddie's Blues




th track: (03 May 2014)
Emily Wells - Darlin'



th track: (17 Jun 2014)
Plan B - ill Manors




th track: (16 Jul 2014)
Jamie T - Castro Dies



th track: (19 Jul 2014)
LCD Soundsystem - Home




th track: (27 Jul 2014)
The Libertines - Tomblands




th track: (08 Aug 2014)
Katy Perry - Roar





th track: (22 Aug 2014)
John Newman - Love Me Again




th track: (30 Aug 2014)
Tove Lo - Paradise

Generated on 31 Aug 2014
Get yours here
Actividad reciente
Beautiful-Sorta actualizó su perfil.

Hace 14 días

Ahora Beautiful-Sorta y rezber son amigos.

Febrero 2015

Beautiful-Sorta agregó Jamie T – Earth, Wind & Fire, Jessie Ware – Wildest Moments, The Supernaturals – I Wasn't Built To Get Up y 16 temas más a sus favoritos.

Octubre 2014

Beautiful-Sorta agregó Sam Smith – Stay with Me, David Byrne & St. Vincent – Who y Ed Sheeran – Thinking Out Loud a sus favoritos.

Agosto 2014

Beautiful-Sorta se unió al grupo we love british accent.

Julio 2014

Beautiful-Sorta agregó Jamie T – Hocus Pocus, Jamie T – Spider's Web, Jamie T – 368 y 26 temas más a sus favoritos.

Julio 2014

Ahora Beautiful-Sorta y angusjack son amigos.

Marzo 2014

Beautiful-Sorta agregó Plan B – Deepest Shame, Plan B – Lost My Way (Raekwon Remix), Plan B – Playing With Fire (feat. Labrinth) y 2 temas más a sus favoritos.

Marzo 2014

Beautiful-Sorta agregó Rudimental, Ringo Starr, Fall Out Boy y 26 artículos más a la colección de Beautiful-Sorta.

Marzo 2014