RSS
Compartir
2 Sep 2008, 12:08
I sincerely hope you haven't misinterpreted the title. :-) This is in fact a richly illustrated account of my visit to this year's Sziget. It was a strong lineup this year as well, with names like
Iron Maiden
,
R.E.M.
,
Jamiroquai
,
Serj Tankian
,
Pendulum
etc. etc. I was only interested in one of the performers...
The date: 15. 08 2008
My night of standing (I was to be on my feet for the following 8 hours) commenced at around 6 PM. I was just one little ant among many. Though these insects were attracted by various types of noise instead of breadcrumbs.
I was so bored I even photographed my own feet.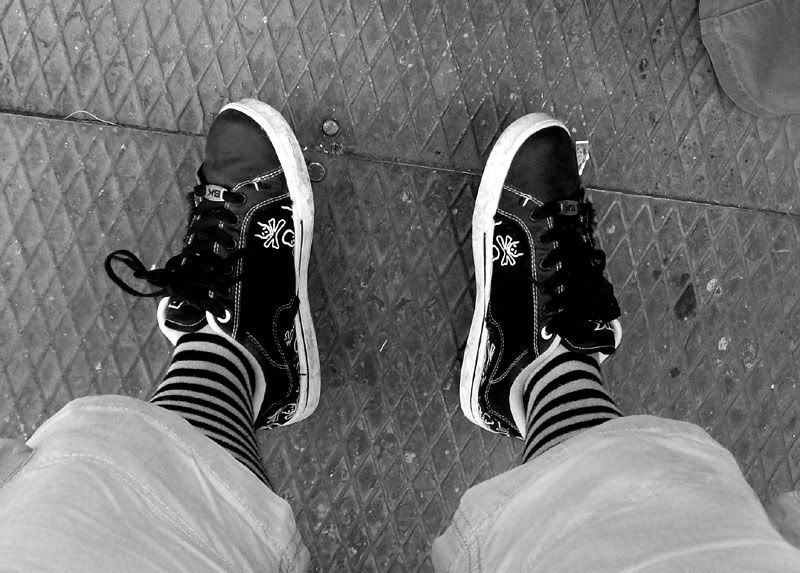 And the security people who were, apparently, ALL in various stages of fatness.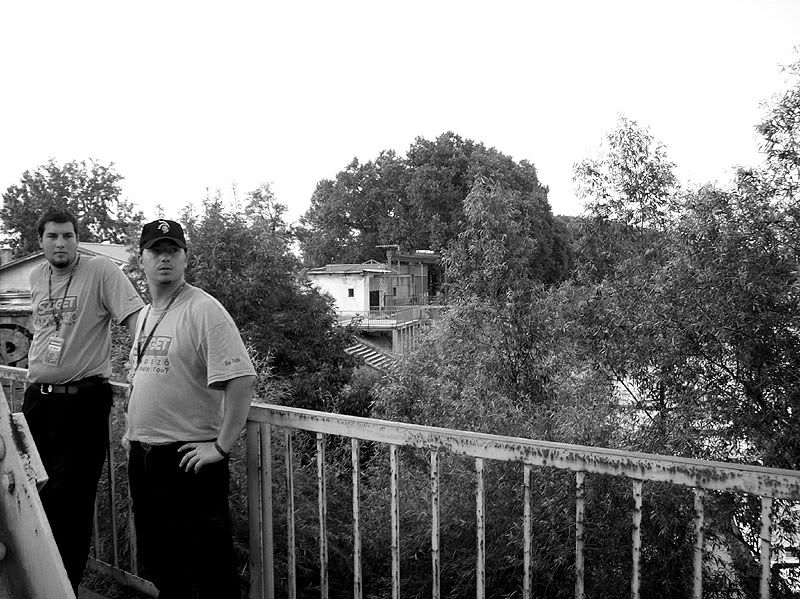 Finally I was past the security checkpoint, free to roam as I wished! My goal was the Hammerworld stage where the rock and metal bands played, but before that snapped a few more pictures. It was
Sex Pistols
-day, which meant that awesome hairs and characters were all over the place.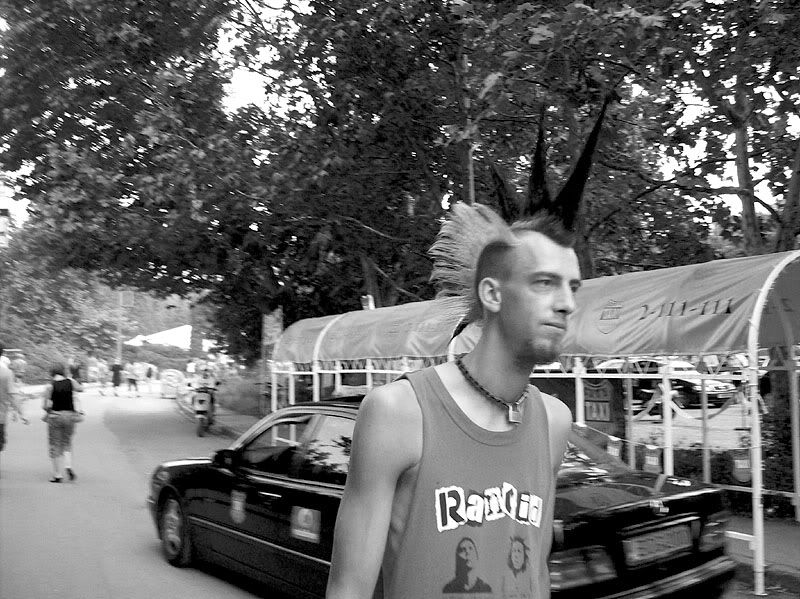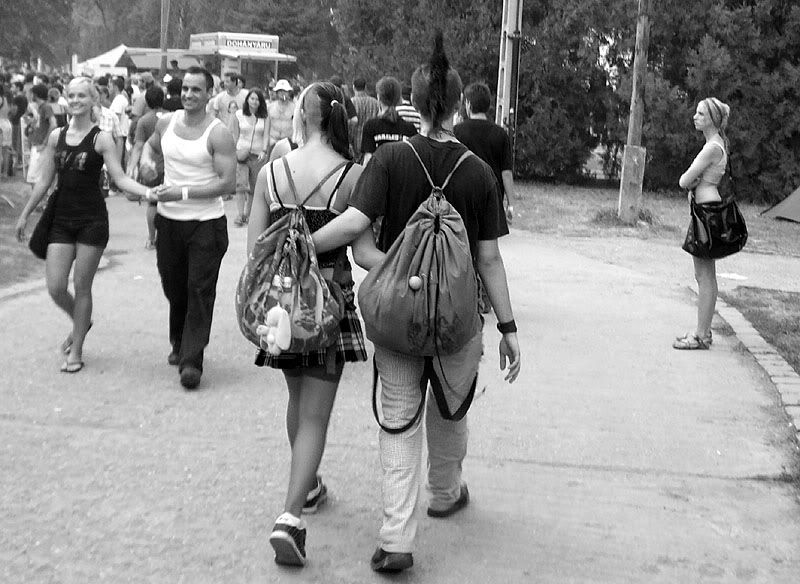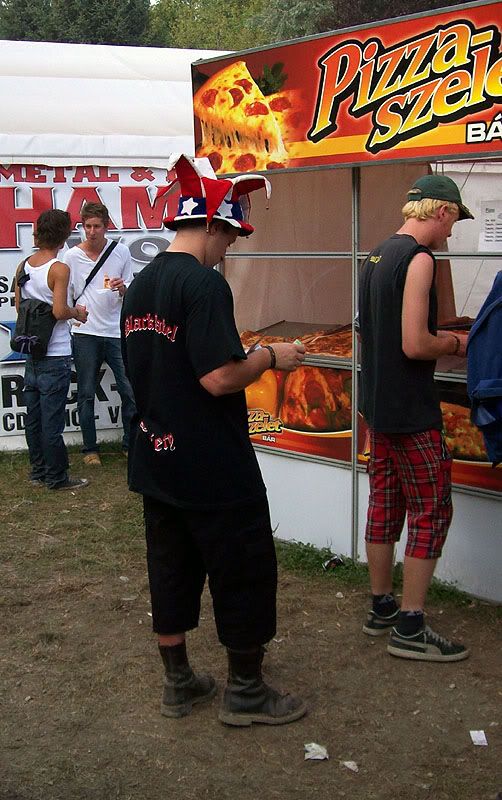 It was an insanely hot day. The heat engaged in a passionate threesome with the smog and high humidity (due to the festival's location-an island in the middle of the Danube) to make big-city human existence even more miserable than usual, though I'm pretty sure that the vast open-air sauna felt like fun after 5+ beers. And beers were all over the place, and almost everyone was drinking them, and they made people happy and charming and fun to be around, kinda like this: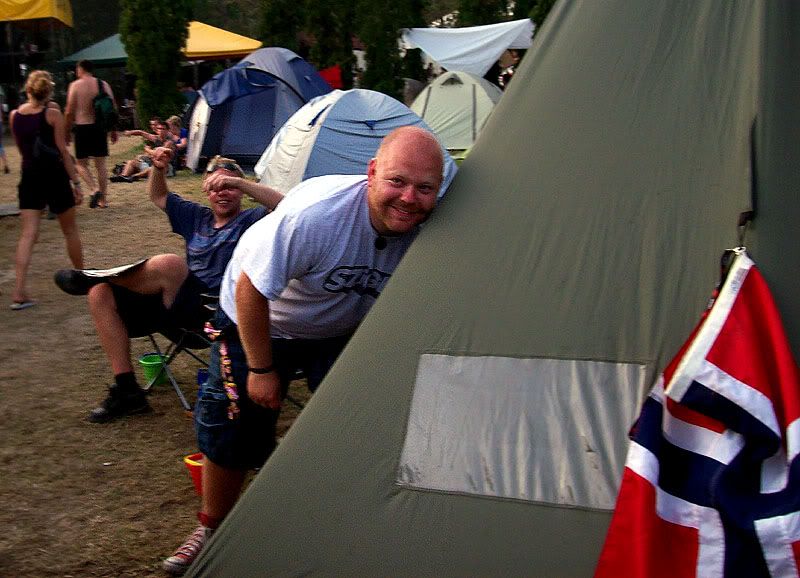 Or this: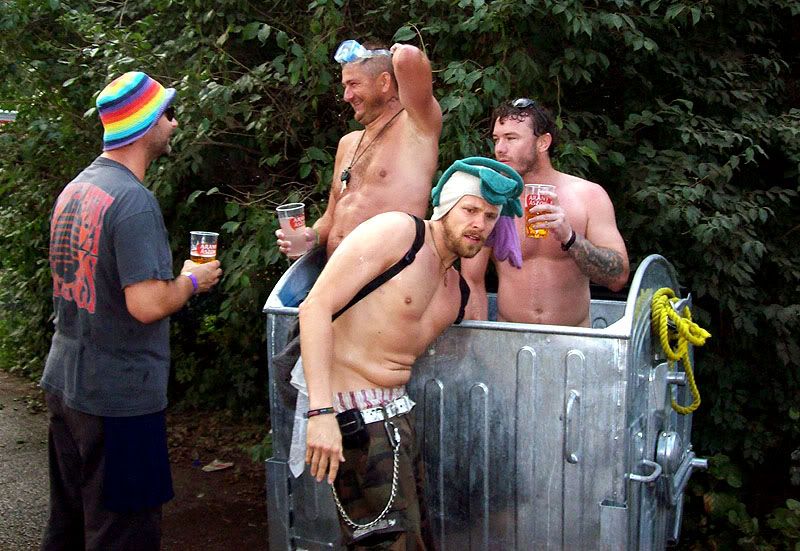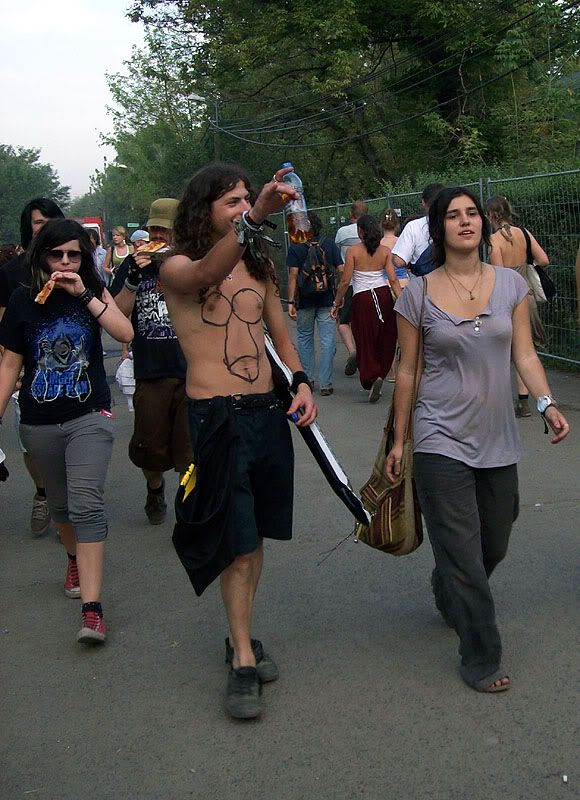 The Beer reigned supreme and (almost) everyone was happy.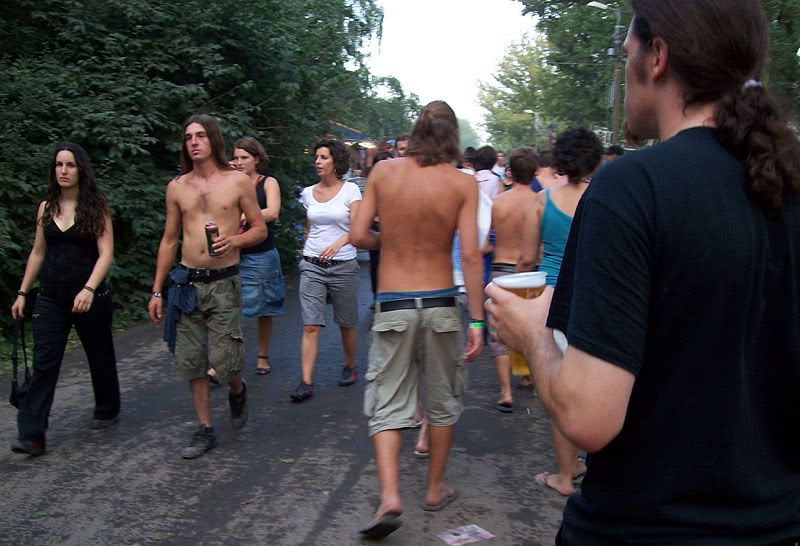 After a short sightseeing I headed to the Hammerworld stage, located in a huge tent. At the time of my arrival it was nearly empty. I occupied my place in the 1st row, where I could comfortably lean onto the security railing. That spot was to be my home for the next 6-7 hours.
Soon the immense speakers came alive as the black-clad bunch of
Lacrimas Profundere
took the stage. For a few minutes I felt as if my innards would explode. My entire chest vibrated with every drumbeat. Talk about an intense experience...
The band was good. Nice, catchy gothic rock with an impossibly skinny but quite talented singer, Rob Vitacca. His deep, booming voice was in stark contrast with his youthful face and frail frame. I greatly enjoyed their show, and would've enjoyed it even more if the goth chicks on all sides didn't insist on sucking their damn
coffin nails
cigs all the time.
Some shots of Lacrimas: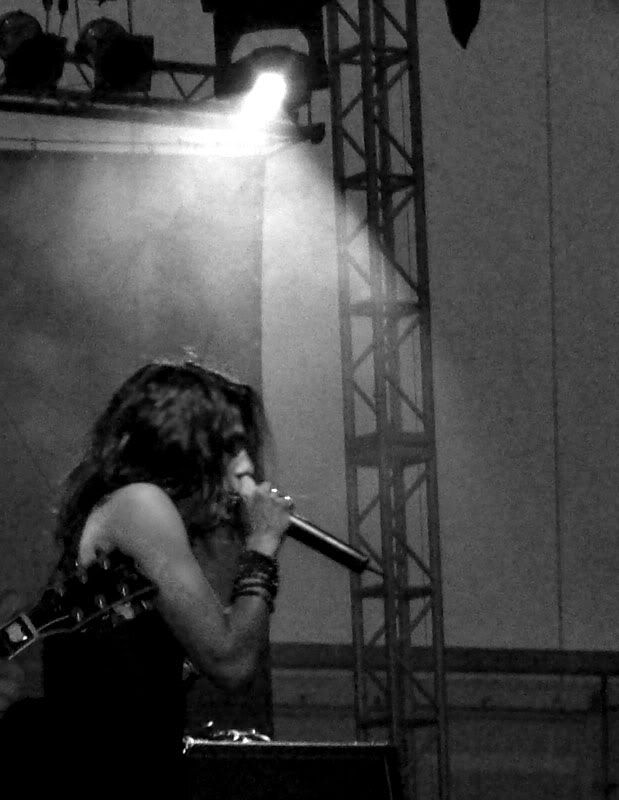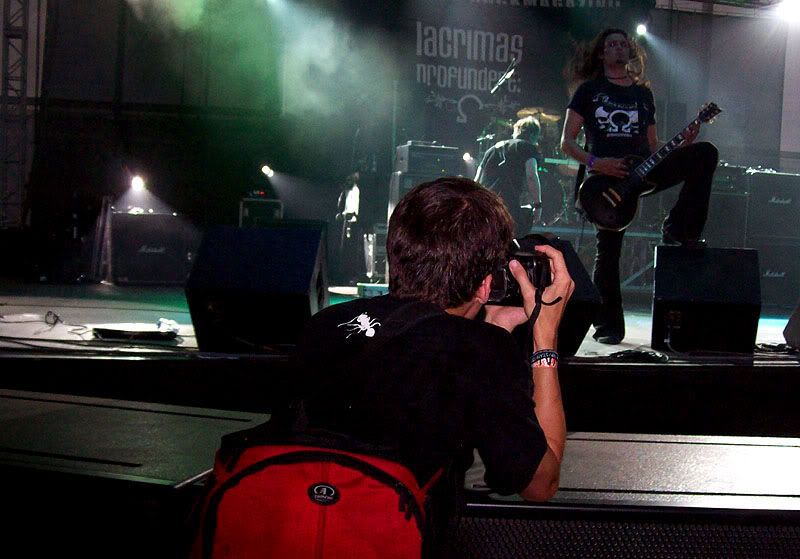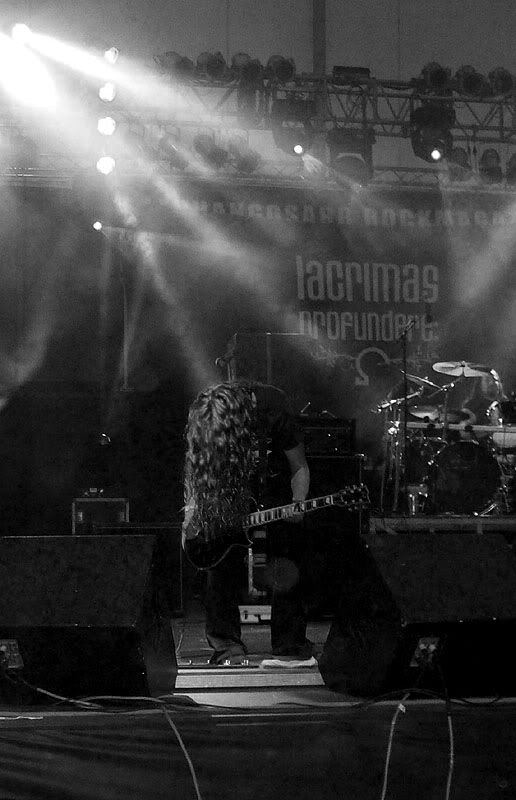 By the time they finished, the front row was filled with chicks. Most of them would stay there until the main event.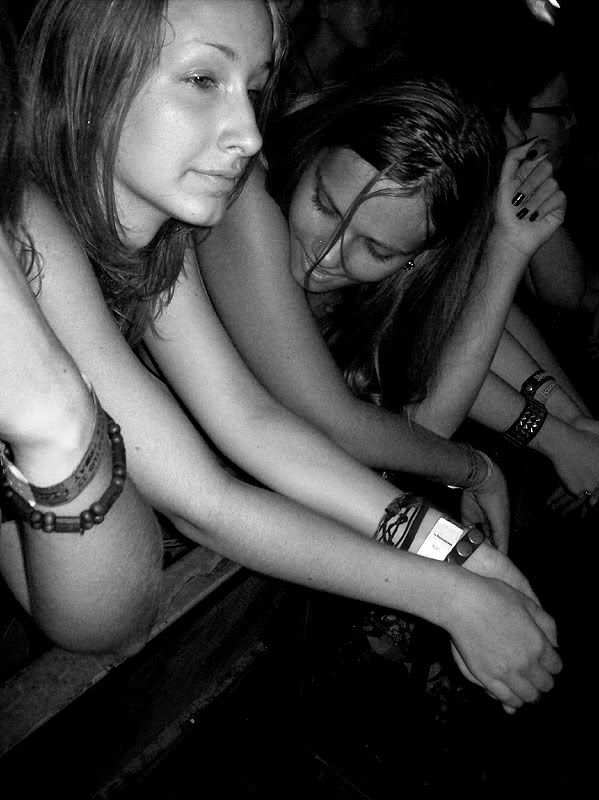 Next up was Hungarian act
Depresszió
. Their music is the kind of aggressive modern metal which gets people moving really fast and keeps the pace right till the end. I had a ton of fun in the front because the more furious moshing happened right behind me and I could jump around and headbang without getting elbowed in the face. And jump around I did, so much so that several press people took photos of my furious fun time; I saw them and the band as blurred shapes between threads of sweaty hair swirling before my eyes...
When I wasn't busy shaking my head off my neck, I took a few shots.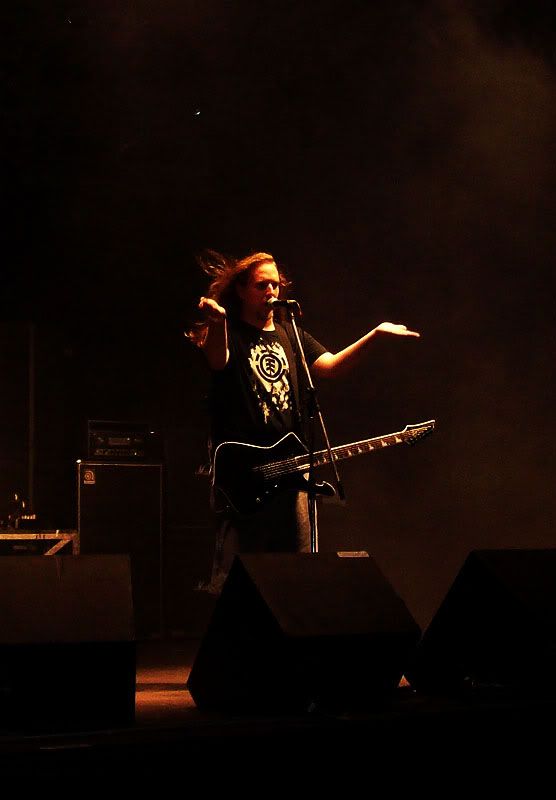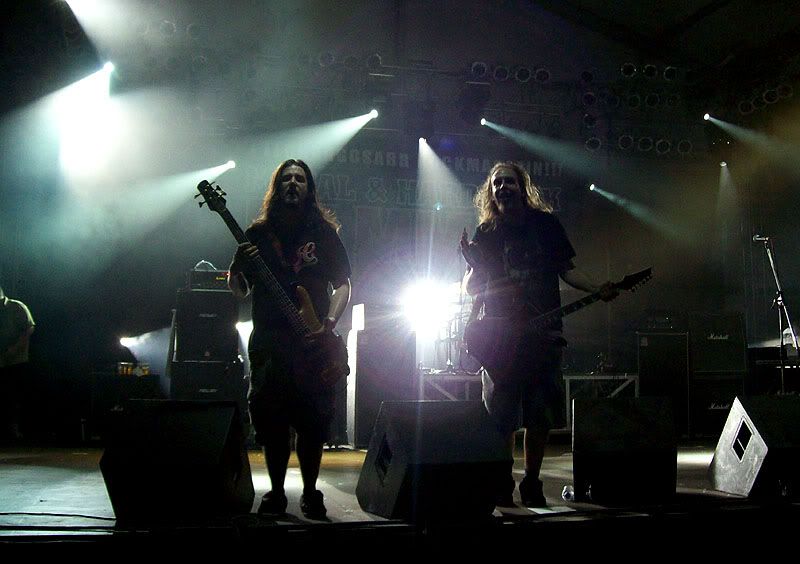 I really, truly had a jolly good time with the quite non-depressive Depresszió. After they left the stage, another 30 mins of waiting until the technicians did their thing and German thrash gang
Dew Scented
appeared.
Now, this one I didn't dig. While I love to boogie to some nice thrash tempos from time to time, here they were coupled with an absurdly huge volume and the sounds of an agonizing bear emanating from the mouth of the bulky vocalist. Not my cup of tea. I took a few shots, rested, downed a whole bottle of water and gathered strength for the night's main event.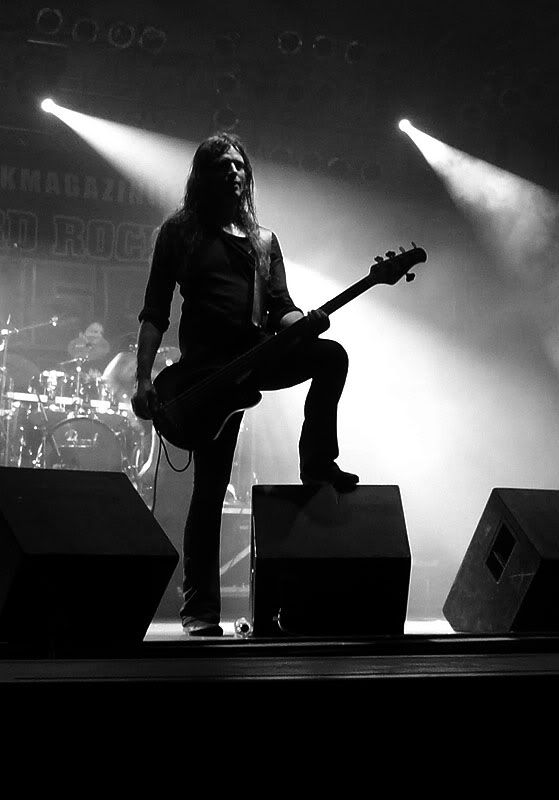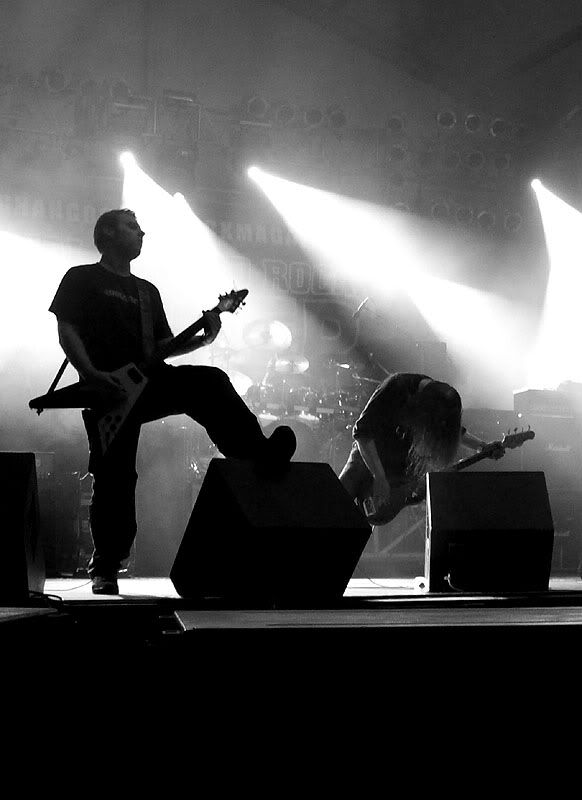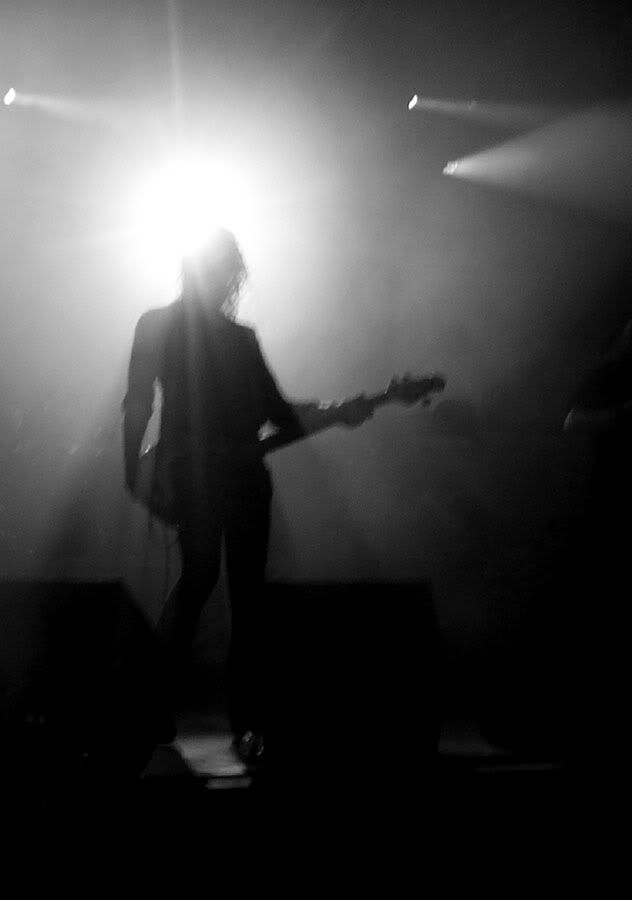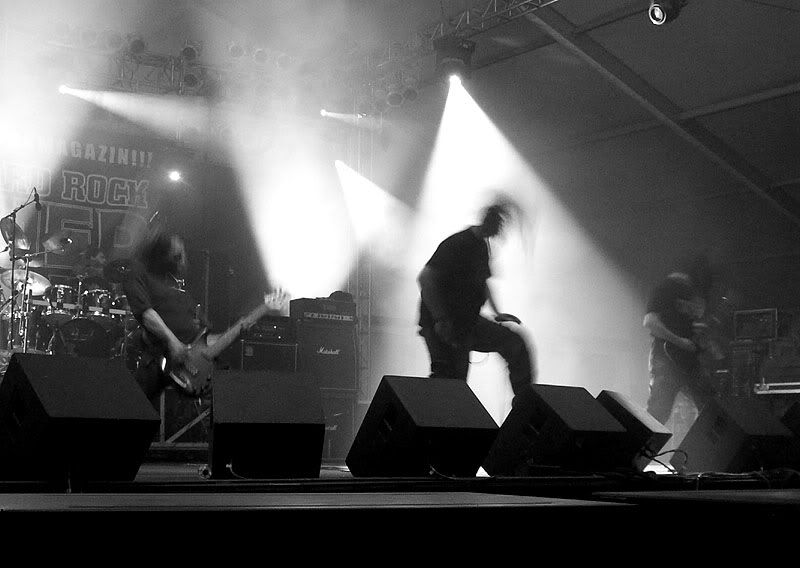 After what seemed like an eternity of suffering to my eardrums, Dew Scented was *finally* over. During their thrashin' around Sex Pistols played on the main stage but I was unwilling to quit my position in the front row, plus I wasn't interested in a bunch of old farts clowning around. They might've been revolutionary rebels once (back when being punk was still cool and rebellious and shocking), but now they're just in it for the money.
I could feel and hear the crowd swelling behind me. The chairs appeared, then the drumkit was rolled in. Everyone screamed. I shuddered in anticipation. Man, how I love that feeling!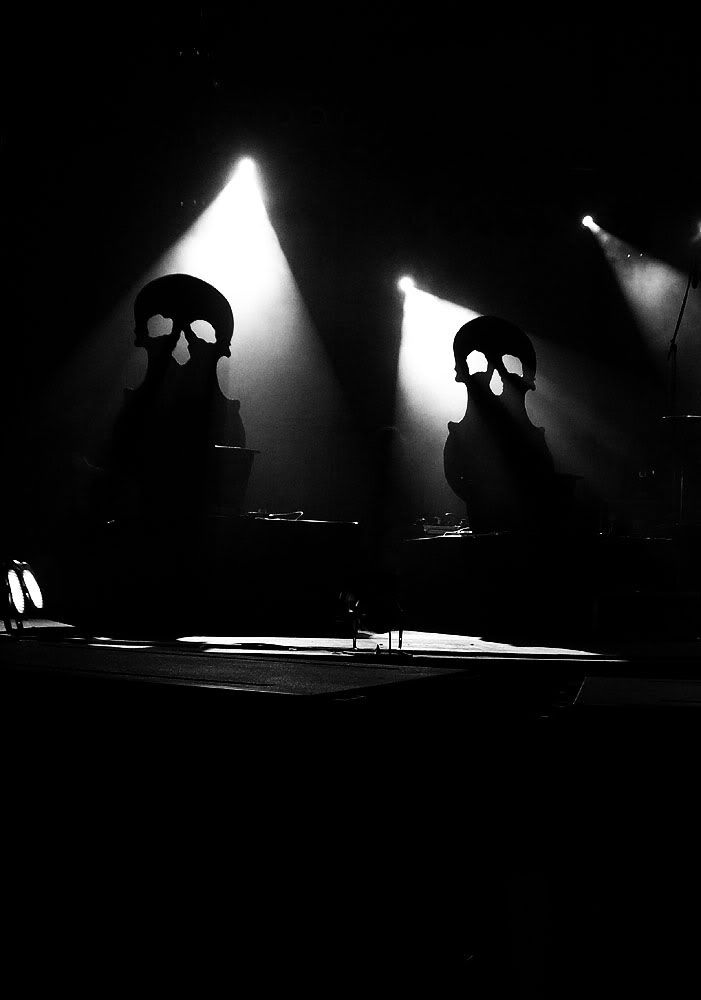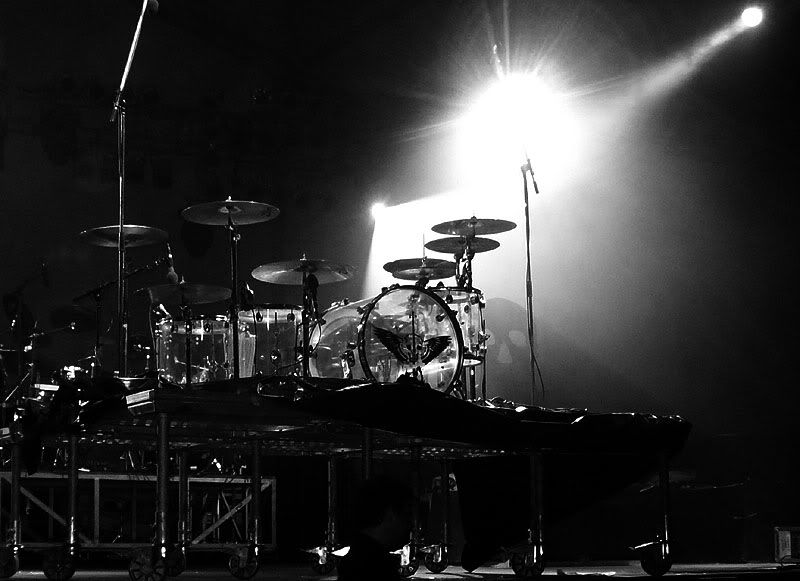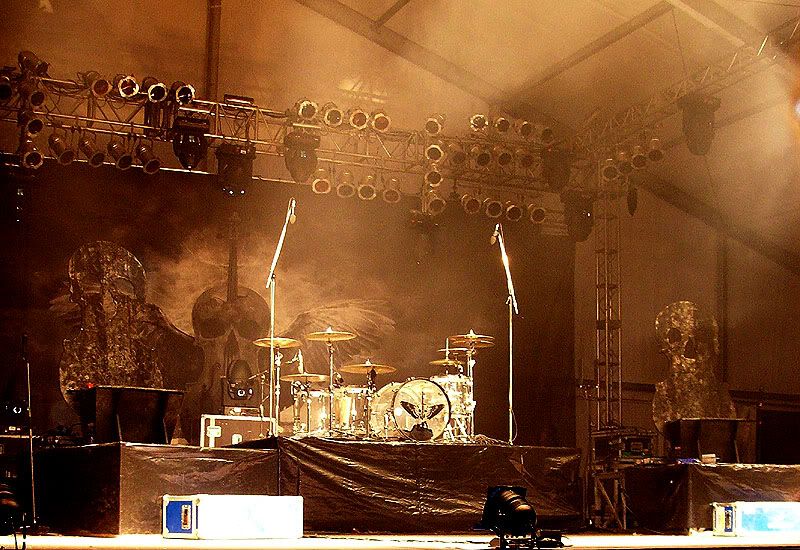 The waiting bordered on unbearable, not just because of the heat and the smoky thickness of the air, but also because of the excitement sweeping through the crowd. People were going mad. A huge guy pushed his way to my side along with his buddies. I was worried I might get shoved into the second row and clung onto the railing for dear life. I had to take some decent pictures...
When the intro music died and the lights went out, the crowd erupted in the most deafening roar I have ever heard. I could barely hear my own scream...
...and they stormed the stage, those crazy Finnish cello killers! The musical love of my life:
Apocalyptica
.
Their show was shorter than usual (this was a festival after all) and they focused on hard songs that produced symptoms of mass-hysteria among the audience. They kicked off with
Refuse/Resist
, their wicked
Sepultura
cover. The huge guy to my right totally tried to push me away as more people fought to get in front. I was fighting to keep my place, trying to get a shot above the heads of the innumerable press people who swarmed before the stage and I was also attempting to headbang a bit. Oh, the chaos...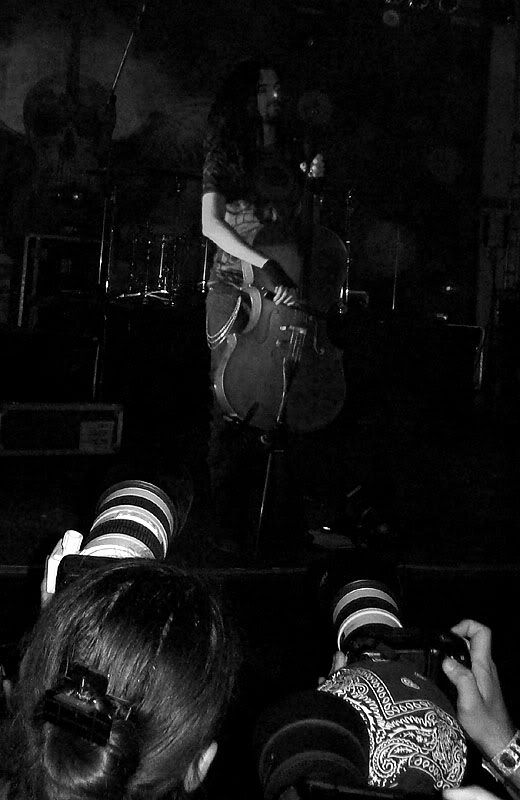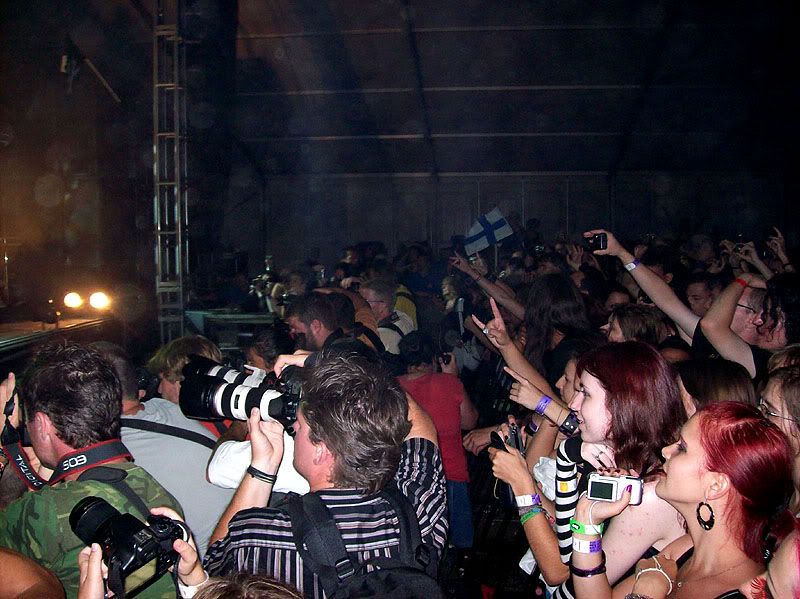 Antero was sitting right before me, cool and calm as usual, while the other guys jumped around like crazy. They were soaked with sweat within minutes. The intensity of their performance was unbelievable!!!
A selection of pictures, starring: Antero Manninen,
Perttu Kivilaakso
, Paavo Lotjonen, Mikko Siren and the one and only...
Eicca Toppinen
!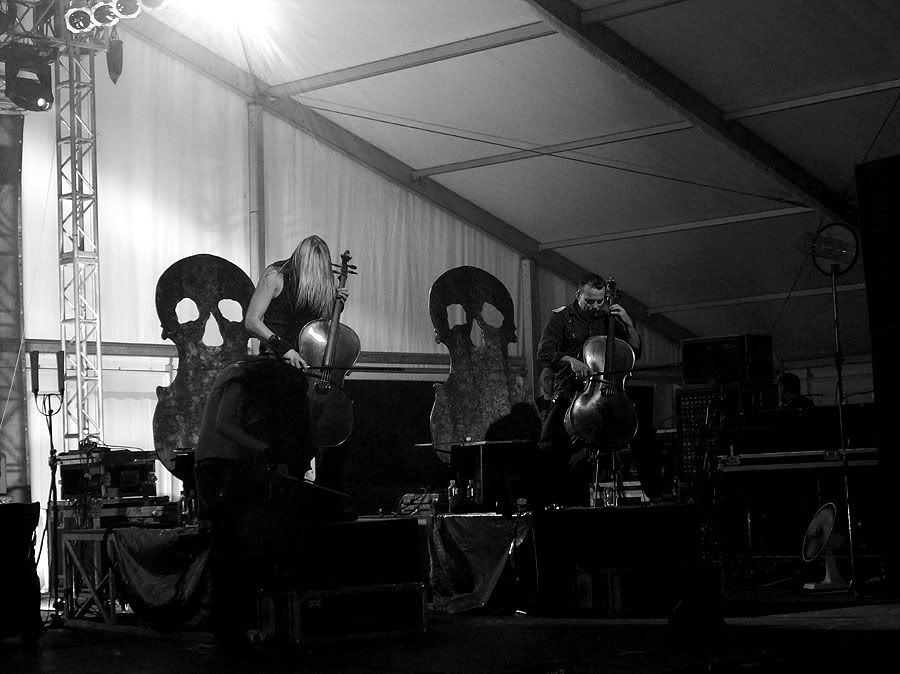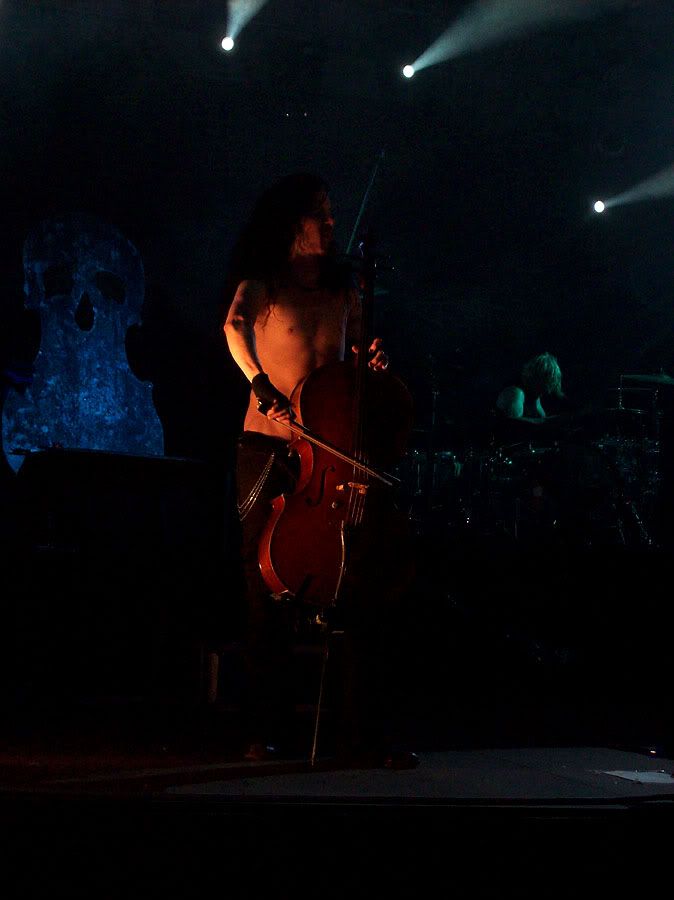 With a bit o' headbang residue, courtesy of my towering right-side neightbour...
During

Bittersweet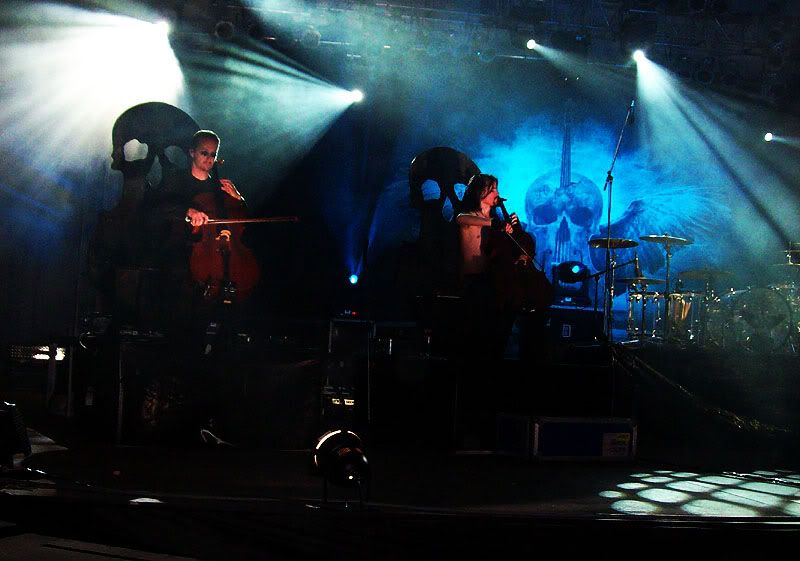 Paavo was so funny and charming, smiling and interacting with the crowd all the time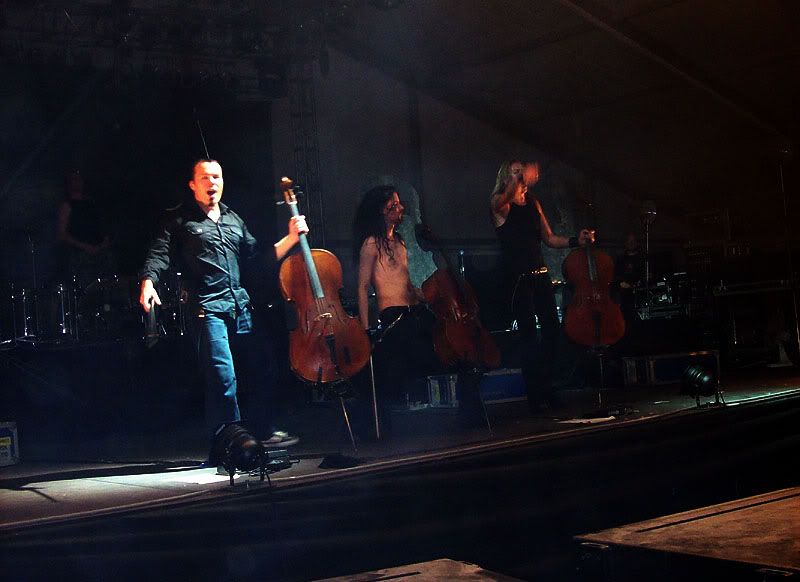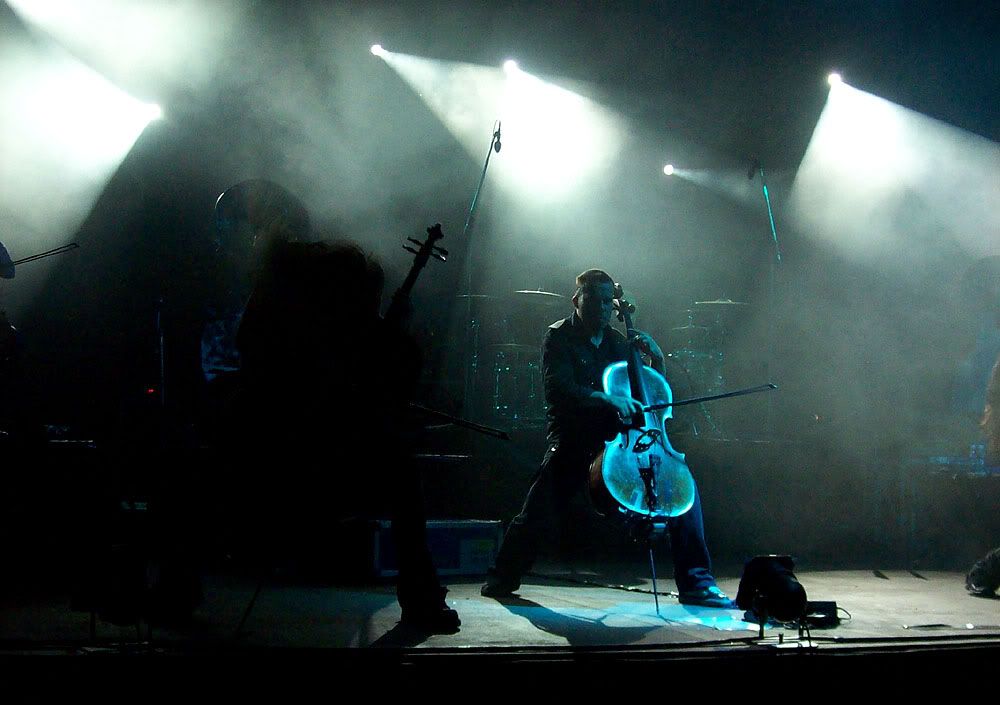 HEADBANG CLASH OF THE TITANS!
"Classical music"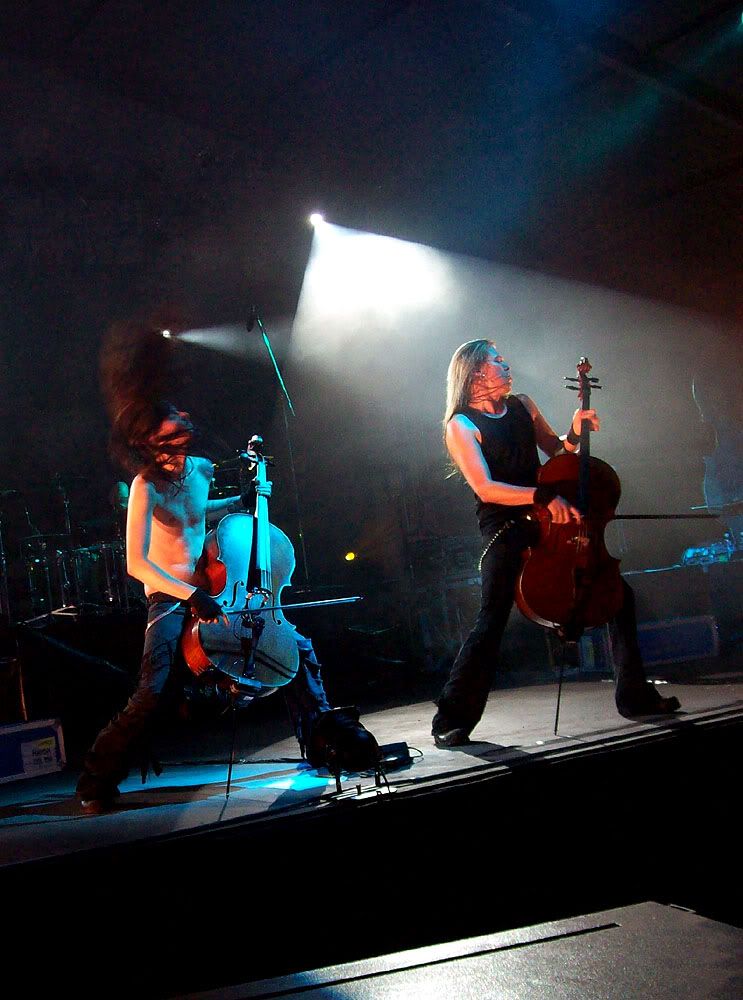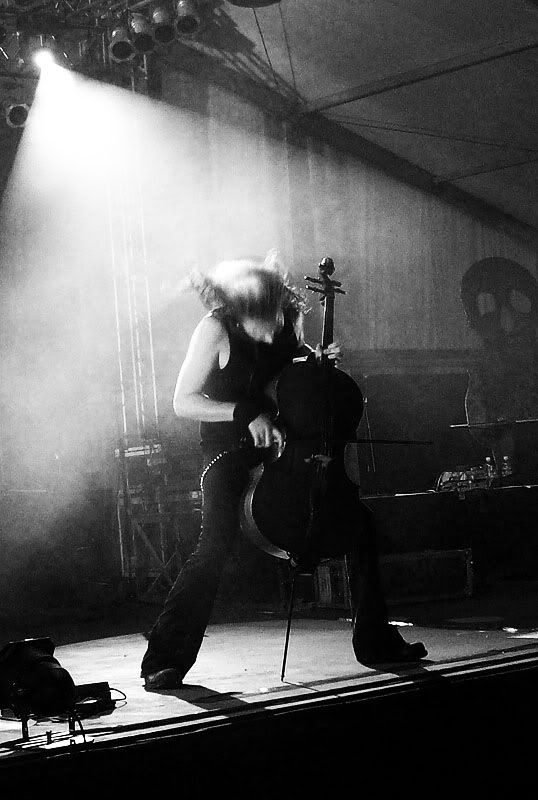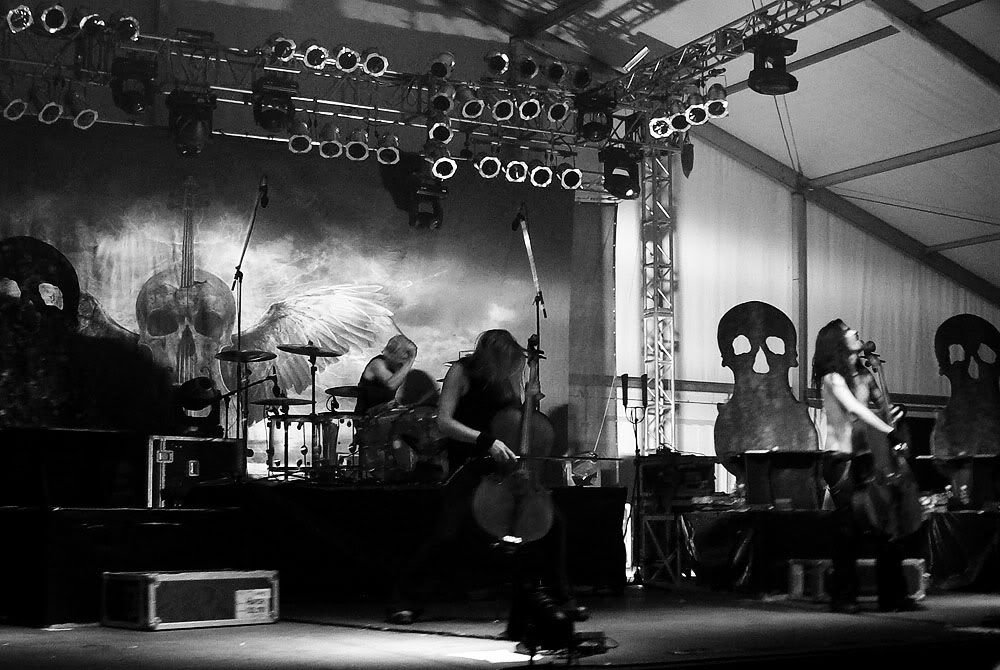 Perttu AKA Twiggy
Oh the hotness
Mikko the showman!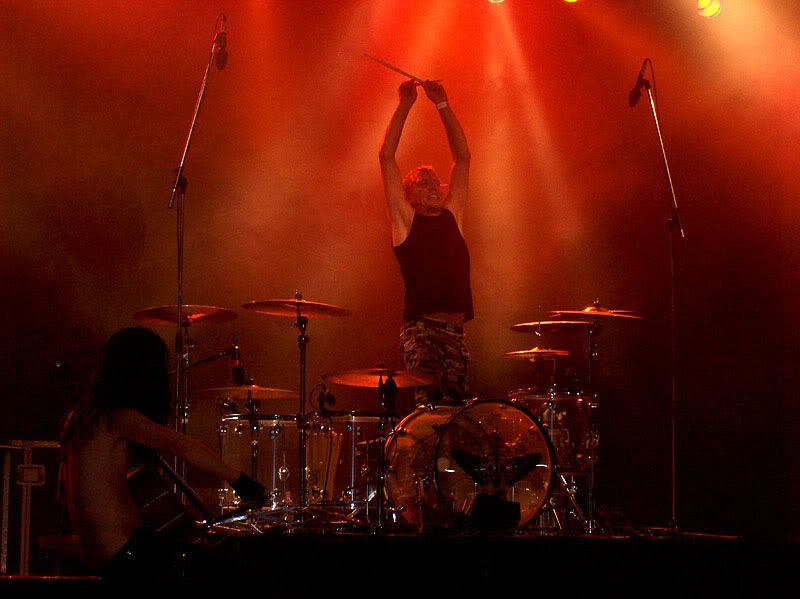 A wee moment of rest between tracks. Perttu seemed to feel a bit ill halfway through the show... No wonder, considering the stifling heat, further enhanced by the electric equipment, especially the lightshow; every time the front lights were flashed upon the crowd I felt as if a huge oven had been opened right before my face!
They played a fast and hard show with all the obligatory
Metallica
covers and of course a selection from their latest album,
Worlds Collide
, including a gorgeous rendition of

Helden
but, somewhat surprisingly, no

I Don't Care
or

I'm Not Jesus
. Still, it was a perfect show. I don't know just HOW sick Perttu felt, but he didn't let it affect his performance. Every note was played flawlessly, with speed and precision.
A shitty video I made of
Inquisition Symphony
:
When it was "over" the crowd furiously demanded an encore. They came back, in spite of the time limit, and performed an absolutely amazing rendition of
Rammstein
's

Seemann
, one of my fave Apo covers. I cried... Then it was really over. They bowed before the audience and thanked each other, like they always do, and then they were gone... but "the memory remains".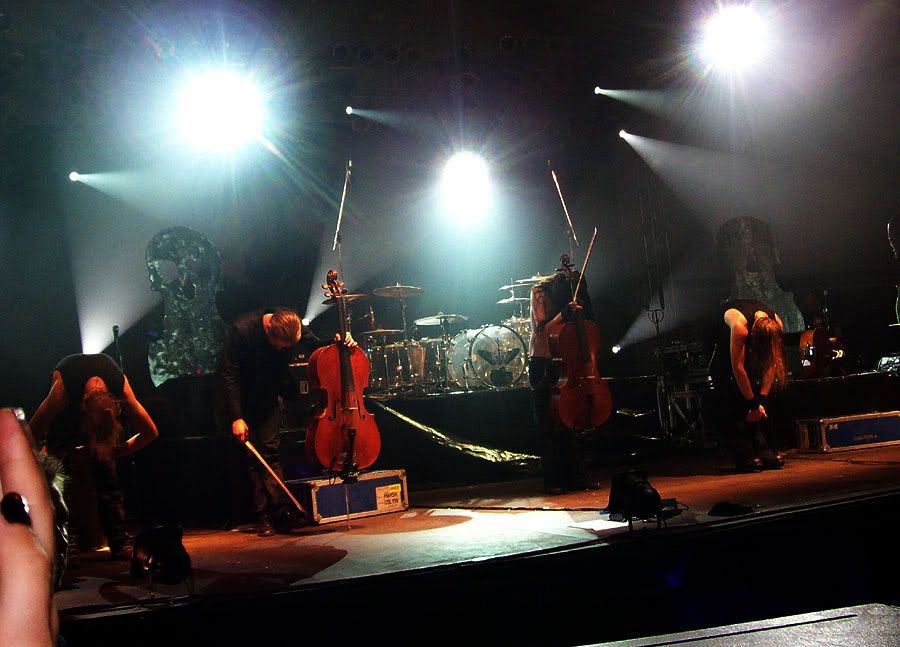 See you next year!!!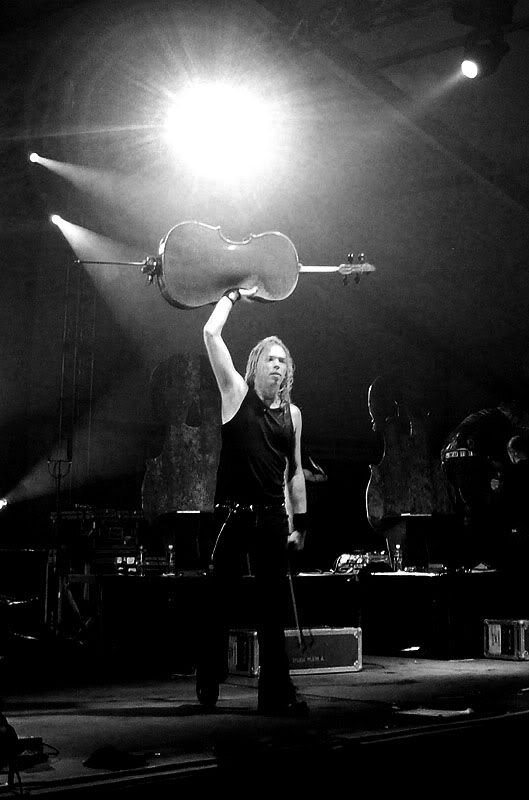 Comentarios