The Delirious One, Timelord, 111, hombre, Países BajosVisto por última vez: Jueves por la noche
8

4

0

5

0

scrobblings desde 8 Dic 2005
891 temas favoritos | 17 mensajes | 1 lista de temas |

7.120 notas

Feeds
| | | | | |
| --- | --- | --- | --- | --- |
| 1 | | | | |
| 2 | | | | |
| 3 | | | | |
| 4 | | | | |
| 5 | | | | |
| 6 | | | | |
| 7 | | | | |
| 8 | | | | |
| 9 | | | | |
| 10 | | | | |
| 11 | | | | |
| 11 | | | | |
| 13 | | | | |
| 14 | | | | |
| 15 | | | | |
| 16 | | | | |
| 17 | | | | |
| 18 | | | | |
| 19 | | | | |
| 20 | | | | |

Feeds
| | | | | | |
| --- | --- | --- | --- | --- | --- |
| 1 | | | | | |
| 2 | | | | | |
| 3 | | | | | |
| 3 | | | | | |
| 5 | | | | | |
| 6 | | | | | |
| 7 | | | | | |
| 8 | | | | | |
| 8 | | | | | |
| 10 | | | | | |
| 10 | | | | | |
| 12 | | | | | |
| 13 | | | | | |
| 14 | | | | | |
| 15 | | | | | |
| 16 | | | | | |
| 17 | | | | | |
| 17 | | | | | |
| 19 | | | | | |
| 19 | | | | | |
| 21 | | | | | |
| 22 | | | | | |
| 22 | | | | | |
| 24 | | | | | |
| 24 | | | | | |
| 26 | | | | | |
| 27 | | | | | |
| 27 | | | | | |
| 29 | | | | | |
| 29 | | | | | |
Conóceme
My Fangroup
The Official Andy_warhola fangroup
A 31-year old guy from the Netherlands, a tiny country in which only Amsterdam and The Hague are of any importance, really. In the all day life I work as a Project leader Financial Informatics, my main skills being in the area of bookkeeping and logistics software tools.

In my private life I have been enjoying music and going to concerts in the past, I still do to a degree but my interests have been shifting more towards science fiction as of late. In the car to work more often than not I will listen to sci-fi audio books instead of music... I mostly listen to music at nights now and during weekends when I'm not watching a show or film. I love philosophical and futuristic themes and ambiguous and grey like characters will most likely appeal to me.

Some of my favorite things are: Doctor Who, Farscape, Defiance, Babylon 5, Continuum, The 4400, Star Wars, Back To The Future, Ender's Game, Speaker For The Dead and Stealing Light.

Some of my favorite authors are Orson Scott Card, Arthur C. Clarke, Peter F. Hamilton, Gary Gibson and Isaac Asimov.

It is the mark of an educated mind
to be able to entertain a thought without accepting it.

~ Aristotle ~
I'm bringing back a picture of Chiana because of popular demand. She's been voted on by:

1) MikeySchenker;
2) MikeySchenker;
and 3)MikeySchenker ;-)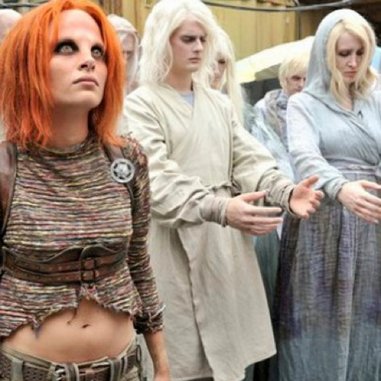 Seen Live:

Alice Cooper (4x)
Megadeth (2x)
Rush
Avantasia
Helloween
Sweet
Blondie
The Answer
Judas Priest
Uriah Heep
Stratovarius
The Violet Burning
Jerry Lee Lewis
Whitesnake
Trick or Treat
Evile
Crushead
Actividad reciente