5 Cent Theatre, Reino Unido
www.myspace.com/5centtheat…Visto por última vez: Octubre 2011
1

4

3

scrobblings desde 27 Oct 2009
35 temas favoritos | 4 mensajes | 1 lista de temas |

19 notas

Feeds
| | | | | |
| --- | --- | --- | --- | --- |
| 1 | | | | |
| 2 | | | | |
| 3 | | | | |
| 4 | | | | |
| 5 | | | | |
| 6 | | | | |
| 6 | | | | |
| 6 | | | | |
| 6 | | | | |
| 6 | | | | |
| 11 | | | | |
| 11 | | | | |
| 11 | | | | |
| 11 | | | | |
| 11 | | | | |

Feeds
| | | | | | |
| --- | --- | --- | --- | --- | --- |
| 1 | | | | | |
| 2 | | | | | |
| 3 | | | | | |
| 4 | | | | | |
| 5 | | | | | |
| 5 | | | | | |
| 5 | | | | | |
| 5 | | | | | |
| 5 | | | | | |
| 5 | | | | | |
| 5 | | | | | |
| 5 | | | | | |
| 5 | | | | | |
| 5 | | | | | |
| 5 | | | | | |
Conóceme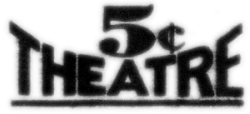 Facebook
|
Myspace
|
Twitter
|
Soundcloud
|
Bandcamp
iTunes
|
7Digital
|
Spotify
5 Cent Theatre
are a British band, formed in London in 2009. Formerly known as
Story One
(2002 - 2008). The band comprises of Thomas Evans (lead vocals, violin, keyboard), Barny Barratt (lead guitarist), Jess Barratt (bass guitarist), Pete Simon (cello) and Mike Woolf (drums).
What's Been Said
"Lovely, emotional and sensitive music at its very best."
"Musically a very full approach to production."
"A passionate, epic, widescreen feel to it"
"Passion and sensitivity perfectly combined in one track."
Actividad reciente