RSS
Compartir
9 Jun 2008, 1:23
The Other Side of Pain by DeBarge
http://www.mamadebarge.com/othersideofthepain.htm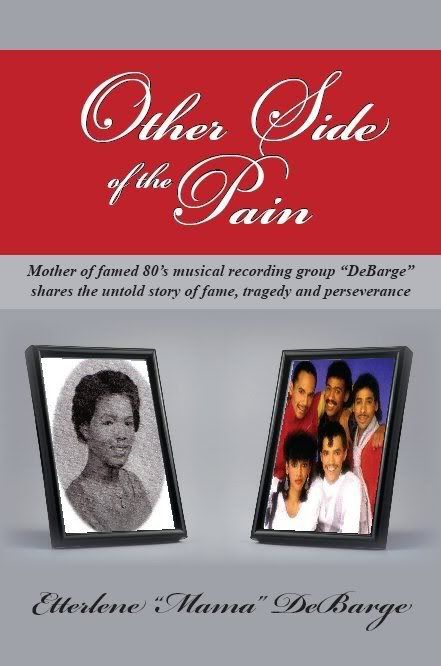 Wow..
Honestly, I had no idea what to expect out of the book by the mother of the famous, DeBarge family.
If you do not remember their music, take a listen here:
El DeBarge performing All This Love (LIVE) AHHHHHHHHHH
Rhythm of the Night - DeBarge Who's Johnny - El DeBargeWho's Holding Donna (LIVE) - DeBarge
Love Me in a Special Way - El DeBarge
As a kid growing up in the 1980s, I adored the music of the Debarge family for it made me happy and full of optimism but I honestly did not know there was a dark side until the 1990s when Chico Debarge was arrested and in jail for drug trafficking.
What struck me more than anything about the book was that as the mother of the famous Debarge family that she does not go into the racial hardships she faced of raising a huge clan of biracial children during the 1950s through the 1970s. That is my only criticism because I honestly would like to know what she went through with people asking her questions about her children at a time of so much racial tension. [
The father of the DeBarge children is a white man. She married him too when she was young in Michigan. Her husband's mother did not like her either and let her know that. Can you believe that?]
Further, I grew up believing the DeBarge family was half Hispanic which is not true. Mrs. Debarge married a Hispanic man in her second marriage but he is NOT the father of her children.
Otherwise I enjoyed reading Mama DeBarge's take on life, the joy of raising her children, her interactions with Janet Jackson (
Janet married James DeBarge but the marriage was annuled
) and how drugs destroyed her musical family. Further, she goes into the problems her children faced and still do in the record industry. She is not a fan of Berry Gordy for she feels he was instrumental in the destruction of her children. Well, Rick James and many others did not care for Barry Gordy. Evidence from Rick James' book,
Memoirs of a Super Freak
(on Barry Gordy), "He made me a deal: if I did another album for him; he'd give back all my video rights and publishing - a deal he never kept" (pg. 203 of
Memoirs of a Super Freak)
I had NO IDEA that Jermaine Jackson was vocal in Berry Gordy signing the family to Motown. That was interesting to know that fact.
The main theme though throughout this entire book is Mama Debarge's faith and how it helped her through so many hard times. Physically and mentally she had to deal with an abusive husband who was the father of the famous clan. Further, seeing her kids have fame and to see it all be destroyed by drugs has broken her heart but it is her faith that has allowed her to have hope.
Like a few young ladies in the 1980s, I was in LOVE with El Debarge as a kid. I thought his voice (and still do) was the perfection of an angel. When I STILL listen to his voice I get chills down my spine. All of her children are graced with beautiful voices but since the group highlighted El's voice I was in love. But, if you listen to all of her children, you will be amazed at how equally talented they all are for you will want more more music from them!
I do pray that the members of the family addicted to drugs will clean up their acts but with drug dependency but I know it is hard to break away from a habit that nurtures a void they may be individually experiencing.
(Issues in my own family on this so I can relate)
Rehab may or may not help? Maybe a good friend or a community that will embrace them all knowing that there is hope on the other side. Mama DeBarge said all except for 3 of her children are drug addicts. (
Not to sure on the actual amount of children she had but I believe it was 10. She had a set of twins too!)
Amazing! I do adore all of the family members individual records. The DeBarge family is immensely talented and I pray other individuals learn, appreciate and help nurture them to know they have a gift to share which is their passion for music.
The book is a quick read for I read it in 3 hours (it is double spaced!). It was self-published with a few editorial errors. Maybe a publishing house will consider her story and give the Debarge family story more exposure for it needs to be told.
**
Personal Note
: I saw El Debarge when I attended the Soul Train music awards and I will NEVER forget him smiling and waving to me and my friend. We were surprised our child hood crush was waving at us. I will NEVER forget that! I have a big CHEESE GRIN whenever I think of that moment. **
I was at this performance with my Momma and a friend from high school. Man, that was a trip. I was 16 years old.

Related Articles/Links
http://www.mamadebarge.com/
http://www.soulwalking.co.uk/DeBarge.html

The Rise and Fall of the DeBarge Family (Episode 1)
http://www.vibe.com/news/news_headlines/2007/08/debarge_ep_1/

The Rise and Fall of the Debarge Family (Episode 2)
http://www.vibe.com/news/news_headlines/2007/09/debarge_epi_2/

The Rise and Fall of the DeBarge Family (Episode 3)
http://www.vibe.com/news/news_headlines/2007/09/debarge_epi_3/

The Rise and Fall of the DeBarge Family (Episode 4)
http://www.vibe.com/news/news_headlines/2007/09/debarge_episode_4/
Blogtalkradio -- Bunny DeBarge and Debarge talk radio show
http://www.blogtalkradio.com/entrepreneursonthemove/2008/03/09/eotm-welcome-bunny-debarge
DeBarge
El DeBarge
Chico DeBarge
Bunny DeBarge
James DeBarge
Envíos aceptados
Last.fm's Positive Flow
,
80s Heaven
,
I Still Buy CDs
,
Extensive Musical Taste
,
Music Advice Center
,
Destroy Racism!
,
Twitter
,
The Juice Box Crew
,
People addicted to music! They listen even when they read, Sleep,... all the time!…
,
born 1974
,
Librarians
,
Real Journal Entries
,
MOG Users
,
Nothing But Old School
,
Sick Kids, Sick Taste
,
Music Nerds
,
Tortured Souls